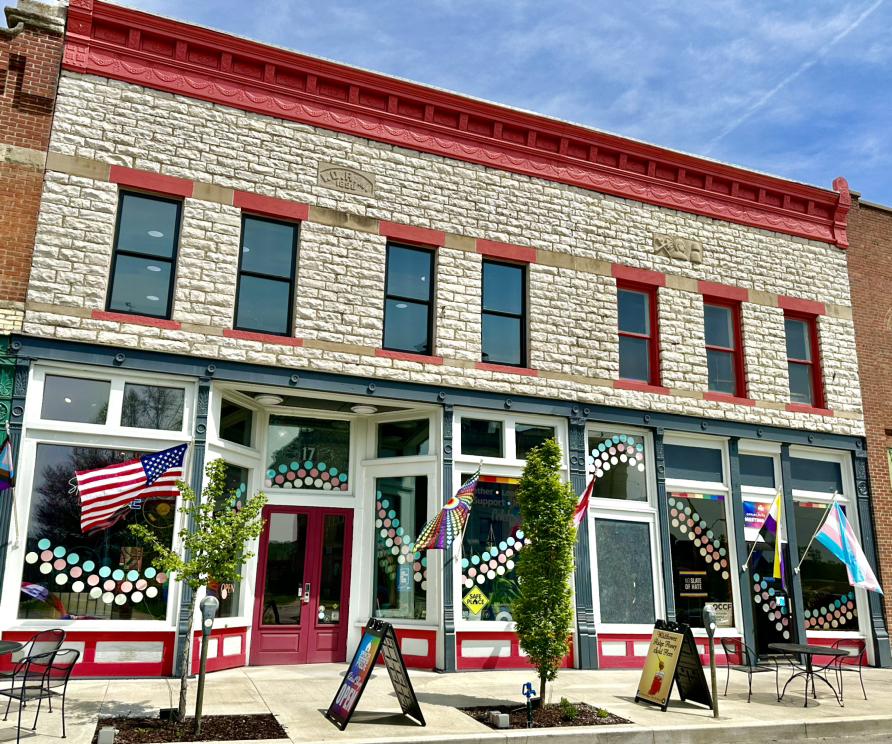 The Spencer Pride commUnity center is located at 17 E. Franklin Street in the Spencer Courthouse Historic District in downtown Spencer, Indiana.   
With the opening of the center in September of 2016, Spencer, Indiana became the smallest community in the United States with an LGBTQ+ center.
Our center is the main headquarters for Spencer Pride activities, including our monthly volunteer & board of director meetings. We also maintain several monthly programs that are open to all who are interested.
It also houses Unity, our distinctive retail shop showcasing local artists and craftspeople. Within the center, our Gathering Place is available for informal discussions and after-school activities, while our meeting room is available free of charge to local, LGBTQ+ affirming, not-for-profit organizations. Our newly restored Grand Discovery Ballroom is located on the 2nd floor and available.
The center is a certified Safe Place & LGBTQ+ Safe Zone.  
We offer public access to Wi-Fi, computers, and gender-neutral restrooms.
The commUnity center is home to Iris, our youth group for ages 10-19. The youth meet regularly to socialize and support one another.  The members are highly motivated to make the world a better place and conduct activities to educate & engage other youth and the public at-large.
Thank you for your support!
For more information about the center's restoration, please visit our Rainbow Rehab page.