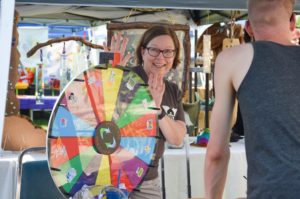 The Spencer Pride Festival marketplace is bigger than ever this year; it's also more diverse.  In total, the marketplace consists of 110 organizations & businesses that are spread out throughout the courthouse lawn & adjacent streets.  A complete listing of all vendors participating in this year's event is located below.
We spoke with several individuals who will be part of this year's marketplace to understand why they are participating in the event.
Matthew Barron, an author, remembered when he first learned about Spencer Pride years ago: "I used to drive through Spencer on my way from my hometown Washington to Terre Haute or Indianapolis," he said.  "I was shocked when I heard they had a Pride Festival in little old Spencer!  When I was in school, small-town Indiana was not known for its tolerance."  Why is Matthew participating again this year?  "I'm always looking for opportunities to sell my writing & want to support the festival," he notes.  "The festival is not as over-stimulating as the Pride Festivals in the larger cities & I meet such a great, diverse bunch of people."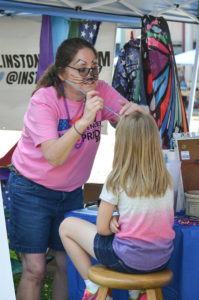 In addition to some of his previous books, Matthew will have his brand new urban fantasy graphic novel, The Brute: Chasing Shadows.
Matthew represents one of about 45 of our vendors who will have items or services for sale at the event.  In addition to the retail vendors, there are many not-for-profit organizations that are providing information about their services, many of which are free or reduced cost.
Planned Parenthood of Indiana & Kentucky will also have a booth.  Leslie Montgomery, Regional Education & Outreach Manager of PPINK, explained what festival-goers can look forward to this year.  "We will have our game wheel where people can test their knowledge about sexual & reproductive health," Leslie explained.  "They will have an opportunity to share their stories about the care they've received at PPINK."
Leslie is looking forward to Spencer Pride this year.  "Spencer Pride is among the best Pride events in the state.  They take good care of their vendors…. The people who visit the table are always friendly, welcoming, & supportive."  Leslie was honored last year when the PPINK was recognized as the "Most Interactive" booth at the festival.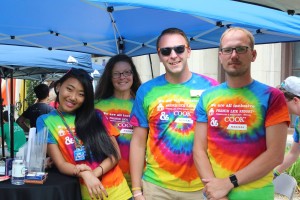 Becky Brown, who represents the Owen County Humane Society, is excited about participating in the marketplace again this year.  She says that the humane society participates in the festival because "we love supporting our local community and giving our dogs and cats every available opportunity to be adopted into great homes."  This year the humane society will have information on spay & neutering.  They will also have dogs available for adoption.  Becky recalls one of her favorite memories from a prior festival was watching friend Pam Browning walk a goat around the courthouse while participating in the Pet Pride Parade.
There will also be booths that represent for-profit enterprises, but that are not actively selling anything at the festival.  These organizations are often there to support the LGBTQ community & drive awareness of their brand.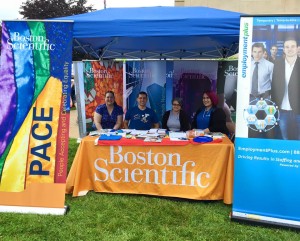 Oscar Saucedo is an employee of Boston Scientific & a member of their employee resource group PACE.  Oscar said that they participate each year in order to support Diversity & Inclusion.  Last year was Oscar's first year at Spencer Pride (although Boston Scientific PACE has been a supporter for several years).  Oscar found the event "eye opening on how great & family-oriented a small-town pride festival could be."
At the Boston Scientific PACE booth, there will be information on the organizations D&I program.  There will be medical device information & games.  They will also have an on-site talent acquisition table for community engagement & employment opportunities.
Boston Scientific PACE is also a sponsor of this year's event.
In addition to the booths in the marketplace, there is a significant increase in the number of businesses downtown that have chosen to advertise as supporters of the 2018 Spencer Pride Festival.  Stay tuned for more information about these businesses on our website.
The Spencer Pride Festival Marketplace will be open from 10 AM until 5 PM on Saturday, June 2.  For more information about the Spencer Pride Festival, please browse other pages on our website.
2018 Festival Vendors (as of May 26th)
ACLU of Indiana
Adam Riviere
All Wrapped Up / Bonefide Creations
Americans United for Separation of Church & State
Area 10 Agency on Aging
Author Matthew Barron
Big Brothers Big Sisters of South Central Indiana
BloomingOUT
Bloomington Meadows Hospital
Bloomington PRIDE
Boston Scientific PACE
BrightStarGlass
CARDINAL SPIRITS & PRIDE LOUNGE (21 & over)
Cardinal Stage Company
Civilian Brewing Corp.
Cook Group
Cruise Planners – Naptown Travel
Denise Dyche State Farm
DJ's Crafts & Sweets
Drunken Bard Creations
E. Thomasina Marili
Earth Drops
Eden Connections / DoTERRA
First United Church of Bloomington
French Lick Resort
Friends of the Forest
GenderNexus
Geno's Kettle Corn
Grimnir's Crossroad Kindred
Indiana Adoption Program
Indiana Crossroads Sisters of Perpetual Indulgence
Indiana Department of Gender Studies / Kinsey Institute
Indiana Forest Alliance
Indiana Health Centers – Owen County
Indiana Stonewall Democrats
Indiana Youth Group
Indy Pride, Inc.
Indy Rainbow Chamber of Commerce/JB Screening, Inc.
IU Health & Wellness
IU Health Bloomington – Positive Link
IVY TECH BLOOMINGTON STAGE
Ivy Tech Community College – Bloomington
IXE
Judah Concessions / BellyBuster
Laci's Bags
Larry Harris Quilts
LifeJourney Church
Meadows Bakery
Microblading by Michele
Middle Way House
Monroe Co. National Organization for Women (NOW)
Moon Goddess Arts
Nate's Candy Jar
National Youth Advocate Program
Newton's Legacy Woodworking & Engraving LLC
No Rain No Rainbows
Osmon Chiropractic Center
Owen County Civic Theatre
Owen County Democratic Party
Owen County Extension Homemakers
Owen County Humane Society
Owen County Progressives
Owen County Public Library Bookmobile
Paws-Abilities, Inc.
PFLAG Hanover/Madison
Pink Zebra
Planned Parenthood of Indiana & Kentucky
Press Puzzles
Pride Lafayette, Inc.
Prism Youth Community
Proudly Vegetarian
Putnam Pride Initiative
Quarryland Men's Chorus
Right on Q Concessions
Rye's Concessions
Silky's Specialty Items
Spencer Evening World
Spencer Main Street
Stable Studios
Starbucks
Sue Westhues
SuPaca Farms, LLC
The Back Door
The Well Armed Woman
This, That, & Mor
Tivoli Theatre
Touch of Nature
Tree Top Terrace Farms
TREES, Inc.
Triple M Concessions
Unitarian Universalist Church
Uplands PEAK Sanctuary
Walmart
WELCOME BOOTH
White River Valley PFLAG – Spencer Chapter
Window to My Soul
Wired Whymsy
Youth Services Bureau of Monroe County
ZenWithin