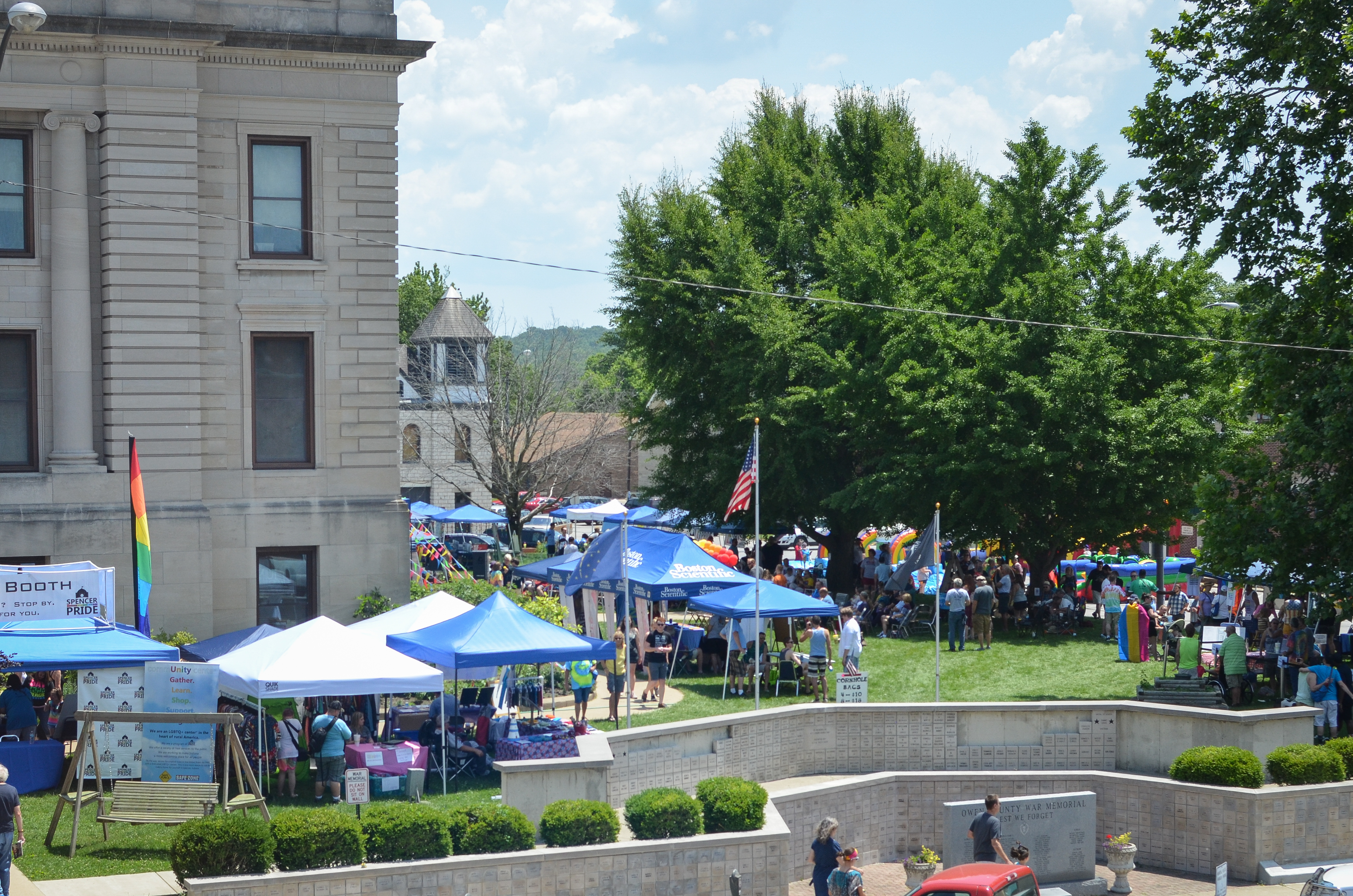 The 2017 Spencer Pride Festival was an amazing success by nearly all measures. Well over 2,000 people took part in the festivities of the 11th annual event in the heart of downtown Spencer.  Although it was hot, attendees seemed quite happy with the entertainment, activities, & opportunities that the festival offered.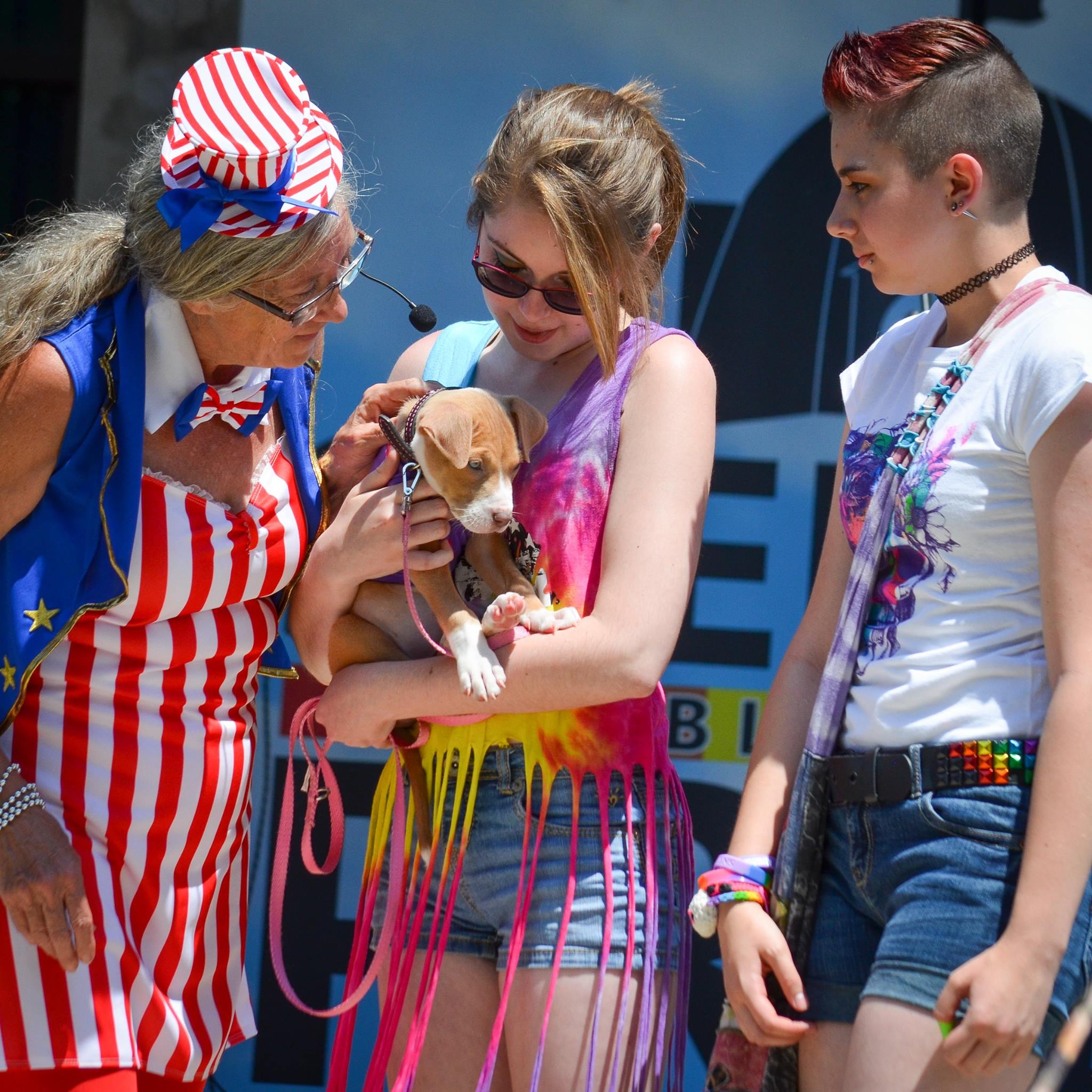 The day was filled with activities for all ages, the entertainment on the main stage, the tasty food options, the third annual Pet Parade, Market Street Family Fun Area, & the Prism All-Ages Activity Zone. New this year was Cardinal Spirits serving up their signature cocktails under the shade of a tree & in sight of the entertainment. In addition, the marketplace received great feedback by festival-goers, many of whom spent hours perusing the items for sale & learning about important causes.
The marketplace was spread throughout the entire lawn of the courthouse and spilled into Franklin Street as well, where most of the food vendors and the Owen County Public Library's Bookmobile were located. The alpacas brought by SuPaca Farms were a HUGE hit with everyone!
This year's food vendors were quite diverse. From funnel cakes to french fries, from corn dogs to fudge to pretzels to corn on the cob and much more, there were plenty of tasty food options at this year's festival.  Shake-ups and other cool treats and sweets were a welcome sight for festival-goers, especially as the weather heated up in mid-afternoon.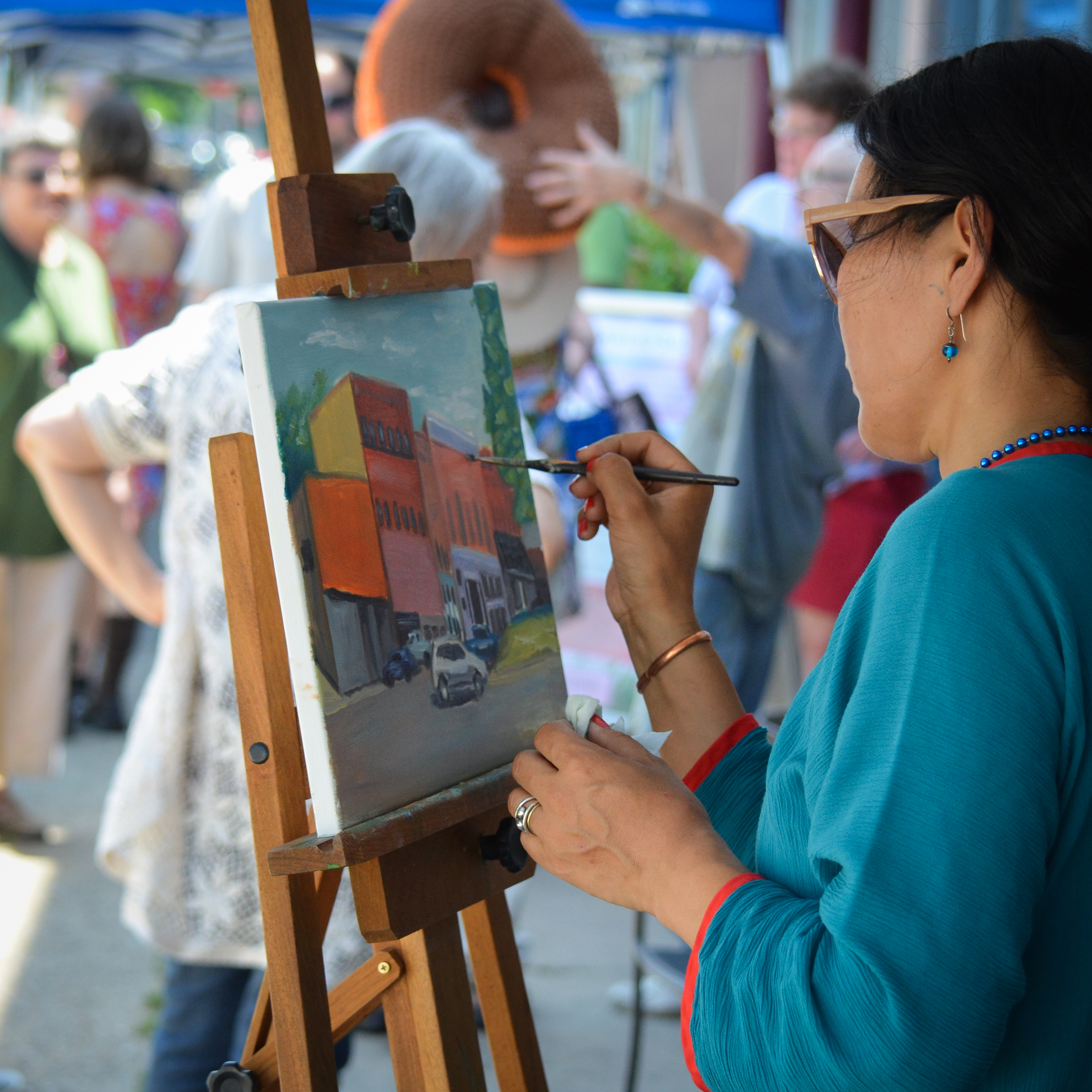 Planned Parenthood won the 'most engaging booth' prize due to their highly outgoing volunteers & interactive display.
Free HIV testing was available throughout the day thanks to IU Health Bloomington.  The confidential testing took place at the Tivoli Theatre thanks to a partnership between the theatre & festival organizers.
Spencer Pride's commUnity center at 46 E. Market Street was a popular gathering and shopping destination.  Unique, locally hand-crafted, & resale items were available throughout the center, while the ever-popular raffles were located in the back room. This year's raffle winners included Robert Smith who won a French Lick Overnight Stay for 2 with a $200 gift card; Terry Urban from Spencer who won a hand-crafted rainbow Adirondack chair; and Diane Salazar from Indianapolis who won a package that included a Bass Pro Shop gift card, Colts house flag, and a windcatcher.   Mark Mason won a package with items from the Cincinatti Reds & Indianapolis Indians;  He also won an overnight stay at French Lick Resort & a package that included a Canyon Inn gift card & CDs from a local musician.  Amanda Terrelll won two packages: a Monster gift basket & Holiday World package that included a Coca-Cola Cooler.  Ryne Shandy won two prints from Susan Anderson Shorter.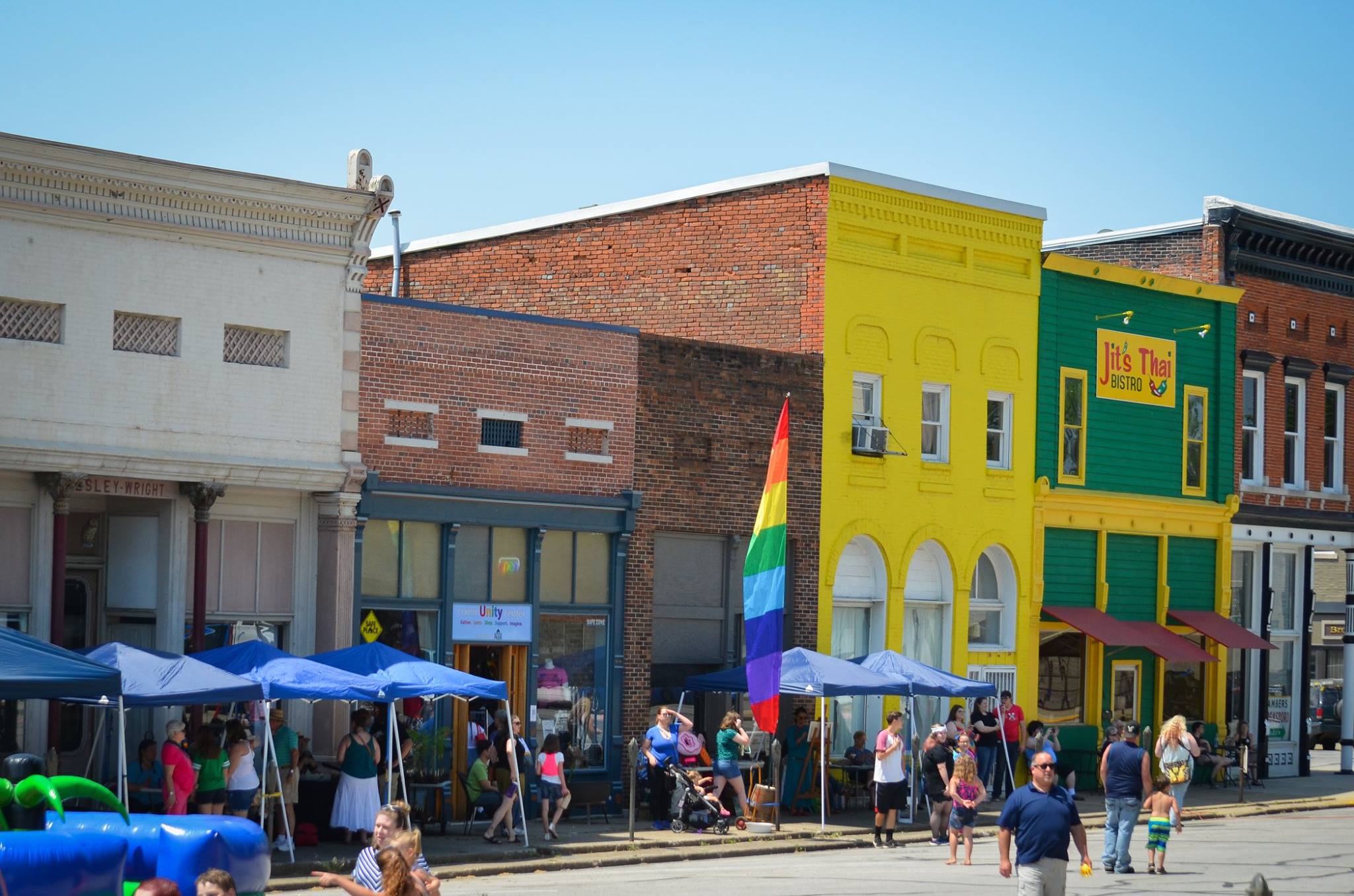 Outside of the commUnity center, local artists were set up beneath canopies where they were showing off their various talents.  Painters, illustrators, knitters, & wire-benders all showed their unique skills to passersby.
All ages took advantage of the inflatable fun that filled Market Street. The deluxe slip-n-slide was well-utilized & appreciated given the balmy temperature. New this year in the Market Street line-up was Bloomington Aerialogy with aerial silk demonstrations and lessons.  Many people took part in observing these aerialists perform their gravity-defying acts while being suspended high above Market Street.
Penny Zufall won the award for Spencer Pride, Inc., Volunteer of the Year, which was presented by president Jonathan Balash & volunteer coordinator Judi Epp.   Zufall was shocked at receiving the award & accepted the award & flower arrangement with tears of joy streaming down her face.
"Spencer Pride is 100% volunteer-driven, & without the help of amazing volunteers like Penny, we wouldn't be able to put on the Spencer Pride Festival," said Judi Epp.
Sheryl Daniels returned for her fifth year as Emcee of the Spencer Pride Festival. Sheryl is also the entertainment coordinator of the event & is responsible for all of the talented artists who perform. This year's line-up included Quarryland Men's Chorus, Different Drummer Belly Dancers, Hudsucker Posse, Window to My Soul, The Trip, Dan Wyatt & Larry Morley, The Retrovales, Owen County Civic Theatre, Zumba with Nancy Emerson & Crew, & finally, the Ladies of Spencer Pride Drag Show.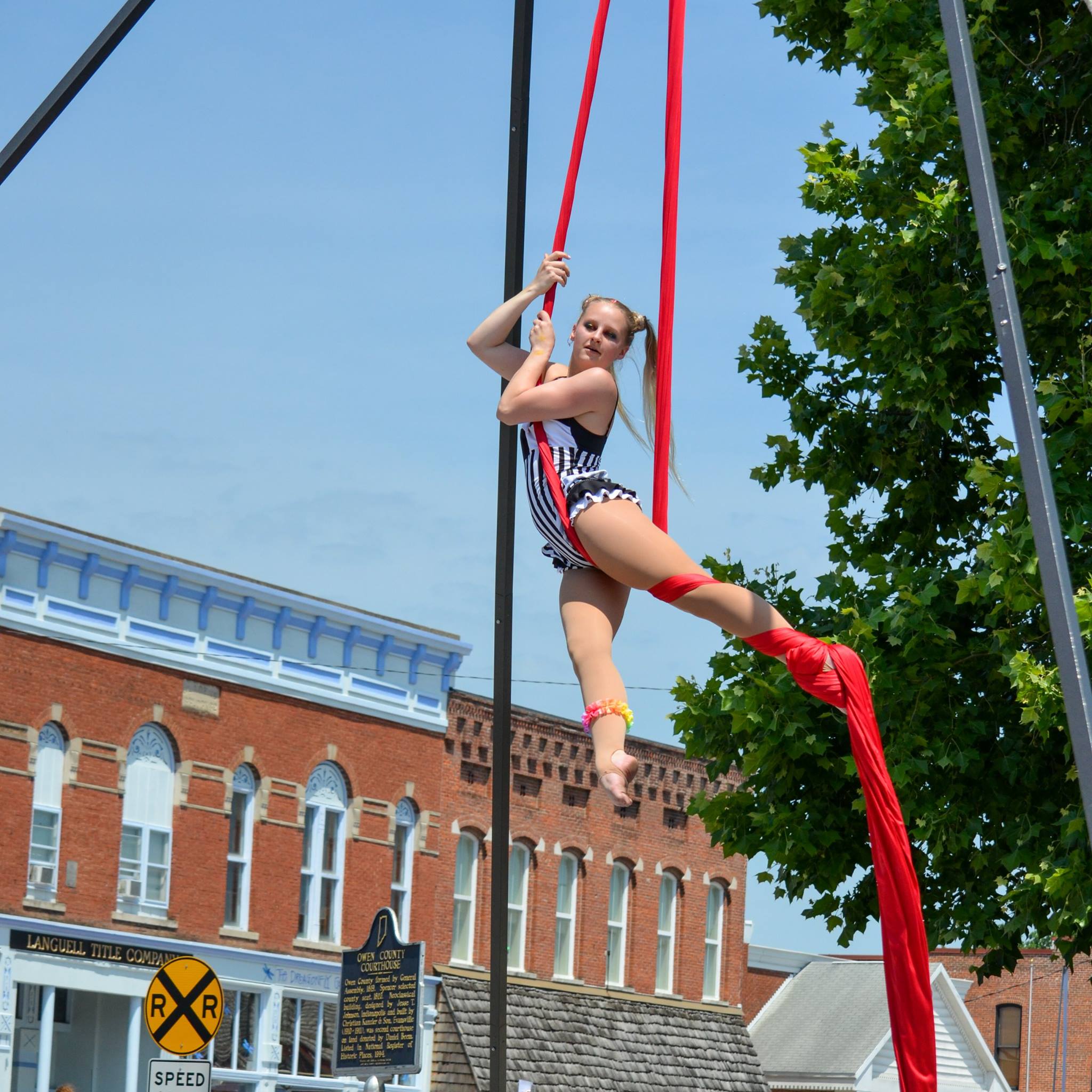 The third annual Spencer Pride Pet Parade was a huge hit.  Nearly 20 animals (& their human companions) participated in the parade. A panel of kids evaluated each one before announcing two winners – one for most colorful and one GRAND PRIZE winner.  All of the pets seemed to enjoy the attention they received as a result of their involvement in the event.
Prism Youth Community coordinated a variety of activities for this year's festival, including  Spencer Pride's annual Coloring Contest!  Kids and adults alike were thrilled to show off their skills coloring the special page made by local artist Stephen Adams exclusively for the 2017 Spencer Pride Festival.  Also at the Prism All-Ages Activity Zone was a contest for the new Spencer Pride coloring book mascot, who is a non-binary raccoon.  "Camden" was announced as the winning name in the late afternoon.
One of the most obvious changes to this year's festival was the participation of a lot more youth.  From booths such as Prism Youth Community & White River Valley PFLAG, youth were in front-and-center of the marketplace.  They also came out in large groups to attend the festival, which was apparent no matter where you were.  Several of the youth in attendance are members of the newly created youth group within Spencer Pride, which has begun meeting routinely at the Spencer Pride commUnity center.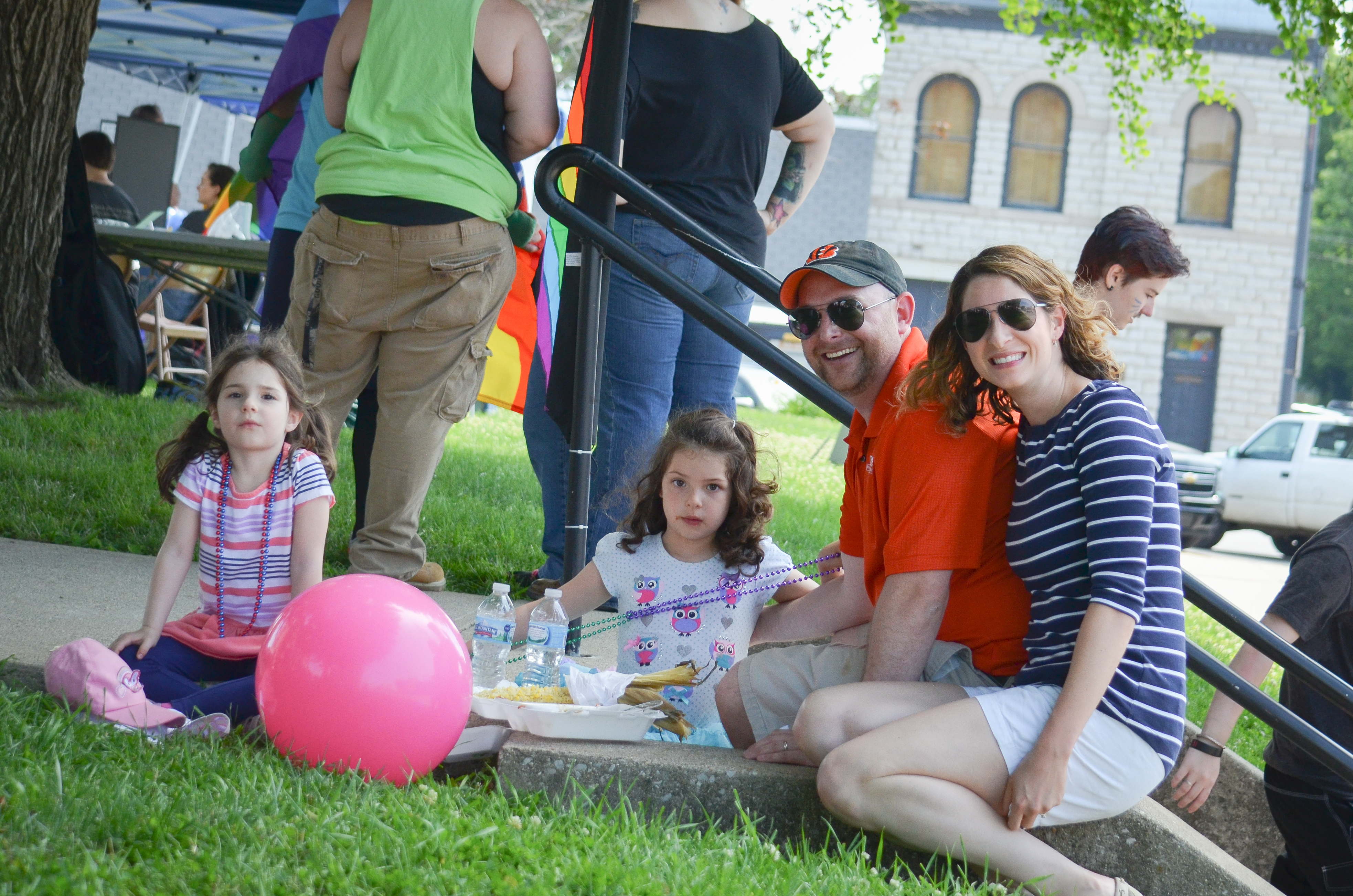 Volunteers at Spencer Pride, Inc., were pleased with how this year's festival turned out.
"We received a lot of feedback from people at the event & even more afterward," said president Jonathan Balash.  "It's been overwhelmingly positive. People continue to recognize the uniqueness of what Spencer Pride is – a family-friendly rural LGBTQ+ pride event where ALL ARE WELCOME."
Balash encouraged individuals who attended the event to share their feedback via their online survey, which can be found at www.SurveyMonkey.com/r/SpencerPride.
Sponsors of the 2017 Spencer Pride Festival included: Cook Medical, Boston Scientific, Walmart, French Lick Resort, & the Tivoli Theatre, among many more.
The 2018 Spencer Pride Festival will be held on June 2, 2018, and will be the 12th annual event.  Volunteers have LOTS in store for it, so interested individuals are encouraged to stay up-to-date on Spencer Pride's work by continuing to visit their website and Facebook pages.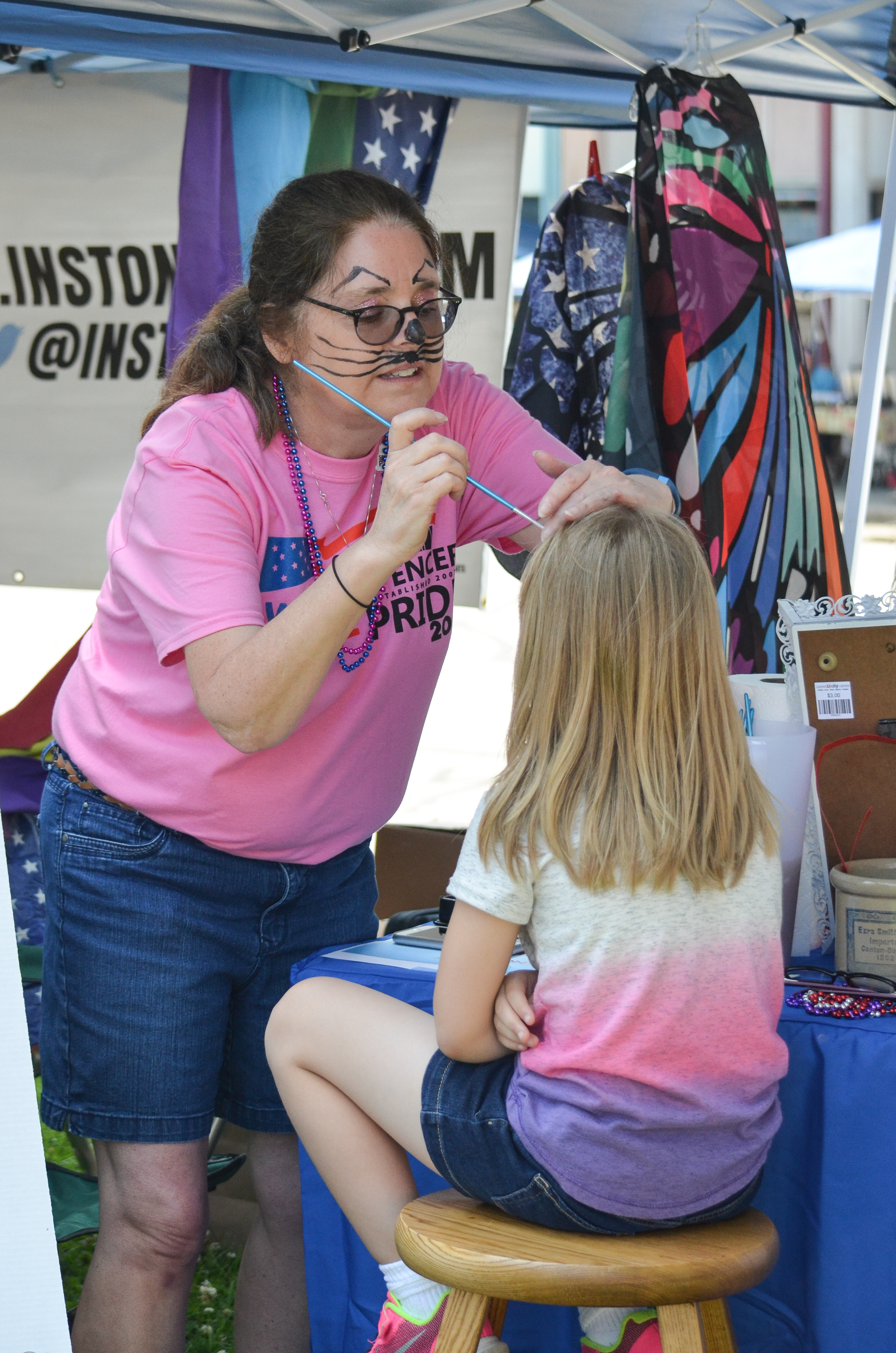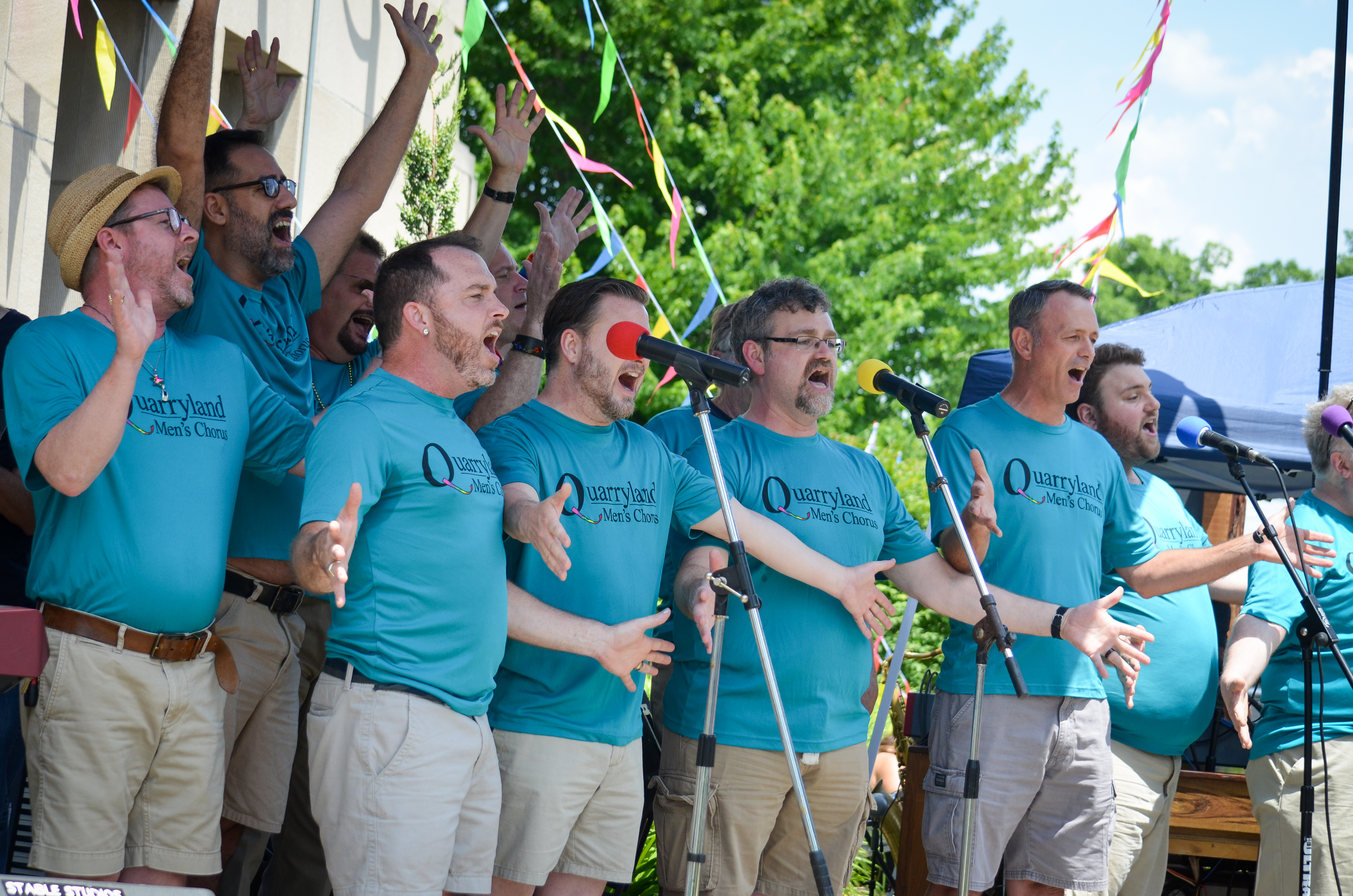 Spencer Pride organizers expressed appreciation for attendees, vendors, & sponsors of the 2017 Spencer Pride Festival.  It was the best attended & most engaging event yet.
More information about Spencer Pride and the Spencer Pride Festival can be found at www.SpencerPride.org.