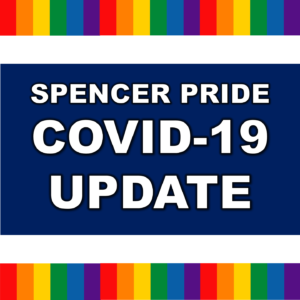 Given the evolving COVID-19/Coronovirus situation, Spencer Pride's Board of Directors has had to make several difficult decisions.
Spencer Pride commUnity Center
Effective yesterday through April 14, the Spencer Pride commUnity center will be suspending all retail store operations in order to prevent the transmission of COVID-19/Coronovirus.  The Spencer Pride commUnity center engages with elders, people with chronic conditions, & people with compromised immune systems, & we need to protect those populations.  The retail store will be available during this period by appointment only.  Contact Jacob Balash at 812-821-1442 to set-up an appointment.
The Spencer Pride commUnity center will remain available for pre-scheduled events that include 10 or fewer people.  Events larger than this will be virtual, rescheduled to a later date, or cancelled.  Specifically:

All Spencer Pride meetings & training sessions will become virtual effective immediately.  This includes monthly volunteer meetings, Board of Director meetings, Festival Leadership Council meetings, committee meetings, & the quarterly training planned for April 11.
Game (Show) Night originally planned for March 28 will be rescheduled to a later date.
The Owen County Commissioner Candidates Forum scheduled on April 14 will take place as planned, however, this will include an all-virtual audience.  The public can participate in this event by watching it via Facebook Live.

HIV Screening planned on March 24 will be cancelled due to IU Health's response to the pandemic.
Facility-related improvements involving 10 or fewer people will continue as scheduled.  This includes the replacement of our roof & other activities.
Youth Programming
The 2nd annual Iris Prom, which was scheduled for April 25, has been cancelled.  We are exploring alternative opportunities to engage with our youth virtually instead.
Effective immediately, Iris Youth Group weekly meetings are cancelled until further notice.
Spencer Pride Festival
The 14th annual Spencer Pride Festival (scheduled on June 6) & all Pride Week events will continue as planned. 
We will continue monitoring advice & direction provided by the Center for Disease Control as well as other national, state, & local government direction.  Should the situation change, we will adapt our plans accordingly.  If any Pride Week events would need to be rescheduled, we will communicate that decision by no later than May 1st.
Spencer Pride remains dedicated to its mission….  In that spirit, we are exploring opportunities to continue to engage with the public & offer services virtually until we are able to resume regular operations.
Spencer Pride is still here for those who need us.  Our organization provided valuable support to the LGBTQ+ community for nearly 10 years prior to opening the commUnity center, so we are experienced in helping regardless of the status of our facility in downtown Spencer.
Spencer Pride will leverage digital forms of communication to ensure that the public, our volunteers, & the stakeholders of our programs are kept apprised of our status.  We will be reaching out to the most isolated & vulnerable members of our community to support them during this challenging time.
You can engage with Spencer Pride in many ways:
For inquiries about our key programs, please contact the following individuals:

For the Spencer Pride commUnity center, including retail operations, meeting room utilization, & health/wellness services, please contact director Jacob Balash at 812-821-1442 or at Jacob@SpencerPride.org.
For youth programming, including Iris Youth Group & our Prom, please contact director Joy Hellman at Joy@SpencerPride.org.
For Pride Festival Inquiries or general Spencer Pride inquiries, please contact president Jonathan Balash at 812-821-3073 or Jonathan@SpencerPride.org.

To add your name to our e-mail distribution list, please send a request to info@SpencerPride.org.
To follow us on social media, please visit:

Facebook: Spencer Pride, Spencer Pride commUnity center
Twitter: @SpencerPrideInc
Instagram: @SpencerPrideInc, @SpencerPrideYouth
LinkedIn: Spencer Pride, Inc.

Visit SpencerPride.org for the latest updates. On our website you can also complete a volunteer application, make a donation, and learn about other ways to become involved with our work.
The volunteers of Spencer Pride are committed to our mission of making Indiana a more welcoming place for ALL people.