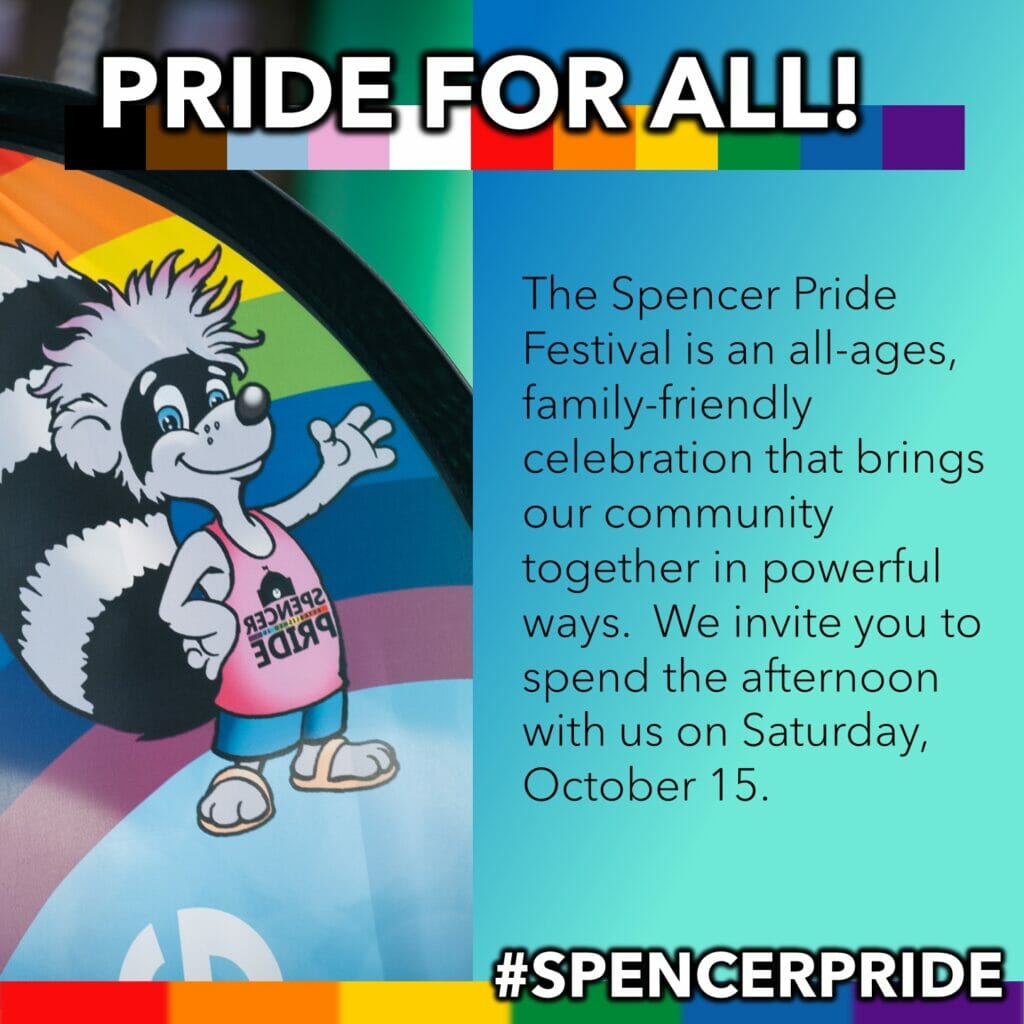 FOR IMMEDIATE RELEASE  – October 1, 2022
Spencer Pride is eagerly anticipating its 15th annual festival, which will take place on October 15.   This rural, small-town LGBTQ+ Pride Festival has a history for it's family-friendly fun, educational opportunities, diverse entertainment, & unique charm due to its location on Spencer's downtown square.   Last year, more than 6,000 people attended the event, which was held for the first time in Autumn. 
There is a lot to see and do at the Spencer Pride Festival, including shopping the massive vendor marketplace (nearly 130 vendors), experiencing fabulous live entertainment, participating in a variety of free activities, and supporting Spencer Pride through our popular choose-you-own raffles and 50/50 drawing.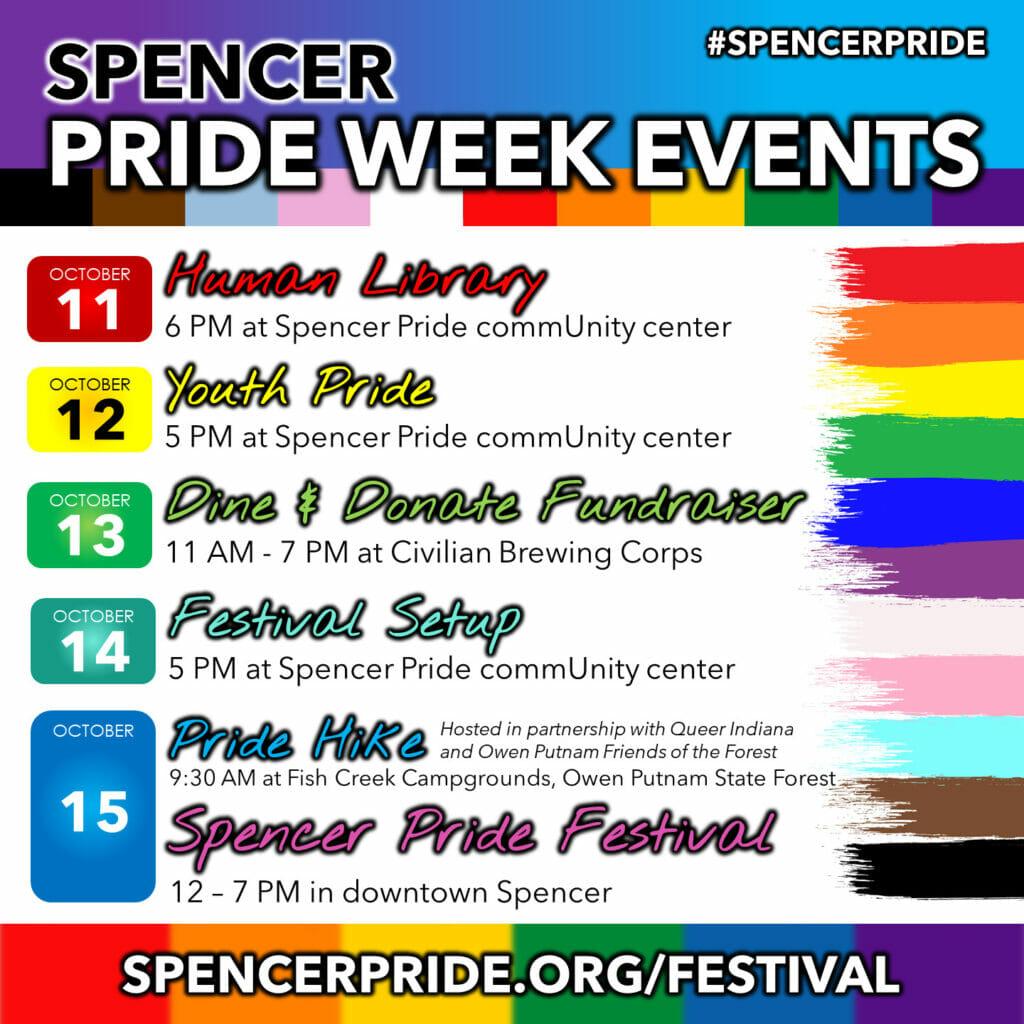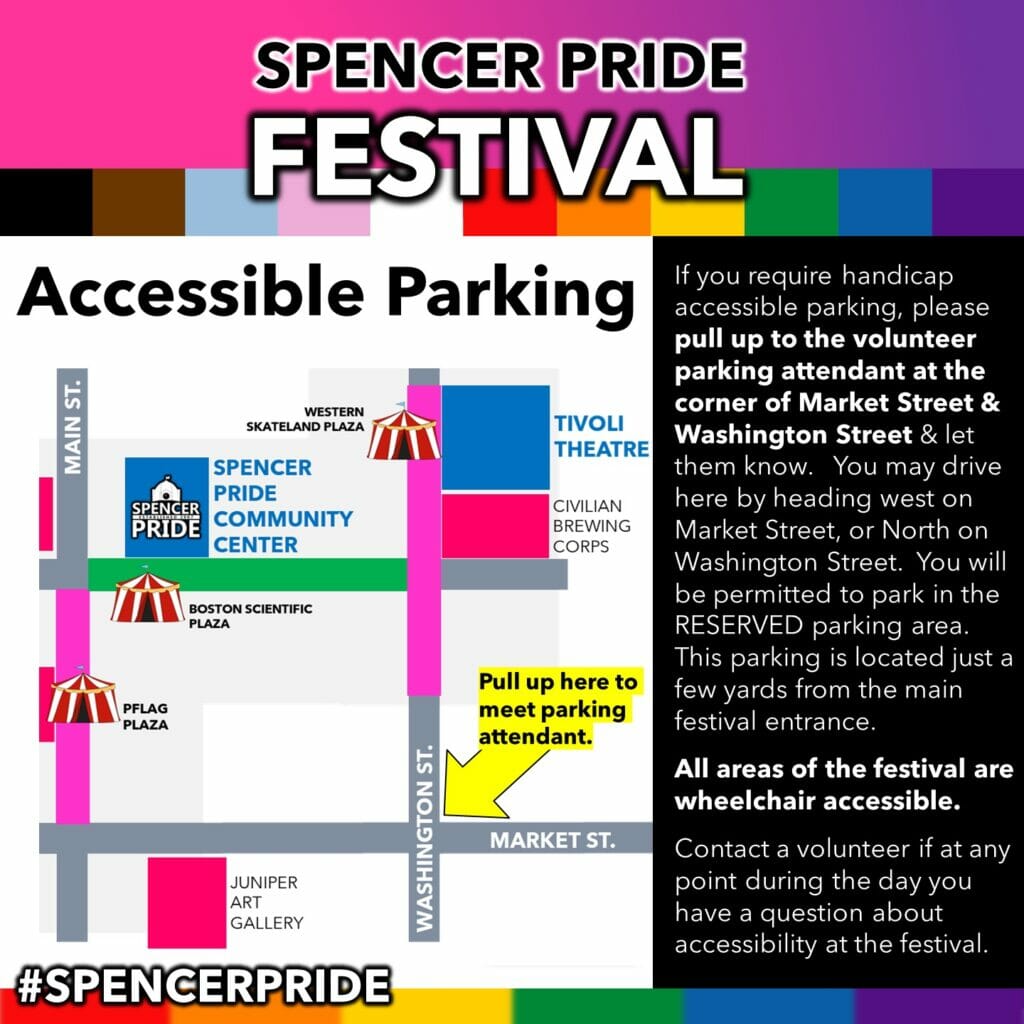 The Spencer Pride Festival marketplace is sponsored by C.H. Douglas & Gray Wealth Management and the official Food & Beverage sponsor is Civilian Brewing Corps.    The CBC brewpub will be open throughout the festival & is conveniently located next to the historic Tivoli Theatre.  They are also partnering with local businesses The Friendly Beasts Cider Company and Cardinal Spirits to sell alcoholic beverages within the marketplace (21+ only).  For the first time, individuals who purchase alcoholic beverages will be able to carry them anywhere within the outdoor festival grounds.   Three plazas will be located throughout the marketplace if individuals wish to find a spot and relax with friends, while enjoying their Spencer Pride experience.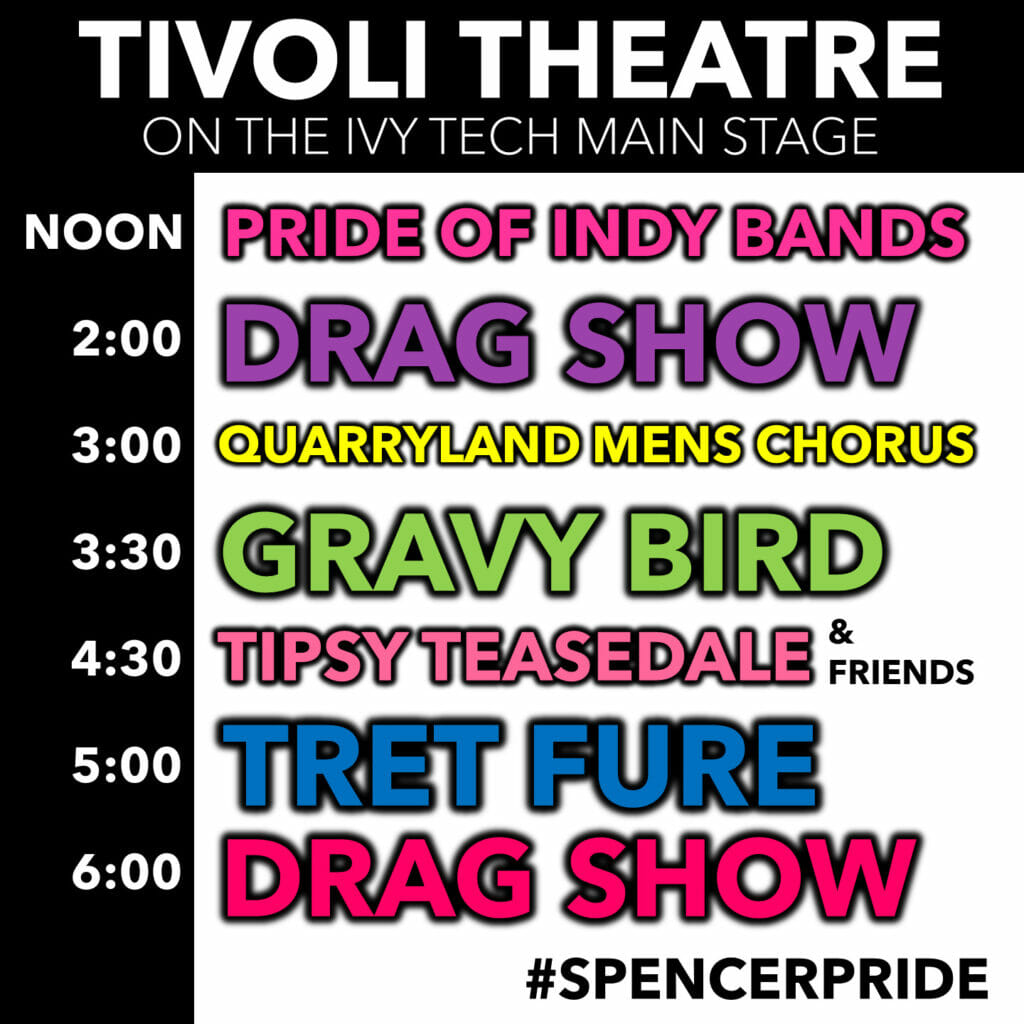 The entertainment main stage, sponsored by Ivy Tech Community College Bloomington, will be in the historic Tivoli Theatre.   The stage will host a wide variety of performers – from popular lesbian artist Tret Fure to the Quarryland Men's Chorus, and much more!  This year, Spencer Pride will have two separate and unique drag shows (at 2 PM and 6 PM), to accommodate this popular attaction.   
The Spencer Pride Festival is a welcoming atmosphere that is 100% admission-free.  In addition to the all-day live entertainment & marketplace, there will be a variety of other family-friendly activities, health & wellness services, raffles, & other opportunities to gather, learn, support, shop, eat, imagine, & celebrate.  The annual Pet Parade, presented by Evie, will take place in the afternoon.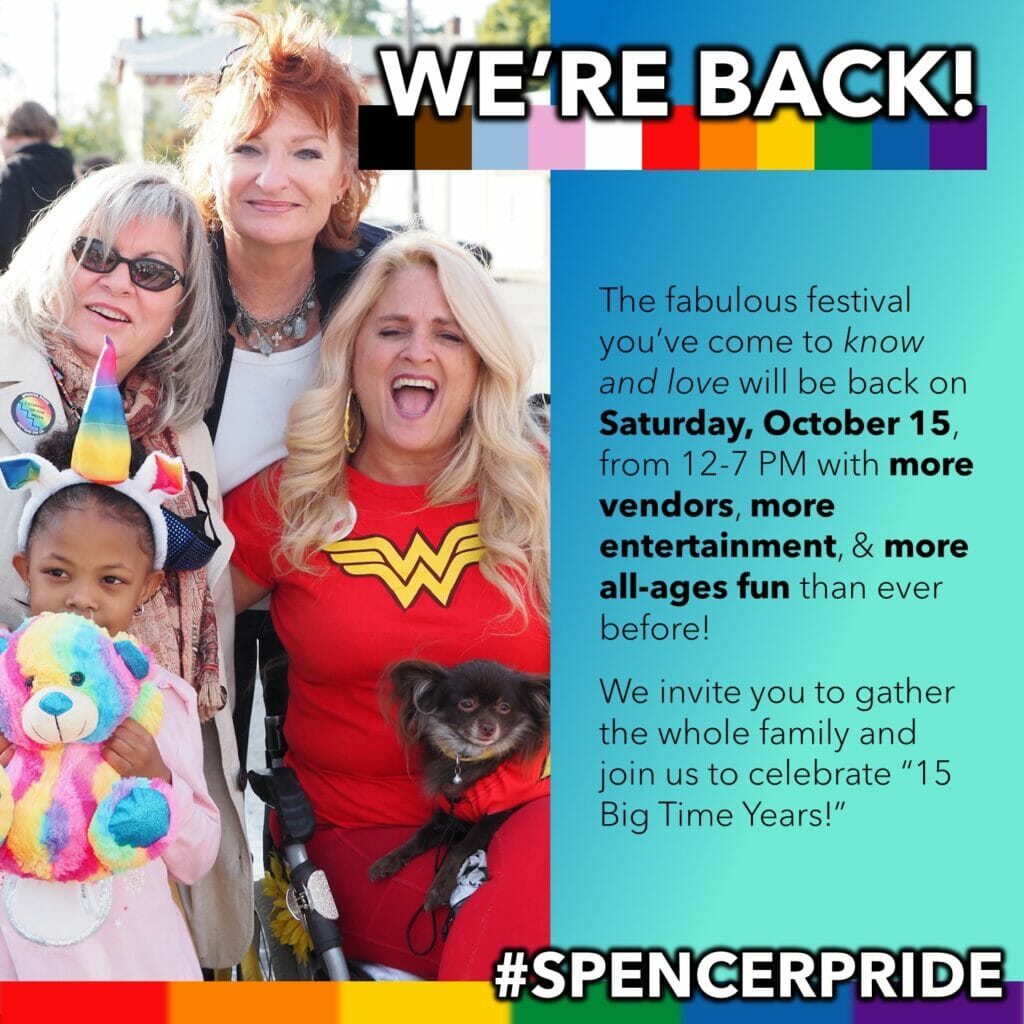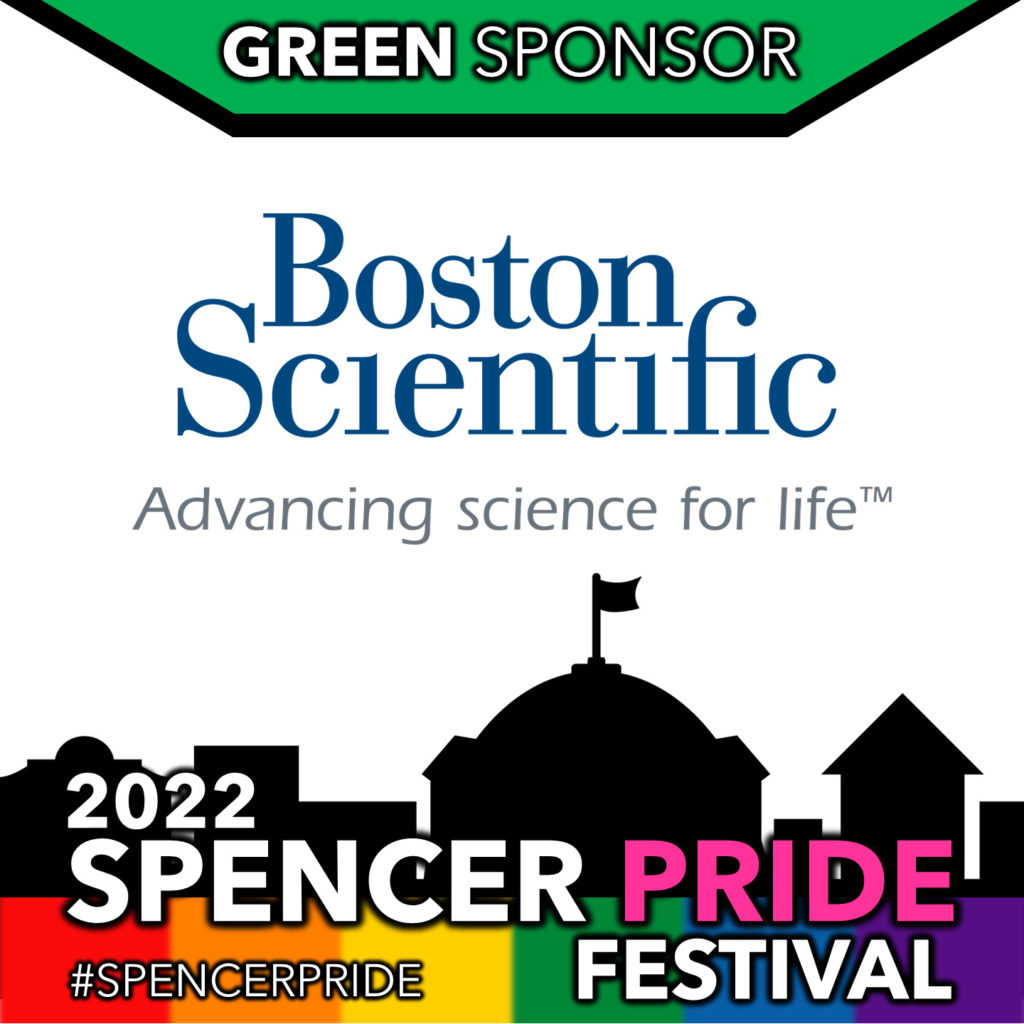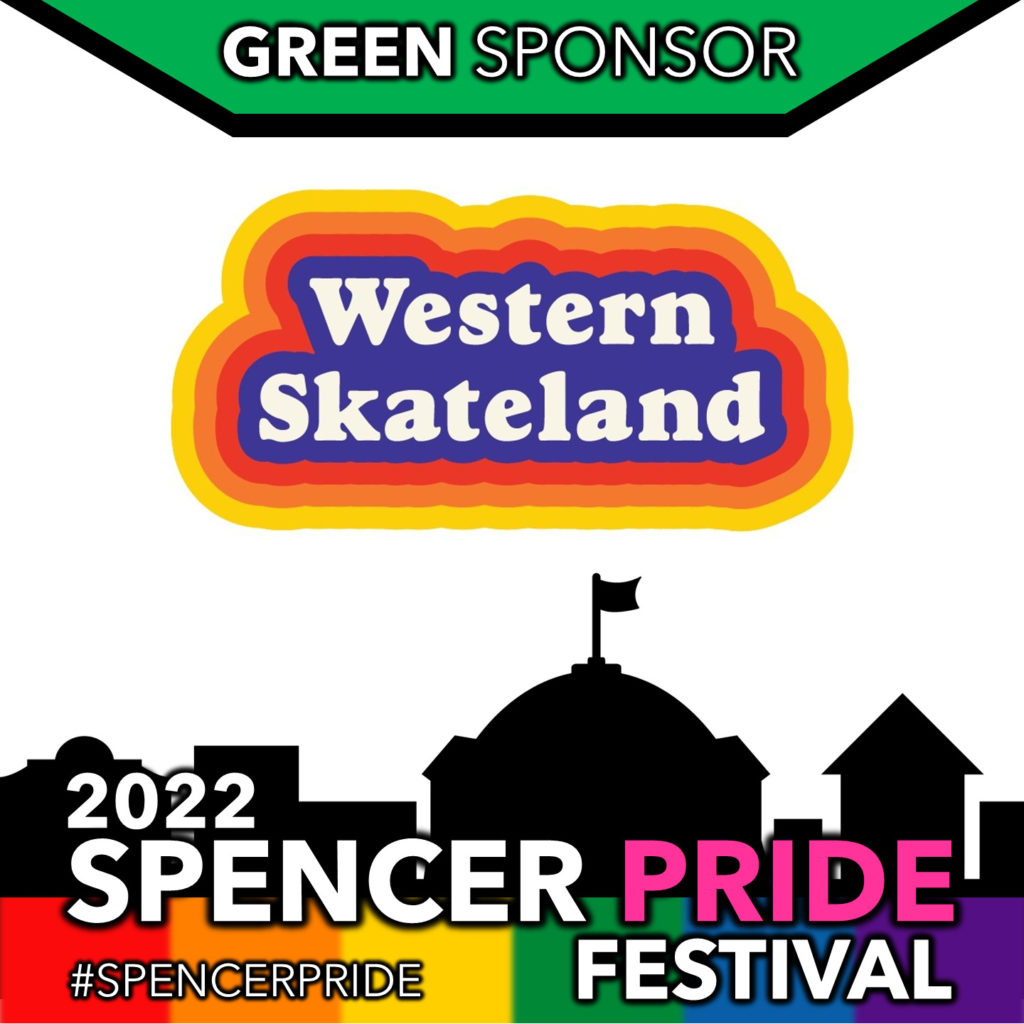 There will be an immunization clinic offered, hosted by the Indiana Immunization Coalition.   COVID-19 vaccinations, flu shots, & other services will be offered at no cost to festival attendees.  Monkeypox vaccines will be available, provided by the Indiana State Department of Health.  HIV screening will be provided by IU Health Positive Link.   A low-sensory area is also available this year for those who would benefit from it.
Parking for those with a disability will be available downtown.  Other attendees are encouraged to park at Boston Scientific and ride the complimentary Pride Shuttle to the festival.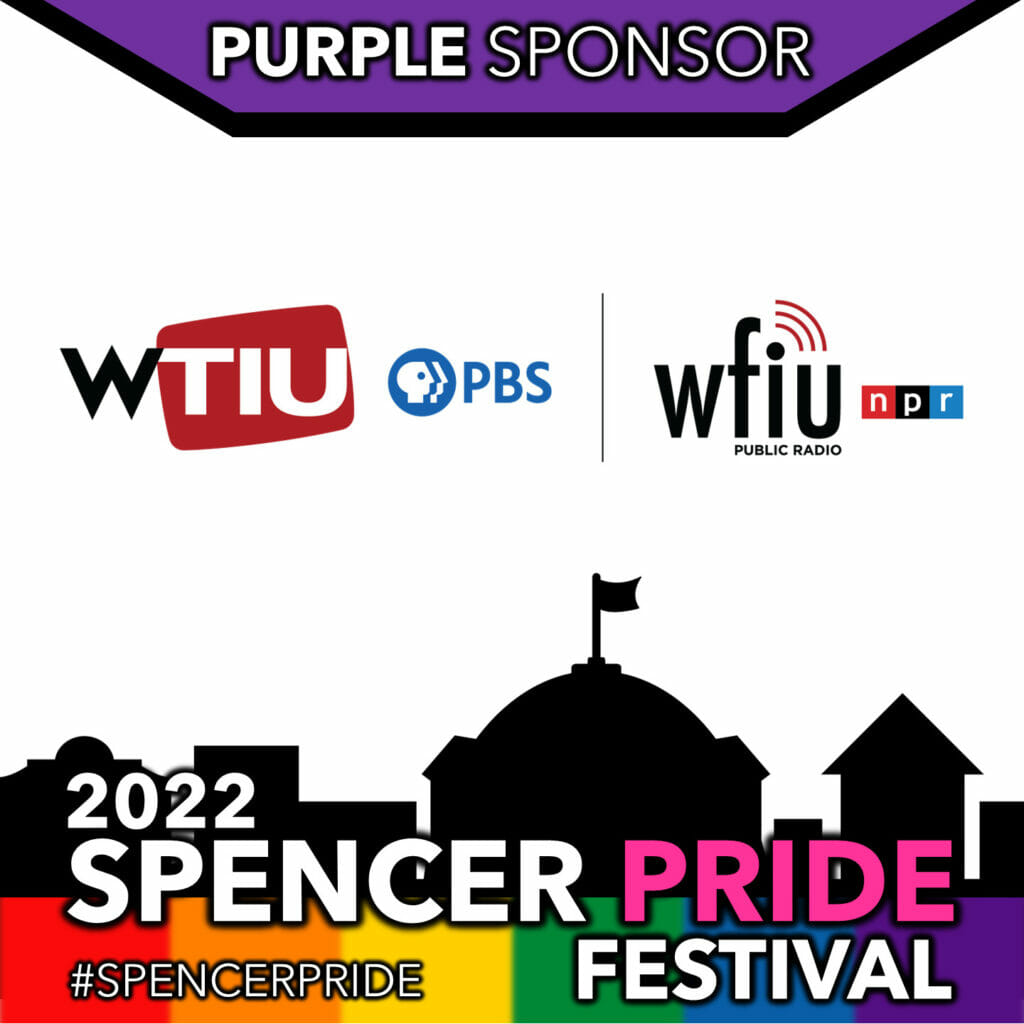 The 2022 Spencer Pride Festival takes place on Saturday, October 15 from 12 – 7 PM.   Additional events & activities will take place for Spencer's "Pride Week" from October 10-16.  The 2022 Spencer Pride Festival is sponsored by WFIU/WTIU.   Other sponsors of the 2022 Spencer Pride Festival include Duke Energy, Youth Services Bureau of Monroe County, Boston Scientific, Western Skateland, & Spencer PFLAG.
Additional information about the 2022 Spencer Pride Festival can be found at www.SpencerPride.org/festival. 
Spencer Pride is a 100% volunteer-powered 501(c)3 not-for-profit organization with a mission to make Indiana a more welcoming place for ALL people, including those who identify as a part of the LGBTQ+ community.   Spencer Pride was established in 2007 after hosting the first annual Spencer Pride Festival.   The organization also operates the Spencer Pride commUnity center, located at 17 E. Franklin Street in downtown Spencer.