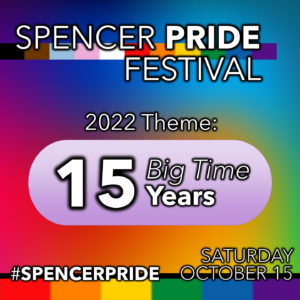 In a little more than two months, several thousand people will be in downtown Spencer celebrating the 15th annual Spencer Pride Festival.   The admission-free event will feature live entertainment at the historic Tivoli Theatre and several outdoor plazas, a huge marketplace with more than 100 vendors, health & wellness services including a free vaccine clinic and HIV screening, and activities for the whole family to enjoy.  This year's theme is "15 Big Time Years," a clever twist on the organization's use of "Big Time Queer" and in recognition of the decade and a half that the Spencer Pride event has brought people together in the rural south central Indiana community.
"This will be our second year in October," said Jonathan Balash, Spencer Pride's president and pride festival director.  "Last year, more than 6,400 people came to Spencer Pride for our first fall festival.  The feedback was clear: let's keep this fabulous event in October."  October is LGBTQ+ History Month, and as such, is a fitting time for this history-making event to take place.
The event will take place on Saturday, October 15 from 12 – 7 PM.  Similar to 2021, the event will span the entire courthouse square in Spencer, with activities taking place at several downtown indoor and outdoor locations.  The 2022 Spencer Pride Festival is sponsored by WTIU/WFIU, Boston Scientific Corporation, Duke Energy, C.H. Douglas & Grey Wealth Management, Western Skateland, Spencer PFLAG, and many more local and regional organizations.
Although Balash was tight-lipped on the details for this year's event, he did let slip that the ever-famous Spencer Pride Drag Show will see its biggest expansion yet, doubling in length and welcoming many new drag performers to the main stage.
The Spencer Pride Festival is organized by Spencer Pride, Inc., a 100% volunteer-powered 501(c)3 not-for-profit organization based in Spencer.  Spencer Pride also operates the Spencer Pride commUnity center (17 E. Franklin Street), supports local youth, and hosts a wide variety of year-round health & wellness programming for the public.   For more information about the 2022 Spencer Pride Festival, including a lineup of performers and listing of vendors, visit www.SpencerPride.org/festival.