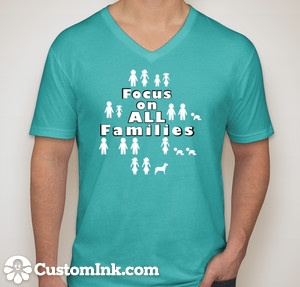 The official 2014 Spencer Pride Festival T-shirt will go on sale for the public on the day of the festival (June 7 from 10 AM until 5 PM).  
The t-shirt will retail at $14 but early festival-goers can save $2 per shirt if they buy it before 2:00 PM.  There is also an additional 50 cent discount per shirt when ordering two at a time
The T-Shirt design reflects the 2014 festival theme "Focus on ALL Families."  The shirt is available in grey or tahiti blue and in adult sizes small through 3XL.  The shirt is a 90% cotton and is a v-neck style.
Volunteers of Spencer Pride Inc. were given free shirts as a thank-you for their hard work in helping to make the festival happen.