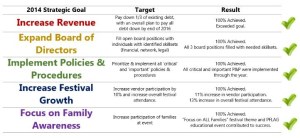 While the Board of Directors works to complete their proposal for the 2015 strategic goals & budget, which will be presented to the volunteers during our September meeting, it is important to look back at our goals for 2014.  
We are very happy to report that all 5 of our strategic goals were completed in their entirety.  Through our fully engaged and driven Board of Directors and our loyal, passionate, & dedicated volunteers, we were able to accomplish our goals.  
This was the first year that the Board of Directors outlined a formal strategic plan to keep the organized focused on the most important goals.  The results speak for themselves!