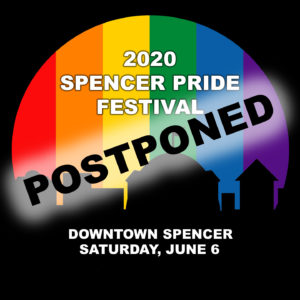 Last night the Spencer Pride Board of Directors voted to postpone the 2020 Spencer Pride Festival due to the health & safety concerns associated with the ongoing COVID-19 pandemic.
As most people are aware, there are currently a variety of restrictions in place against large gatherings.  We expect many of these restrictions to still be in place in the coming weeks (& months).  Even without those restrictions, we feel strongly that it is our duty as a community organization to think first about what is best for our community.  Doing what we can to help "lower the curve" is essential to ensuring that our community is best equipped to dealing with the pandemic.
This is the first time in 14 years that we've ever had to postpone our annual event, but we know it's absolutely the right thing.
If it's not going to be on June 6, then when will it be?  The board has selected two dates that we are pursuing, both of which are this Fall.  This will give the pandemic time to peak & perhaps some time for the various restrictions & concerns to subside.  We are mindful of a potential 'resurgence' at the end of the year, but as with many things right now we are making decisions with the best information at hand, referring to the wealth of medical & other scientific data available about the pandemic & its most likely course.
Once we have received approval from the Spencer Town Council, which we expect in the next few weeks, we will announce our new date & begin making the appropriate adjustments to our planning.  We ask our marketplace vendors, sponsors, entertainers, & other stakeholders to be patient as we establish our new date.  Once it has been announced, we will work with these important festival participants to see how we can continue to maximize their inclusion in the 2020 festival.
Questions about this decision or the new dates we are considering should be directed to festival director Jonathan Balash at Jonathan@SpencerPride.org.
Although we are entering uncharted territory for our festival, we are confident that it will still be our BIGGEST, BOLDEST, & BEST ever.