Planning and executing the 2021 Spencer Pride Festival took thousands of volunteer hours and the support of many organizations who financially supported the event.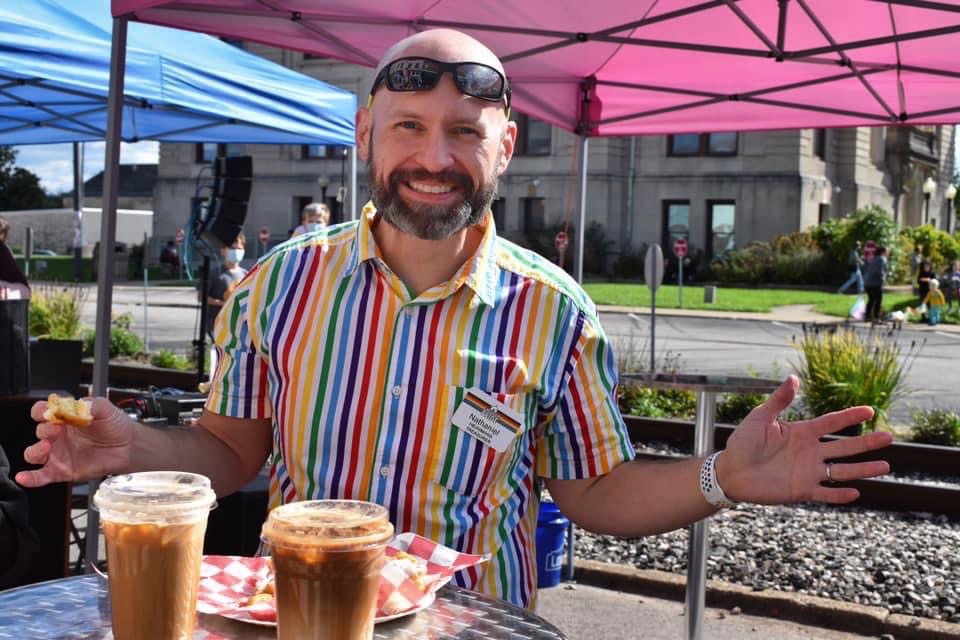 Nathaniel Clawson first attended the Spencer Pride Festival in 2019 and was so moved by what Spencer Pride was doing, he decided to start volunteering for the organization.   He was one of more than 100 people who volunteered their time over the weekend for the Spencer Pride Festival.
Clawson, who is now Spencer Pride's treasurer, volunteered at the festival alongside a colleague from Boston Scientific who had not been to the festival before.  The two men stayed late into the night to help tear-down canopies, inflatables, and decorations.  After a long, hard day working, the men left with sweat on their brows and smiles on their faces knowing that they had been a part of something truly special.
"Spencer Pride is 100% volunteer-driven," said Clawson.  "We have some of the best volunteers in the region.  They are all deeply committed to our mission."
Dorothy Maley and her husband were energized by the festival turnout.  While they volunteered in several places during the festival, Maley's favorite role was at the Spencer Pride booth raising money for the commUnity center's "Moving On Up" rehabilitation project.  Maley, who is a longtimeAll Posts  Spencer Pride volunteer, was excited to make many new friends this year while soliciting for donations.
Another reason why Maley volunteered?  "It's so much fun!" she exclaimed.
Lisa Patys, Spencer Pride's director of volunteer communications, also volunteered at the event.  Patys and her wife recently moved to Owen County and quickly became involved with Spencer Pride after seeing the impact of the local organization.   Both of the women helped with the festival, including setup and tear-down.
"The 2021 Spencer Pride Festival was such a joyous, affirming event for our community," Patys said.  "I am so happy that we relocated to this area and that we connected with this wonderful organization so quickly."
To fund this year's festival, Spencer Pride turned to several community organizations, including: Spencer Main Street, Youth Services Bureau of Monroe County, Ivy Tech Community College, and area Walmart and Sam's Club stores.  Many of these sponsors had booths in the festival marketplace.
Boston Scientific, Owen County's second largest employer, continued their longtime support of Spencer Pride.  Boston Scientific sponsored a marketplace plaza as well as the newly introduced Pride Shuttle.  The Pride Shuttle was a big hit among 2021 attendees.   Boston Scientific has been a sponsor of the festival previously and has also donated in support of other programs, such as the Iris Youth Group.
Other plaza sponsors included PFLAG Spencer and Western Skateland.
Cathy Wyatt is a longtime volunteer of Spencer Pride.  Her husband and sisters, among other family members, are also volunteers for the organization.  This year, Cathy represented PFLAG Spencer during the festival.  She engaged with many people throughout the day and was particularly pleased to have spoken with so many parents and family members of LGBTQ+ youth.
"Our youth need strong support systems," Wyatt explained.  "We help parents, family members, and friends to become better allies for local LGBTQ+ kids."
"We are grateful for the ongoing support of our sponsors," Balash said.  "Between our loyal sponsors and our passionate volunteers, it's an unstoppable pairing that keeps us coming back year after year."