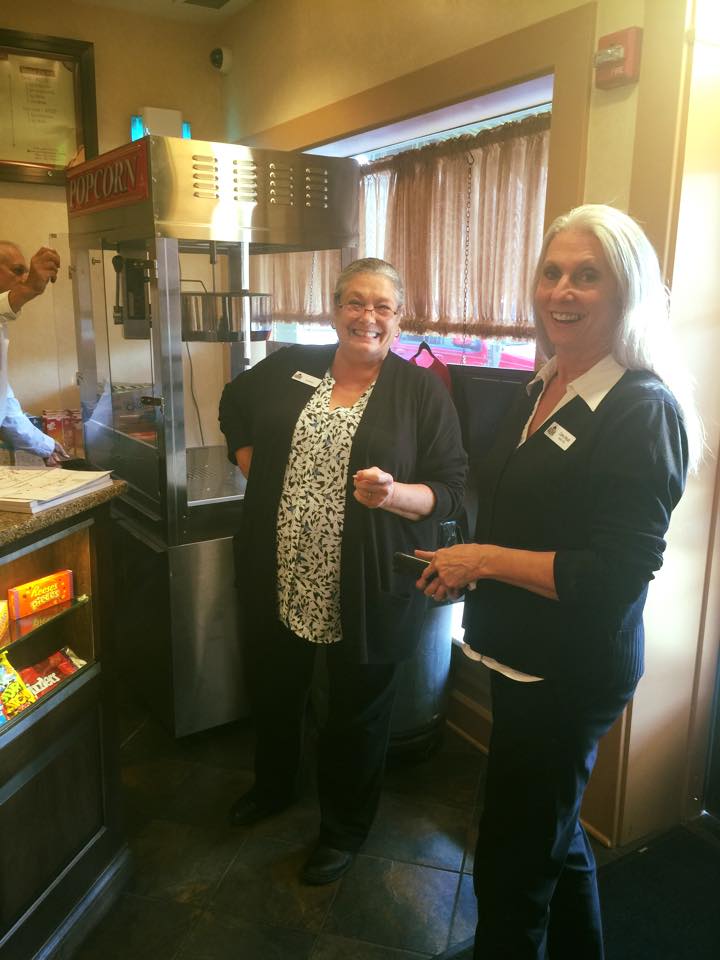 Although it seemed that everyone was excited for Star Wars: The Force Awakens to come to the historic Tivoli Theatre, no one was more eager than the Spencer Pride volunteers!
Each month, Spencer Pride volunteers staff the entire theatre for the 7 PM show on the second Saturday.  It's something that the organization has been doing since shortly after the theatre re-opened in 2013.   For this past December, however, much more was planned.   As a part of the early celebration of the 10th anniversary of the Spencer Pride Festival, the organization has been conducting service projects with local groups.
The December service project was volunteering extra hours at the Tivoli.  Besides their normal monthly commitment, Spencer Pride volunteers helped out during every single regular showing of a film at the Tivoli.
It's been rumored that Jonathan Balash, their only trained projectionist (and president of Spencer Pride), saw the new Start Wars film at least 6 times, not to mention the other films he saw while volunteering over the course of the month.
In total, Spencer Pride volunteers put in nearly 100 hours at the Tivoli Theatre during the month of December, something that the organization is very proud of.
Rob White, a board member of Owen County Preservations which oversees the Tivoli, expressed his appreciation to Spencer Pride volunteers.   "I just wanted to personally tell you all thanks for the added help in our busy movie schedule," he said.
Cathy Wyatt, one of the most faithful Spencer Pride Tivoli volunteers (and a member of the Spencer Pride Board of Directors) had this to say about volunteering: "I've been a volunteer in Owen County in various ways for over 40 years.  Each effort was very important to me for different reasons.  As a Spencer Pride volunteer, I have found working as a group at the Tivoli theatre very rewarding.  I work with great people in an environment that has been a big part of my life here in Spencer."
Cathy went on.  "Volunteering with Spencer Pride at the Tivoli serves three purposes for me.  One, it promotes equality.  Two, it supports a vital historic building that I want to thrive.  The third – and most important – is that it builds a strong sense of community between local organizations working on common goals."
Another volunteer, Joan Staubach, enjoys the camaraderie of volunteering at the theatre. "I volunteer for the Spencer Pride group because I love being with all of you. The Tivoli is a special place for me as well. Great people, great fun."
Find out what's next on the list of 10th anniversary projects and the 10th anniversary festival by visiting Spencer Pride on Facebook or www.spencerpride.org for more information. Email questions to info@spencerpride.org.