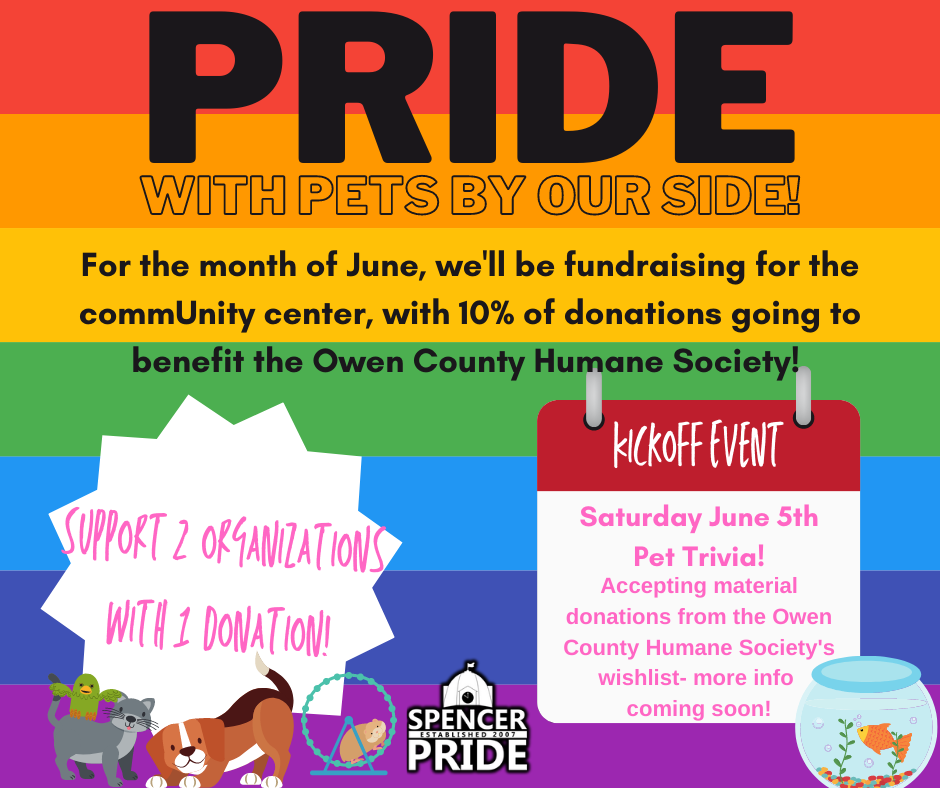 Join us in June at our commUnity center or online for our "Pride — with Pets at Our Side" events. We are celebrating and fundraising for the commUnity center – with 10% of all donations & raffle proceeds during Pride Month going to Owen County Humane Society.  In addition to the Humane Society, we are highlighting pet rescues and sanctuaries, as well as pet-related services in our local area. We at Spencer Pride recognize the valuable work of these nonprofits and businesses to make life better for the animals we live with.
You can take part in:
Pet Trivia Contest at the commUnity center at 12:00 noon on June 5th
Pet Saturdays with pet service organizations at the commUnity center, June 5th and 26th.
Raffles – online and in person
Illustrated Pet Parade pet portraits by children
Support Owen County Humane Society by filling their "Wish List."
Pride Prize Wheel at the commUnity center June 1st through June 30th during regular operating hours
The Pet Trivia Contest will be our kickoff event in person at the center on June 5th at 12:00 noon.  Join us for learning and laughter! There will be special questions for preteen participants and a prize for the person with the most correct answers. RSVPs are needed for in-person participation due to limited capacity.
Pet Saturdays:  The first and last Saturday in June, volunteers from rescues and sanctuaries will be at the commUnity center to provide information about their services and the ways you can support them.  We are expecting the Owen County Humane Society, Pets Alive spay/neuter service, and the Exotic Feline Rescue Center.
Raffles: Follow our social media and check in Unity to connect with all our fundraising raffles.  We will be featuring donated pet items and services, family fun opportunities, and personal care services (think of it as pandemic recovery care).  The business owners who donated personal care services welcome ALL people as their clients. Our pet-related donations include items from Foxy Mutts Pet Grooming, Mad 4 My Dog, It's a Ruff Life, and Ridgeline Veterinary Services.
Illustrated Pet Parade:  We are inviting any child who loves a pet to draw and submit their pet's portrait to be hung in the commUnity center window. On the first of June, we will have special paper for the portraits available to be picked up at our center. All preteens who submit a portrait during June will receive a small prize.
Support Owen County Humane Society: In addition to sharing 10% our fundraising efforts, we will be collecting needed  items for OCHS at Unity during June and will deliver them at the end of the month with our monetary donation.  Here is the Humane Society Wish List:
Laundry soap
Dish soap
Bleach
Sponges/scrubbies
Windex
Paper towels
Large dog treats
Stamps
Thank you cards
Cat/dog toys
Carabiners
Hand sanitizer
Qtips/ cotton balls/ gauze squares
Wet kitten food
Slip leads
Small litter boxes
Pride Prize Wheel:  Visitors to the Spencer Pride commUnity center (17 E. Franklin Street in downtown Spencer) are invited to spin the Pride Prize Wheel, which guarantees each participant a prize in honor of our Pride Month celebrations.  Prizes range from free LGBTQ+ pride merchandise like flags, stickers, & apparel to a variety of other items & in-store discounts up to 50% off!  Every spin wins!   Individuals may participate once per day.  Age-appropriate prizes are available for children under 12.
Pet Services in Our Area
Rescues and Sanctuaries:
Owen County Humane Society:   https://ochumane.org/
Our Lil Bit of Heaven:  https://bitofheaven.org/
Indiana GSD & Siberian Husky Rescue:  http://www.indianagsdhuskyrescue.myresq.org/
Exotic Feline Rescue Center:  https://www.efrc.org
Upland's Peak Sanctuary:  https://uplandspeaksanctuary.org/
Horse Angels:  https://www.facebook.com/horseangels.org/
The Sanctuary at Browning Farms:   https://www.facebook.com/browningfarms/
Pet Health Services:
Pets Alive: https://petsaliveindiana.org
Ridgeline Veterinary Services:  http://ridgelinevet.com/
Town & Country Veterinary Clinic:  https://veterinarianspencerin.com/
Dog Training, Grooming, and/or Supplies:
Mad 4 My Dog:  http://www.mad4mydog.com/
Justice K9 Training:  http://justicek9training.com/
Foxy Mutts Grooming Salon:  https://www.foxymutts.com/
It's a Ruff Life: https://itsarufflifedogtreats.com/