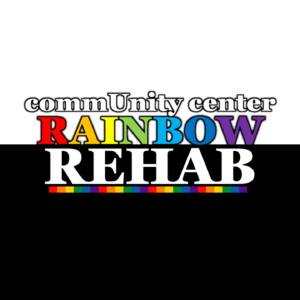 Written by Jonathan Balash, Spencer Pride President
The Spencer Pride commUnity center's Rainbow Rehab project is well underway in downtown Spencer, with several recent changes visible from both the outside & within.  I have the distinct pleasure of leading the Rainbow Rehab effort, supported by our many volunteers & volunteer leaders.
The Rainbow Rehab is a multi-year effort that will transform the commUnity center's appearance, capacity for our programs & services, & long-term sustainability.
Initial Rehabilitation Investments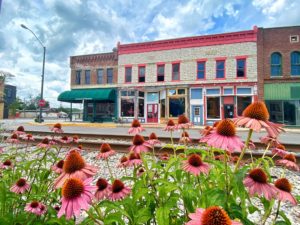 Rehabilitation efforts have been continuous since we acquired the building in October of 2017.  Right after the purchase was complete, we invested significantly in the first-floor areas to make them safe, clean, & comfortable for our needs.  While some of the work was done by local contractors, most of the activities were completed by our passionate, dedicated volunteers.
Over the following three years, we have continued to make steady progress in improving other aspects of the facility.  Our most significant investment after our post-purchase rehabilitation work was the replacement of the roof (well, actually, it is 3 roofs, with a replacement cost of nearly $40,000).   The roofs were replaced thanks to significant donations & a couple of grants.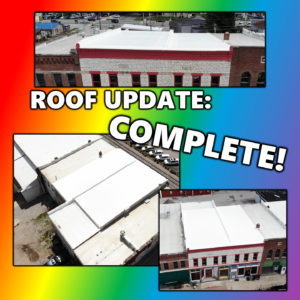 In early 2020 we were excited to completely renovate the exterior wall of our Gathering Place, which improved lighting & insulation of that area & also added additional electrical access indoors & outdoors.  In addition, we gave the front of the center a fresh coat of paint, although we did not finalize that work prior to the changing of the weather (we will finish it this Spring).
Recent Improvements
Thanks to generous grants that we received in late 2020, we have made several improvements at the commUnity center over the past few months.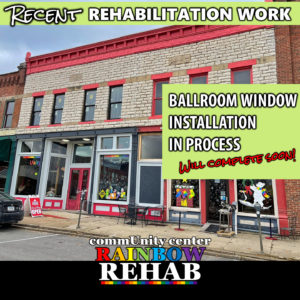 Our second-floor ballroom has undergone quite a bit of work.  We began the installation of brand-new windows.  Final activities to complete this installation will take place over the next couple of weeks, wrapping up in early February.  The windows are the first major improvement to our second floor & will help with both insulation & maintenance.  In addition to the windows, we have also performed other work in the ballroom, including demolishing the old  drop ceiling, removing plaster from a brick 'feature wall,' & framing, wiring, & insulating the south wall (this was needed to facilitate window replacement).    The biggest investment in our ballroom were funded by a generous grant from the Wylie Foundation.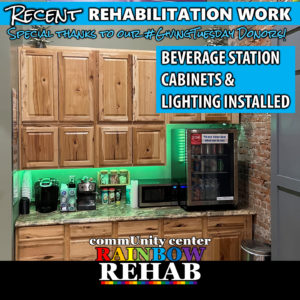 Downstairs, we have been able to improve our technology in the meeting room, Gathering Place, & retail shop.   These investments include monitors, a projector, & equipment upgrades.  These items are all available to the public for use at no cost.   These improvements were made possible through funding provided by the Lilly Endowment & the Bloomington Board of Realtors.
In the Gathering Place we installed additional cabinetry at our beverage station, giving us much-needed storage there.  This was funded by generous donors to our #GivingTuesday Facebook campaign.
Upcoming Plans
In the coming months, we will continue our aggressive work at the commUnity center.   Wood trim for our baseboards, windows, & doors has been fabricated & we will be prepping & installing that trim downstairs.  Installation of the trim will begin in the restrooms this month.  We will also be installing new storage cabinets in the restrooms to better organize our cleaning supplies & toiletries.  As we move into Spring & Summer, we plan to complete the installation of trim in our renovated first-floor areas.  The trim installation effort is being entirely led by volunteers.  If you are interested in joining the rehab fun, please contact me today.  We have two more workdays planned in January, plus more throughout the Spring & Summer.  Funding for the restroom trim was provided by a UDWI grant.
In February, work will begin to prep our second floor for HVAC installation. This will start with the installation of an access stairwell & rooftop shed to store the future equipment.  Once that is completed, installation of the HVAC will commence.  This means that by mid-2021 we will be able to control the temperature of our second floor, enabling further work to expand our presence upstairs.
In June, we plan to renovate the exterior wall of our retail shop, duplicating the quality of work performed in 2020 in our Gathering Place.  This investment is partially funded by a generous donation from Spencer Pride board member Rex Hinkle.  Rex also invested in the 2020 renovation of the Gathering Place wall, with additional funding coming from a grant from the Owen County Community Foundation.
Additional activities, such as the refinishing of our interior doors (which are all historic doors) will also happen throughout the first half of 2021.
Rainbow Rehab Campaign
By the end of Summer, we will have mostly completed all of the planned rehabilitation work associated with our retail shop, Gathering Place, & restrooms.  In August, we plan to unveil our plans for the balance of the Rainbow Rehab project & to formally launch our capital campaign.   By then we should be in a much better position with the pandemic & can hopefully welcome people to our center in-person to see our past accomplishments & future plans.
If you have questions about how you can become more involved in supporting the rehabilitation efforts at the Spencer Pride commUnity center, please contact me.  I can be reached via e-mail at Jonathan@SpencerPride.org or by calling/texting 812-821-3073.  You can also contact me via Facebook Messenger, Instagram, Twitter, WhatsApp, Snapchat, & LinkedIn.
Thank you for your support over the years,