This post was written by Jonathan Balash, Spencer Pride's president.  Jonathan can be reached at Jonathan@SpencerPride.org and 812-821-3073.
Close your eyes.
Imagine a small, rural community with a thriving LGBTQ+ community center operating out of a building originally constructed less than 20 years after the end of the Civil War.

Imagine the center regularly filled with people from all walks of life, utilizing the facility in many different ways: Members of the LGBTQ+ community & others are engaging with an all-volunteer staff to access important support services.  Individuals & small groups are taking advantage of public computers & free Wi-Fi in a comfortable, informal gathering place.  Local, LGBTQ+ affirming not-for-profits are regularly utilizing free meeting space to do their important work.  Patrons are shopping at a store which sells items made only by local artists & craftspeople.  Upstairs, members of the aging LGBTQ+ community are utilizing affordable housing with a spectacular view of a revitalized downtown district.  Throughout the facility, everyone feels safe, welcomed, & supported. 

Imagine these things & much more. 
Now open your eyes.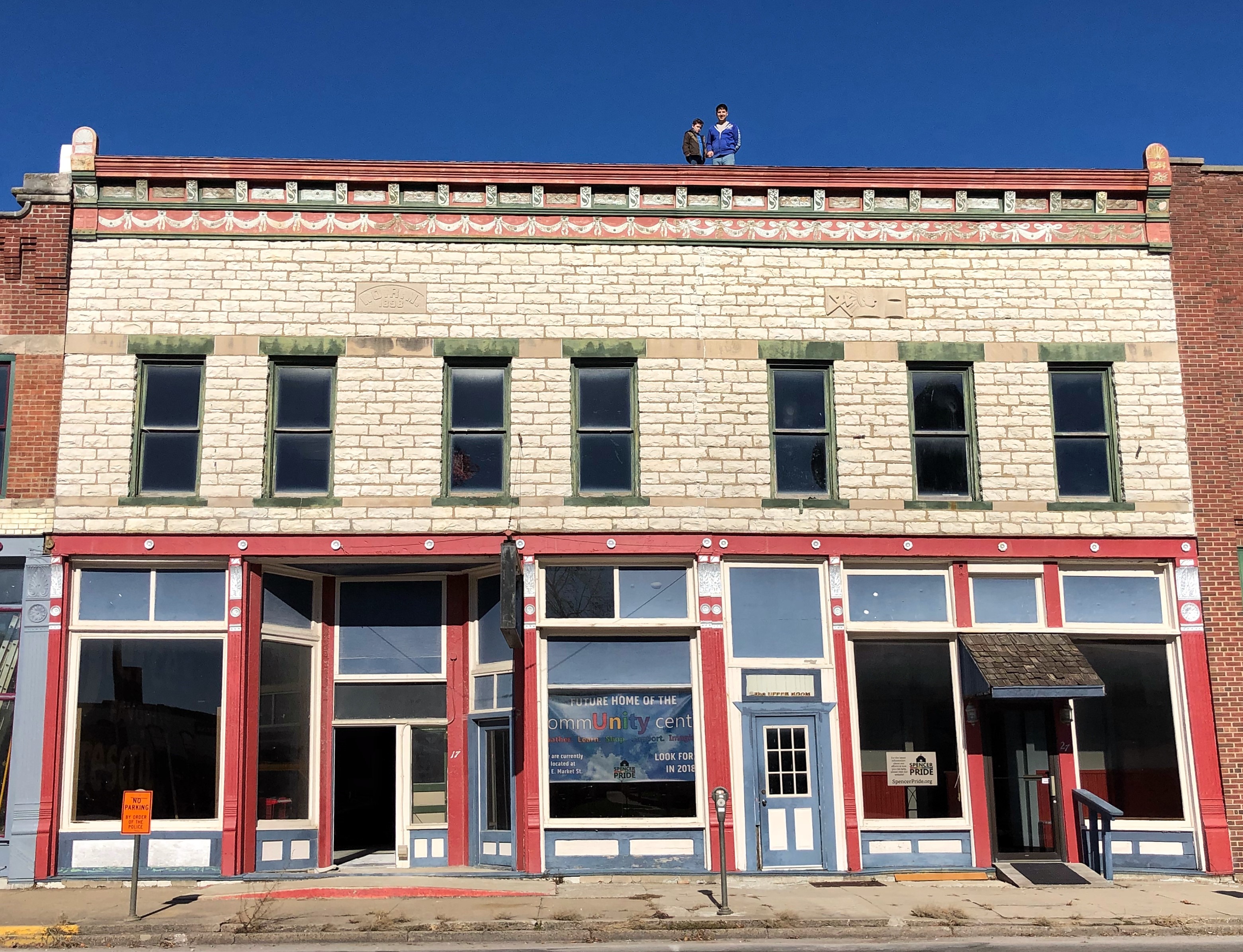 Here we are.  We are Spencer Pride in rural Spencer, Indiana.  Population 2,214.   We are restoring & improving the historic I.O.R.M. building located in the heart of our downtown.  Visit the building & you'll find us working to create a full-fledged LGBTQ center that will allow that vision to come to fruition.
We have been working in our community for the past 11 years & have established a reputation of professionalism, service, & a commitment to the betterment of our community.  For the past year we have been operating a successful LGBTQ+ center in a small, rented space on the courthouse square, across the way from our newly purchased building. We've shown our capability to thrive in our community, all while working towards our mission of making Indiana a more welcoming place for ALL people.
As we approach the end of 2017, I am proud to be able to share with you a taste of what we are doing in the new building to prepare it for its future use.  Many of you have been asking for this information.  Countless others still don't know that we have even begun this journey.  Regardless of which group you fit in, hopefully you will find this update informative.  If it also inspires you to open up your checkbook & make a financial contribution to our efforts, we would welcome that (more details below)!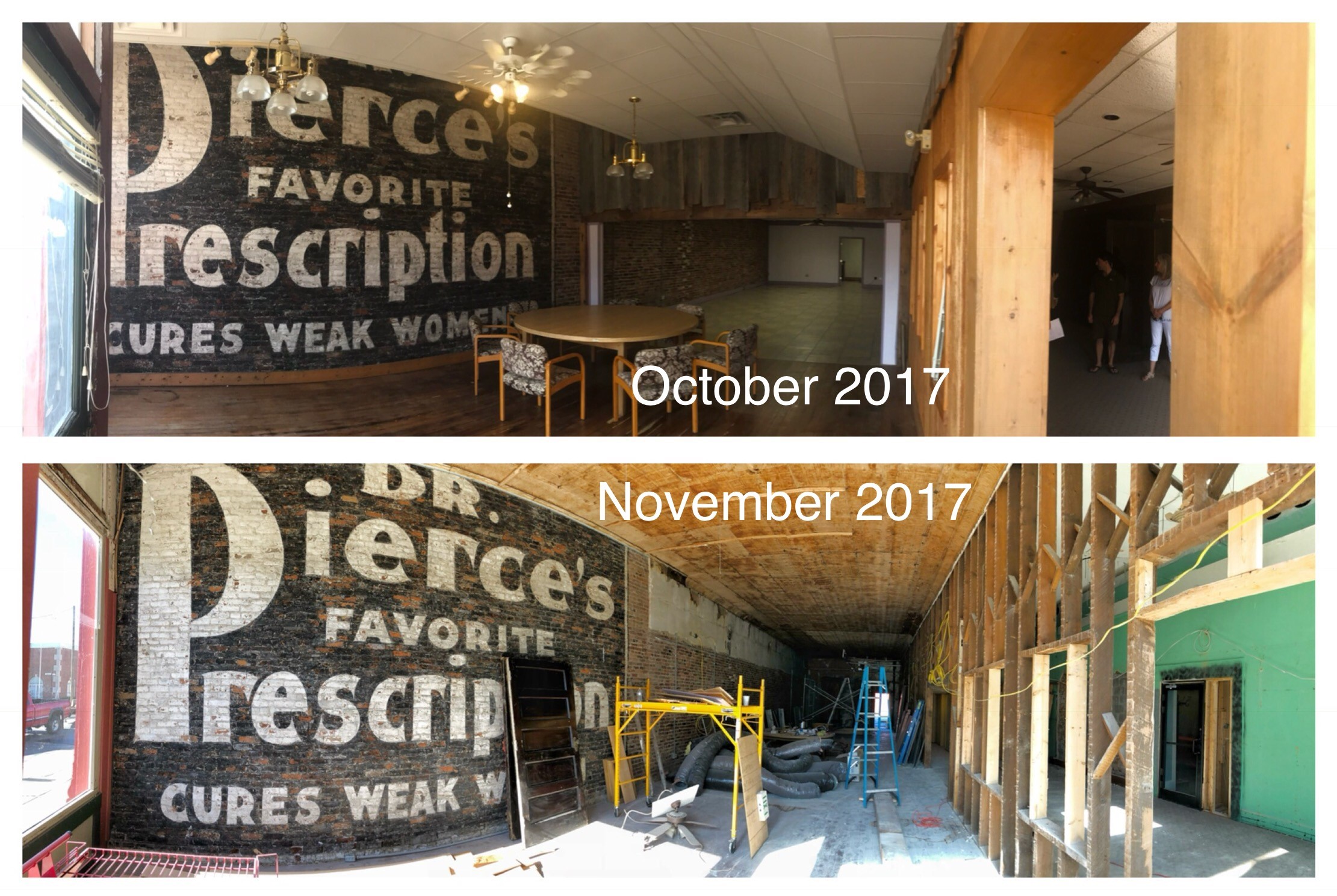 Over the past 30 days we selected (after seeking multiple bids) a local architecture firm who is completing a feasibility study of our building.  This study will establish the 'current state' of the building & highlight areas for improvement.  The study will also develop a preliminary site master plan on the future utilization of the entire building, based upon our communicated programming needs.    Springpoint Architects will be finished with the feasibility study in Q1 of 2018.  They are a firm experienced in historical restoration.   We received a $2,500 grant from Indiana Landmarks to assist with the cost of the feasibility study.
Phase 1, transition of existing operations, to be completed by January 31st, 2018:
This phase includes:

Relocation of Unity, our retail store & designated Safe Place ™ location
Relocation of our meeting space for volunteers, the board, & Iris (our youth group)
Establishment of Meeting Room space on the 1st floor

This work will include (at minimum):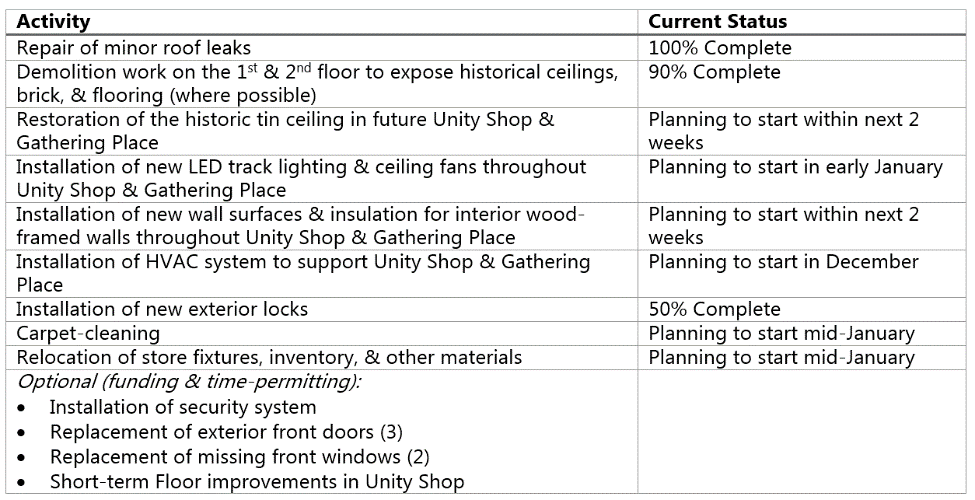 Phase 2, to be completed by a date yet to be determined (awaiting completion of site master plan & necessary funding):
This phase includes:

Exterior Restoration & High Priority Improvements
Interior High Priority Improvements

This work will include (at minimum):
Phase 3, to be completed by a date yet to be determined (awaiting completion of site master plan & necessary funding):
This phase includes:

2nd Floor Interior Restoration & Improvements

This work will include (at minimum):

Additional phases will be developed upon completion of the feasibility study & site master plan
What are the factors keeping us from making our vision a reality today?  Financing.   Our volunteers have the passion, energy, & dedication.  Our organization has both the imagination & the capability.
While we are a successful not-for-profit, our goal has never been to focus on revenue – but rather – our work.  Our existing revenue streams support our current work.  In order to ensure the continued fiscal strength of our organization, therefore, we cannot rely on our present funding to transform our new community center.  Instead, we will be seeking grants, individual contributions, & organizational partners.
Can you help on this #GivingTuesday?  Every dollar brings us closer to our goals.   With your support, we will create a facility where everyone can gather, learn, shop, support, & imagine, all while helping us accomplish our mission of making Indiana a more welcoming place for all people.   Spencer Pride is a 501(c)3 not-for-profit organization & your donations may be tax deductible.
To make a contribution, visit www.SpencerPride.org (just click the donate button on the top of the home page) or contact Judi Epp or I.  We can provide you a private tour of the facility & show you what we can accomplish together.  We can also talk about the benefits of becoming a sponsor, if you are interested in learning more about those opportunities.
We know what needs to be done & we WILL get it accomplished.  You can help make it happen sooner rather than later.
Imagine That.