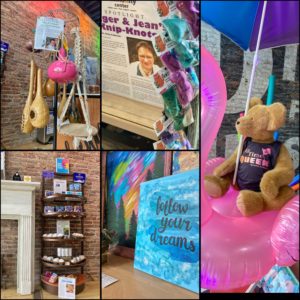 We are excited to be re-opening the Spencer Pride commUnity center today, after having been closed for the past 3 months due to the pandemic.   The commUnity center has been thoroughly cleaned & re-organized to ensure that we are provided the safest place we can.  It's important to our organization that we keep our volunteers & our commUnity as healthy as we can.
To that end, we have added requirements that individuals sanitize their hands prior to visiting the center.  Hand sanitation stations have been added in three locations to make this process easy.  We are using locally produce hand sanitizer from Cardinal Spirits (who is also a past Spencer Pride Festival sponsor).  We ask that individuals experiencing flu-like symptoms to stay away from the commUnity center to prevent unintended spread of COVID-19.
Visitors are also asked to avoid gathering in large groups at the center & to wash their hands frequently if they stay at the center for prolonged periods of time.
Our volunteers will routinely cleaning & sanitizing high-used areas such as door handles, touch screens, & restrooms.  Almost all of our prior services are still available (some with modification), however, the little ones will be disappointed to know that we've (temporarily) removed the toys from our play area.   They'll likely enjoy checking out our new "Big Time, Pool Party Bears" window display.  😉
Due to limited staffing as a result of a sustained need for many of our volunteers to remain under quarantine, we will be operating for limited hours in June.  We will be open every Saturday & Sunday from 10 AM until 7 PM.
Thank you for your understanding.