Did you hear the news? We are going on a cruise in 2024!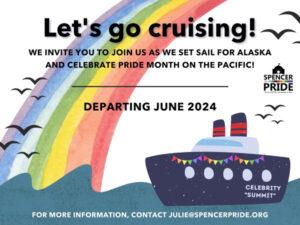 Have you dreamt of going on a cruise to Alaska? Join Spencer Pride June 7-14, 2024 to experience all that Alaska has to offer. Not only will you enjoy the amenities of the cruise, but there will also be excursions like whale-watching, wilderness hikes, dog sledding, and so much more.
A group of cabins has been reserved for Spencer Pride's special guests, with a special group rate. This is a unique fundraiser for Spencer Pride where we will receive $200 per person who books a cabin.
This will be a fun experience, but do not worry, you are not obligated to stay with the group. There will be opportunities with Spencer Pride, and also opportunities to just be on your own fun journey.
To reserve your spot, you pay $500 per person deposit. Your remaining balance will be due 120 days before departure, and there are no required minimum monthly payments or interest in the meantime. You can cancel your reservation at any time before the due date that your balance is due.
To get started, contact Julie@SpencerPride.org. Julie will send you all the details on how to register plus more details about the cruise.