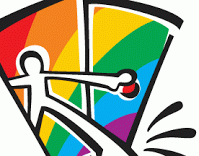 On Saturday, August 21st, Spencer PRIDE will be joining thousands of people who will be attending OUTfest '10 in Lafayette.  According to the Pride Lafayette website: "The purpose of OUTfest is to increase public awareness of the Lesbian, Gay, Bisexual, Transgender and Intersex (LGBTI) community, and to celebrate diversity among family, friends, and straight allies. Additionally, we hope to educate residents in Tippecanoe County about the availability of LGBTI organizations and services."  The event has free admission and features live bands and DJs, food, information booths (such as our Spencer PRIDE booth), beer gardens, a family area, dancing, light-hearted drag entertainment, and extended hours for local downtown businesses.
Spencer PRIDE is attending OUTfest in order to continue promoting our Rural Pride initiative.  We will have a variety of information about our 2010/2011 plans and will continue to sell our limited edition Rural Pride t-shirts with the tagline "It's not the size of the community that counts, but what you can do with it."
We invite everyone to come to OUTfest to enjoy the fun and to visit our booth.  Although Lafayette is a drive from the Spencer/Bloomington/Martinsville area, the costs are partially offset by the free admission and free parking at the event.  Do not let 2010 slip away without taking one last chance to show your Pride!   If you stop by the Spencer PRIDE booth, we have a variety of free giveaways that we are happy to share with you.
For those individuals who would like to help support Spencer PRIDE and our Rural Pride initiative, please consider making a financial contribution.   OUTfest will probably be our last opportunity during the 2010 Pride Season to network at other Indiana pride events.  To make a donation, please send a check to: Spencer PRIDE, Inc., P.O. Box 585, Spencer, IN 47460 or contact us at info@RuralPride.org to make other arrangements. Your donations are appreciated.