Each month, the directors of Spencer Pride will be bringing you a bit of themselves. This will be a way for the directors to share a more personal side with the community. The idea for this "Director's Corner" was discussed at our annual retreat and it was agreed that much of what is known of the directors is through an email address or a photo in the commUnity center. Sure, some directors have developed relationships with the community, but we also have new directors who are also new to the community. We hope you enjoy getting to know a bit more of the directors of Spencer Pride.
Up next is Jacob, the commUnity center Director!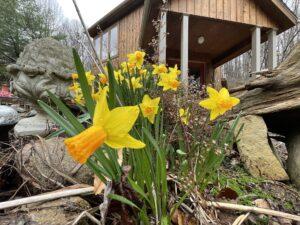 Sunshine and daffodils are a couple of the things that I cling to near the end of winter.  Like many people, I am affected by seasonal depression, sometimes called the winter blues.  Thankfully, this year was a very mild winter. I was so happy for all of the sun that came pouring through our large windows in the house. There were times that I literally laid on the floor in the sun and tried to absorb the rays on my skin, longing for Spring to arrive.   
All of winter is not terrible, though.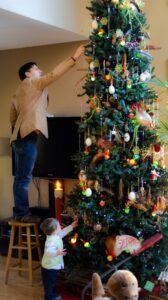 As many of you know, I put a ton of energy and passion towards Christmas decorations.  It all stems from my childhood memories.   In my youth, the Christmas tree would always be placed in the bay window of our home. The bubbling lights reflected off of the glass, pouring cheery light into the room.  My family would sit in the room and put ornaments on one at a time, each taking our turn, deciding what was the perfect place for each ornament.   I love the magic of turning a simple tree into a work of art.  Thinking out of the box is important to me.  I am not trying to mimic others, but rather, to create something distinctly me.   I experiment with incorporating many different things in a Christmas tree as I'm decorating.  Jonathan and Truman joke with me that if I wrote an autobiography, the title would be, " Yes, that too, can be put on a tree".  
I purchase ornaments and other suitable decorations year-round and have quite a collection.  I truly appreciate glass beaded garland made from the 1920s to the 60s.  It, too, has a distinct memory for me.  My childhood home had a spiral staircase that would get wrapped in greenery and a string of red glass beaded garland. Occasionally – and I'm not sure why – while walking downstairs,  I would pop the beads between my fingers!   I definitely have made up for that tragedy.  Today, I have over 100 strings that I have collected and I am always on the lookout for more. 
As the years have gone on, I have really enjoyed this next chapter of my life, sharing my love for decorating with my son (Truman) and husband (Jonathan). They both give me input on what they would like to see, and I see it as a fun challenge to make their vision come true. Truman helps with the decorating more and more each year. One of my favorite photos Jonathan took while I was decorating the tree, and Truman was doing the same.  It wasn't until later, when we looked at the photo, that we realized how similar we both looked at that moment.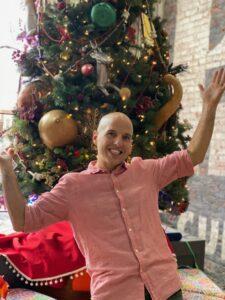 I am sohappy that I am able to decorate the Spencer Pride commUnity center every year.   Some people think that the holiday decorations are just thrown together, but I can assure you that is not the case.  It takes months of planning for good displays and lots of time decorating.  It also gives me the opportunity to collaborate with other volunteers in transforming our center into an even more festive space, on those short winter days.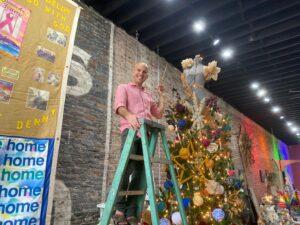 I am glad that – in the midst of this gloomier time of year – I always have these moments to look forward to.  Cultivating my passion for decorating, with my love of people is a recipe for success for me!
Alas, as we enter March, it's obvious that Spring is coming!  This past week, I've been heartened by the bright, happy faces of daffodils, staring back at me from my yard.  They brought a smile to my face.  To all of my fellow sun-deprived friends: hang in there, hope is just around the corner!