Each month, the directors of Spencer Pride will be bringing you a bit of themselves. This will be a way for the directors to share a more personal side with the community. The idea for this "Director's Corner" was discussed at our annual retreat and it was agreed that much of what is known of the directors is through an email address or a photo in the commUnity center. Sure, some directors have developed relationships with the community, but we also have new directors who are also new to the community. We hope you enjoy getting to know a bit more of the directors of Spencer Pride.
Up next is Katie, the Vice President!
Two, four, six, eight. Who do we appreciate? Spencer Pride! Spencer Pride! Yaaaaaay, Spencer Pride!  Yes, my name is Katie Zuber, and I will never stop cheering.
As a middle school youth, I tried out for the cheerleading squad, and that was when I learned that my body was capable of doing the hard physical things, and my mind and heart could lead people to be better versions of themselves. After cheering for basketball and football games for seven years, as well as participating in multiple rounds of "Gymnastics for Grownups" for a few decades, I figured I would never get a real opportunity to cheer again. I mean, let's face it. This isn't tennis, where you can do it until you're 100. People look at you funny. The stigma is real.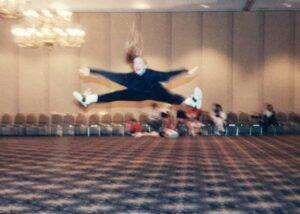 By a serendipitous series of events, my hometown high school hosted a Cheer Alumni game in January.  Cheerleaders from as far back as 1971 attended to be recognized. I was not the oldest alum out there! We performed a halftime cheer during a varsity basketball game, and it was amazing. Did I hike my tuchus off of the floor for a toe touch akin to the one I rocked in this photo from eighth grade? Fat chance! But, I exhibited more energy and spirit than, IMHO, the majority of the current cheerleaders. Plus, this "old lady" executed a round-off on the gym floor in front of a crowd, so I call it a win.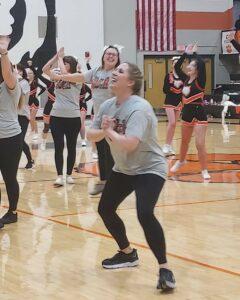 It's been almost two months since the event, and I'm still riding on a high. I know there are people out there who think cheerleading isn't a sport, or that a 45-year-old woman who will ALWAYS love to cheer needs to get a life, but I will never apologize for my passion! So, if you need a cheerleader in your life, literally or figuratively, look no further. Katie's got your back!