Each month, the directors of Spencer Pride will be bringing you a bit of themselves. This will be a way for the directors to share a more personal side with the community. The idea for this "Director's Corner" was discussed at our annual retreat and it was agreed that much of what is known of the directors is through an email address or a photo in the commUnity center. Sure, some directors have developed relationships with the community, but we also have new directors who are also new to the community. We hope you enjoy getting to know a bit more of the directors of Spencer Pride.
Up next is Kim, the Advocacy Director and Board Secretary!
I have been a volunteer with Spencer Pride since 2014. I was very proud and honored to be named Volunteer of the Year at the Spencer Pride Festival the following year. I currently serve on the Spencer Pride Board of Directors as Secretary and as Director of Advocacy. This is a new role. I am very excited to be able to develop this role to include legislation, advocacy, and recruiting more allies to work with Spencer Pride. I taught Spanish for 16 years at South Putnam High School. I have worked to secure funding and rights for public school students and teachers in my job as a UniServ Director for the Indiana State Teachers' Association for the past 16 years. During that time, I have been active in each legislative session for the past 32 years. I am excited to be working with legislators to stop anti-LGBTQ legislation in Indiana. I feel fortunate to work with adults in public schools to make our schools more welcoming for all students.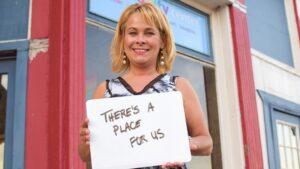 I am currently working on a PhD in Curriculum and Instruction at Indiana State University. My dissertation is about theinclusion and educating of transgender students in elementary schools in Indiana. I am involved in many groups that are working to make Indiana a better place to live including the Greencastle League of Women Voters, Greencastle Main Street, The Greencastle Chapter of the NAACP, and Delta Kappa Gamma, which is an amazing group of women educators. I also currently serve as Chair of the Putnam County Democrats. I serve on the leadership team of Gobin United Methodist Church. I have 2 children, Chelsea, who is 29 and Denny, who is 26. My nephew, Tyler, who is 15, lives with me in Greencastle. I have 3 fantastic cats, Lux, Kix, and Trixie.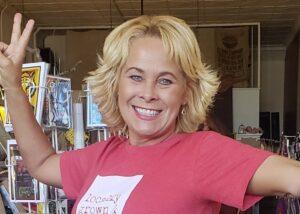 My favorite part of Spencer Pride is the volunteers and my fellow Board members. I have made lifelong friendships with so many people through Spencer Pride. There is never a time that I leave the CommUnity Center that someone doesn't say, "I love you". I have been so privileged to learn about so many different people and families through Spencer Pride. I also traveled to Athens, Greece for World Pride as an ally. It was one of the most incredible experiences of my life. I am proud to
be an ally and to dedicate my time to helping others. It is my goal to ma
ke the public schools in Indiana safe and supportive for LGBTQ+ people. My passion has always been working to make things better for the youth in Indiana. I hope to continue in this role with the Spencer Pride Board of Directors for years to come. We have so much work to do. The Spencer Pride volunteers give me hope for a better state and a better world.