Each month, the directors of Spencer Pride will be bringing you a bit of themselves. This will be a way for the directors to share a more personal side with the community. The idea for this "Director's Corner" was discussed at our annual retreat and it was agreed that much of what is known of the directors is through an email address or a photo in the commUnity center. Sure, some directors have developed relationships with the community, but we also have new directors who are also new to the community. We hope you enjoy getting to know a bit more of the directors of Spencer Pride.
Up next is Nathaniel, the Treasurer!
Recently, my friend Trevor asked me if I would hike with him. This was a very important event for him.  He told me "17 years ago, I started a journey to transition. It often felt like standing at the bottom of a mountain staring up at the peak. There were uphill battles along the way, coming out over and over and facing transphobia…In honor of 17 years of transition and the uphill battles faced by the 2SLGBTQ+ community, this October I will tackle 29029 Stratton – 17 hikes up Stratton Mountain in under 36 hours, representing 17 years of transition, to reach the vertical gain equivalent of climbing Everest from sea level to the peak, 29,029 feet.  For me, this event represents 17 years of progress, daunting, slow, scary at times, yet unrelenting, always moving forward. I will be accompanied by a close friend and ally because I wouldn't have gotten anywhere in life without my allies."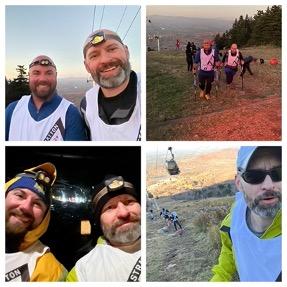 The hike was amazing. We had the mentality that we were hiking together or not at all. The first
day we hiked from 6am till midnight. We woke up on day 2 feeling tired and sore. Trevor said it looked like he had two kneecaps. We went to the trainer and got taped and we hiked from 9am till 6:30pm. The event was extende
d from 6pm on Saturday to 7pm due to high winds stopping the gondola.  We completed 13 of the 17 trips up the mountain.  I am proud that we hiked the whole time and didn't stop till the event was over.