Each month, the directors of Spencer Pride will be bringing you a bit of themselves. This will be a way for the directors to share a more personal side with the community. The idea for this "Director's Corner" was discussed at our annual retreat and it was agreed that much of what is known of the directors is through an email address or a photo in the commUnity center. Sure, some directors have developed relationships with the community, but we also have new directors who are also new to the community. We hope you enjoy getting to know a bit more of the directors of Spencer Pride.
Up next is Rex, the Outreach Director!
Hello and my name is Rex Hinkle, — I have the pleasure of serving on the Spencer Pride Board of Directors for several years where I am the Outreach Director.
A little background —  I am originally from Indianapolis where I attended Perry Meridian High School when the building was brand new (2nd graduating class of 1976)!!   I attended Butler University in the School of Music and from my college days, I had always been fascinated with the Goodyear Blimp every time seeing it moored at the Indianapolis International Airport.  My enthusiastic adventures  began to show when I did extensive research on what does it take to be a Blimp Pilot?  I discovered, in my instance, I should purchase an aircraft and employ a flight instructor to teach me to fly a fixed wing aircraft.  So, that is what I did — earning my Private Pilot License, Commercial, and Instrument Ratings.  One thing led to another and decided I enjoyed managing things happening on the ground in aviation instead of flying the Goodyear Blimp(s) was my goal.
I have been in aviation now for the past 44 years.  I am President & General Manager for Cook Aviation and work for the Cook Group of Companies for the past 38+ years — am the original Cook Employee with the Aviation Fixed Base Operation.  I have owned 2 aircraft (a Cessna 150 & a Cessna 182).  In the past, I have taught Diversity/Equity/Inclusion to Cook Medical new hire and existing employees.  I have the distinct opportunity to serve on the Board of Aviation Commissioners with the French Lick, Indiana Airport.  We assist the Airport Manager with aviation duties running the airport.  I have so much fun organizing Air Shows, Airport Awareness Day Events, and Antique Automobile Conventions where I own two restored 1931 Ford Model A's.  I am active in Pipe Organ restoration and own (2) Pipe Organs – one in my home in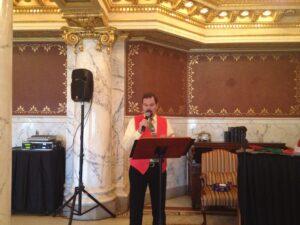 Bloomington and one in my home in West Baden, IN.  I spend weekends in West Baden, Indiana assisting with music at a local Christian Church and then hurry back to Bloomington where I assist in the music program for Indiana University Episcopal Campus Ministry on the I.U. Campus.  I stay very busy and have very little downtime.   Aviation, music, assisting others, and Diversity/Equity/Inclusion are so important in my life.
I am so PROUD to be a part of Spencer Pride with the retail store, advocacy, and support the community with meeting space options for non-profit groups to gather.  We never know what "seeds" of opportunity we are all providing to the community and those who need assistance.  Our Spencer Pride Volunteers are at the "Heart" of the organization, and I appreciate ALL the volunteer hour commitments from individuals like YOU!!  It does take a "village" of volunteers to make this work — your assistance and love of people do not go unnoticed!  I just cannot imagine Rural Spencer, Indiana without the Spencer Pride Organization as we have come so far and so many more people need to be educated on issues.
Thank You for ALL that YOU do for Spencer Pride!!
Rex Hinkle