The 2023 Spencer Pride Festival has a diverse assortment of entertainment planned for festival attendees.  Entertainment will take place on the Ivy Tech Main Stage in the historic Tivoli Theatre, as well as at a few other locations in the festival marketplace and Spencer Pride commUnity center throughout the day.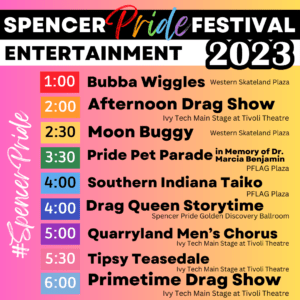 Our first live performance of the day will take place in the Western Skateland Plaza (at the corner of Washington and Franklin Streets) at 1 PM.  Bubba Wiggles, a singer/songwriter acoustic act, will be be getting festival attendees grooving to his music.  Bubba Wiggles recently performed at the Tivoli Theatre's Street Dance and has also performed at other LGBTQ+ pride events.  It is his first time at Spencer Pride.
At 2:00 PM, drag makes its 2023 appearance at Spencer Pride, with our Afternoon Drag show at the Tivoli Theatre.  Hosted by Pat Yo Weave, this show will feature Ava | Desiree C. Bouvier, Juniper Perón, Oriana Perón, Bella Shade, Zariah St. Vontrell, Peter Von Teaser, and Alexandrea Snow Yo Weave.  Attendees are encouraged to arrive early to get seats.
Our next performance comes from a band called Moon Buggy, who is also making their Spencer Pride debut.  Moon Buggy is an original four-piece band gaining a rapid following delivering original pop, indie rock, funk, and sparkle grunge tunes for the cosmic listeners out there.  They will perform at the Western Skateland Plaza at 2:30 PM.
At 3:30 PM, the Pet Pride Parade will take over Main Street, starting at the PFLAG Plaza.  If you have a pet that you'd like to include, please bring them along.  There is no advanced registration and no cost to participate.  Prizes will be given for best costume and best personality.  Whether you pet walks, crawls, flies, swims, or slithers, they are welcome to participate as long as they are safely restrained.
Two options take place during the 4:00 PM time slot.    Drag Queen Storytime, with selections read by Pat Yo Weave, will take place in the Golden Discovery Ballroom on the second floor of the Spencer Pride commUnity center.   While it's for kids of all ages, those under 15 will find it especially enjoyable.   Meanwhile, adjacent to PFLAG Plaza, Southern Indiana Taiko will be performing.    The Southern Indiana Taiko performance group was founded in 2015. The group has built their own Taiko drums out of re-purposed whiskey barrels.  They are one of only two Taiko groups in Indiana and is the only all-female taiko performance group in the Midwest.  This is the second year that Southern Indiana Taiko is performing at Spencer Pride.
The Hooper on Kirkwood will be performing on the sidewalk during the day, and at the first-ever Spencer Pride Festival After Party later that evening.
The remainder of the entertainment lineup takes place on the Ivy Tech Main Stage in the Tivoli.
Quarryland Men's Chorus (QMC) will perform at 5 PM.    QMC is a longstanding Spencer Pride tradition who offers quality music that also tends to get the audience smiling and laughing at their uplifting, sometimes quirky, always delightful selections.  Next, Tipsy Teasedale will show off her musical skillset at 5:30 PM, getting the audience engaged and excited for our final performance of the night: the Primetime Drag Show.   This will take place at 6 PM and will feature performances from MJ Banks, Mocha Debeauté, Tia Mirage Hall, Cherice Alexandra Samore, and hostess Pat Yo Weave.   This show is typically the biggest of the day and always fills the theatre.   Attendees should plan to arrive an hour before the showtime to ensure they can get a seat.
The 2023 Spencer Pride Festival takes place on Saturday, October 7 from 12 – 7 PM in downtown Spencer and is sponsored by Boston Scientific, C.H. Douglas and Gray, WTIU-WFIU, and many other local and regional organizations.    The event features free admission, free parking, and free shuttle service, in addition to the free performances outlined in this post.