The official 2015 Spencer Pride Festival t-shirt has been unveiled! This year's shirt is a v-neck which sports our 2015 theme "color our world with pride" prominently on the front with basic information on the back including our t-shirt sponsors. The shirts will go on sale at 10 AM the day of the festival on Saturday, June 6th. This year's shirts have a recommended minimum donation of $15 each or 2 for $25. The shirts come in 5 colors (red, orange, green, blue, and purple) and 6 sizes (S – 3XL).  Given the variations between color & size, exact color/size combinations are VERY limited and it is recommended that people purchase them when they arrive to the festival.  It is not uncommon for the festival shirts to be sold out within a few hours of going on sale!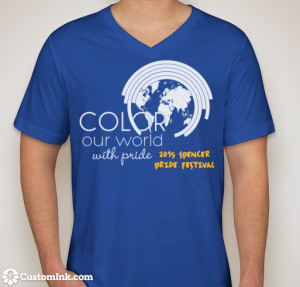 This year we are also unveiling a brand new product, a Spencer Pride rainbow umbrella! This compact umbrella is a must-have for everyone who wants some protection from the rain and to "stand out" at the same time! Umbrellas are priced at $15 each.
In addition to the t-shirts and umbrellas, a variety of other items are for sale, with prices ranging from $3 to $6 each (and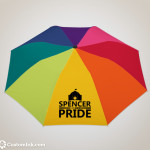 most offering a combo deal to save additional money). These items include:
– Bracelets (PRIDE or Anti-Bullying)
– Frisbees
– Assorted Candy
– Rainbow Pins
– Rainbow Wind Spinners
– Visors
We are really excited to have some cool new things for sale at this year's festival and hope you are, too!
By the way, volunteers of Spencer Pride Inc. will all receive their FREE t-shirt before the event.  Just another perk of volunteering for us!