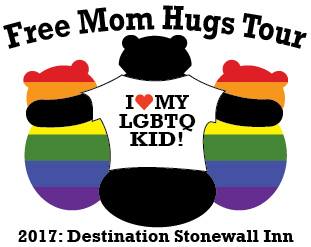 On May 1, the first ever "Free Mom Hugs Tour" launched from Oklahoma City.  The tour will be making a stop in Spencer this Saturday, May 6 at the Spencer Pride commUnity center, which is located at 46 E. Market Street.  Kicking off at 4 PM, the event will include distribution of countless "free mom hugs" to anyone interested in receiving one.
The "Free Mom Hugs Tour" is making way to its final destination at the historic Stonewall Inn in New York City.   The tour will stop in 10 cities & surrounding communities.  The purpose of the tour is to reassure the LGBTQ+ (lesbian, gay, bisexual, transgender, & queer) community that they are valued & loved, & to raise awareness of their dignity & worth.
The "Free Mom Hugs Tour" is the brainchild of two mothers of LGBTQ children: Sara Cunningham of Oklahoma City & Laura Beth Taylor of Dayton, Tenn. Cunningham, the parent of a gay man & author of How We Sleep at Night, is a well-known advocate for participating in PRIDE events, carrying her "Free Mom Hugs" banner. When she reached out to Taylor, a transwoman who is the parent of LGBTQ children and author of Shattering Masks, the plan took shape.
"This isn't a march; we're not setting out to protest something, but rather to attest that all people – regardless of the margins in which they find themselves – are deserving of love, dignity & compassion," Taylor explained. "Our goal is to express that in each city we visit as we encourage others to do so, too.  It's a simple exercise of loving our neighbors," she added.
Cunningham noted, "Every time I'm out with the banner, I meet more youth & young adults who need reassurance that they are not alone, that there are people who love & support them. I also meet parents who need to be encouraged on their path of loving & accepting their LGBTQ kids. That's the message we will carry along with our banner."
The Tour culminates in New York City on May 14, which is Mother's Day, near the historic Stonewall Inn, considered by many to be the birthplace of the LGBTQ equality movement. Subsequent annual Tours will conclude on Mother's Day at other landmarks significant in the history of the LGBTQ equality movement.
Laura Beth Taylor explained that they found out about the Spencer Pride commUnity center when they initialy struck out looking for something in Indianapolis.  They expanded their search window & saw that Spencer had its own LGBTQ+ center.  "We were so excited to see something outside of a major city – where community is often more personal," Taylor said.
The overall rate of homelessness & suicide in the LGBTQ community is nearly 10 times the rate of the general population, according to the CDC. Furthermore, it is estimated that 25 percent of LGBTQ youth who come out in religious circles are immediately turned away by their families. The "Free Mom Hugs Tour" demonstrates what love & support can look like and educate community leaders about the unnecessary risks LGBTQ children, youth & young adults face on a daily basis.
Spencer, Indiana, is the smallest town in the United States with a dedicated LGBTQ+ center.  The Spencer Pride commUnity center opened in September 2016 & will be expanding over the next year to offer additional services to the community.  It is currently a certified Safe Place & an LGBTQ+ Safe Zone.  It is also the home of Unity, a distinct retail shop selling items made by Hoosier artists & craftspeople.  100% of all profits from Unity support Spencer Pride, Inc.   Spencer Pride is a 100% volunteer-led 501(c)3 not-for-profit organization established in 2007.  More information about Spencer Pride can be found at www.SpencerPride.org.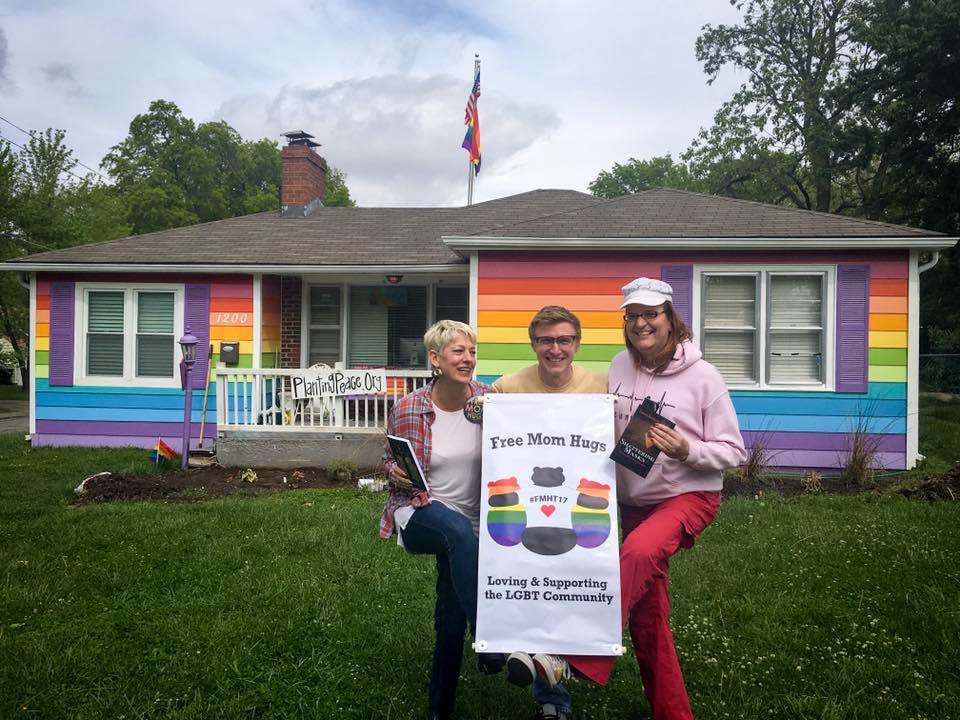 Sara & Laura stopped at the Equality House in the first part of their tour, which launched from Oklahoma City on May 1st