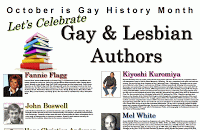 October marks Gay History Month and this year Spencer PRIDE has TWO events planned that you need to take part in!
First, Spencer PRIDE invites to you attend our FREE screening of the critically acclaimed film Out in the Silence.  The event, organized in partnership with White River Valley PFLAG, Middle Way House, and Spencer Presbyterian Church, is FREE to the public and will feature the movie screening, dinner, ice cream cake (generously donated by the Spencer Dairy Queen), and a community dialogue. This screening takes place at the Spencer Presbyterian Church Cornerstone Hall (154 N. Main Street, Spencer, IN 47460) on Sunday, October 10 from 5:30 PM – 7:30 PM.
This event is meant to stir dialogue about issues relating to acceptance and tolerance of differences within rural communities, especially as they relate to sexual orientation and gender identity.   The community dialogue will be facilitated by Indiana University Professor Mary Gray, who is the author of the recently published book Out in the Country.  Mary's book chronicles many similar experiences to those represented in the film and her perspective will be a great addition to this event.  For more information about Out in the Silence, please visit the website atwww.OutInTheSilence.org.
Our second event is an educational display of Gay and Lesbian Authors, which will be on display in 8 rural public libraries in south central Indiana.  These displays will serve to educate library-goers about a handful of gay and lesbian authors and will hopefully encourage them to take one of the featured books home with them.  The libraries which are participating in this event are the Owen County (Spencer), Knox County (Vincennes), Worthington Jefferson Township (Worthington), Greene County (Linton), Lawrence County (Bedford), Putnam County (Greencastle), Bloomfield Eastern Greene County (Bloomfield), and Morgan County (Martinsville).  Most of the libraries will be displaying the information for at least two weeks, although some are also doing it for the entire month. Please stop by the library and let them know you've come to check out the Gay History Month display.
If you have any questions about these activities, please e-mail us at info@SpencerPRIDE.com.