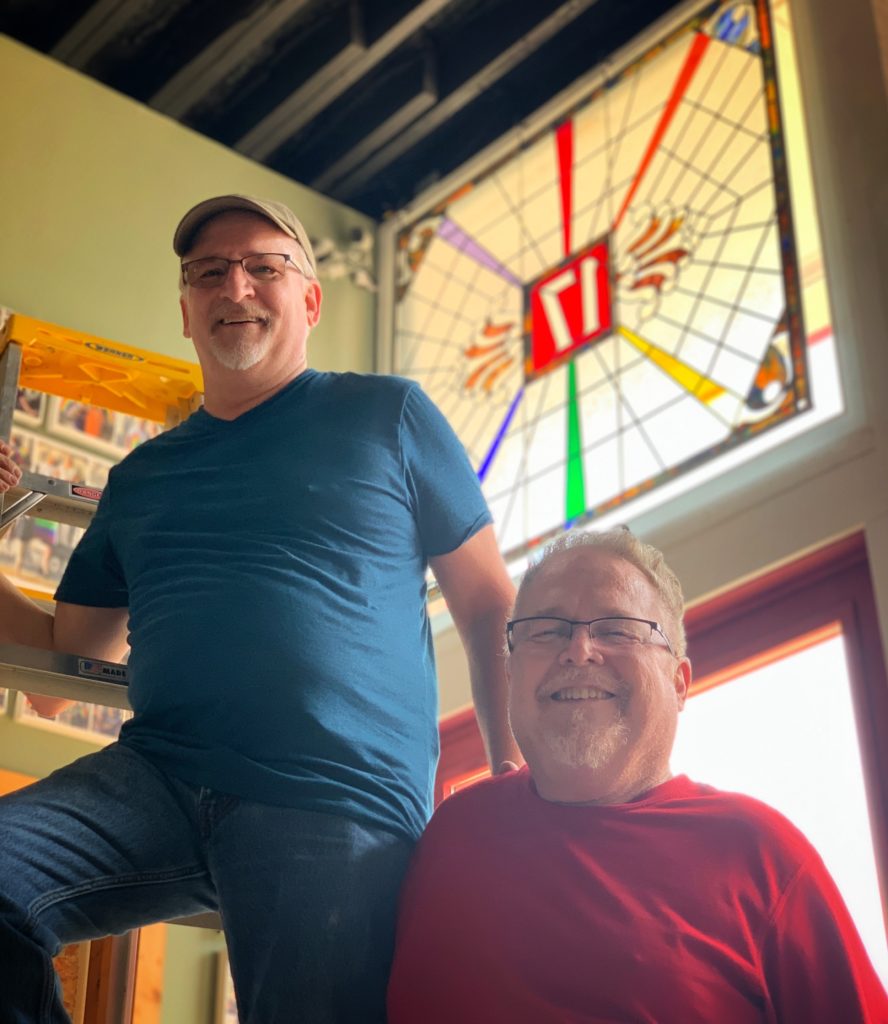 On Sunday, a beautiful piece of stained glass art was hung in the transom over the main entrance to the Spencer Pride commUnity center, thanks to a generous donation from Bill Adams & Dave Rosen who operate under the business name Brightstar Glass.  The pair, who have been together since 2003, have nearly 8 decades of combined experience working with stained glass.
Bill & Dave first approached Spencer Pride commUnity center Director Jacob Balash in late 2018 about the potential for a custom-made piece of art for the center.  Over the next several months, Dave & Bill crafted a design & ultimately created the piece in their home studio.  Some of the glass utilized in the piece is no longer made, making the transom a truly one-of-a-kind piece.  The commUnity center's building number, 17, is prominently displayed at the center of the piece, with a spray of pride colors fanning out from it.
From start-to-finish, this large piece took "hundreds of hours" of artistic design, engineering, & fabrication.
"We are a married gay couple who honor what the Spencer Pride commUnity center stands for and what it provides for the extended community," said Dave, when asked why they made the donation to Spencer Pride.  "The stained glass art donation is a visible way to increase our personal support and encourage others to support the center's work."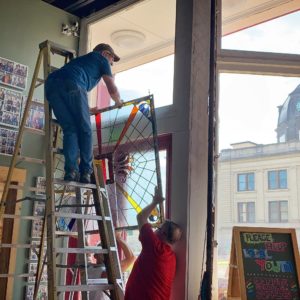 Jacob Balash is elated about the addition to the commUnity center's entrance, which has seen dramatic transformation this year with the installation of all new doors (locally made by Two Avocados Designs) & windows, as well as a proper stage for the feature display window.
"This piece is absolutely beautiful," Jacob proudly exclaimed.  "During the day, it glows beautifully from within the center.  At night, it creates a splash of color & character on the outside of the building.  We are so grateful for Bill & Dave's generosity."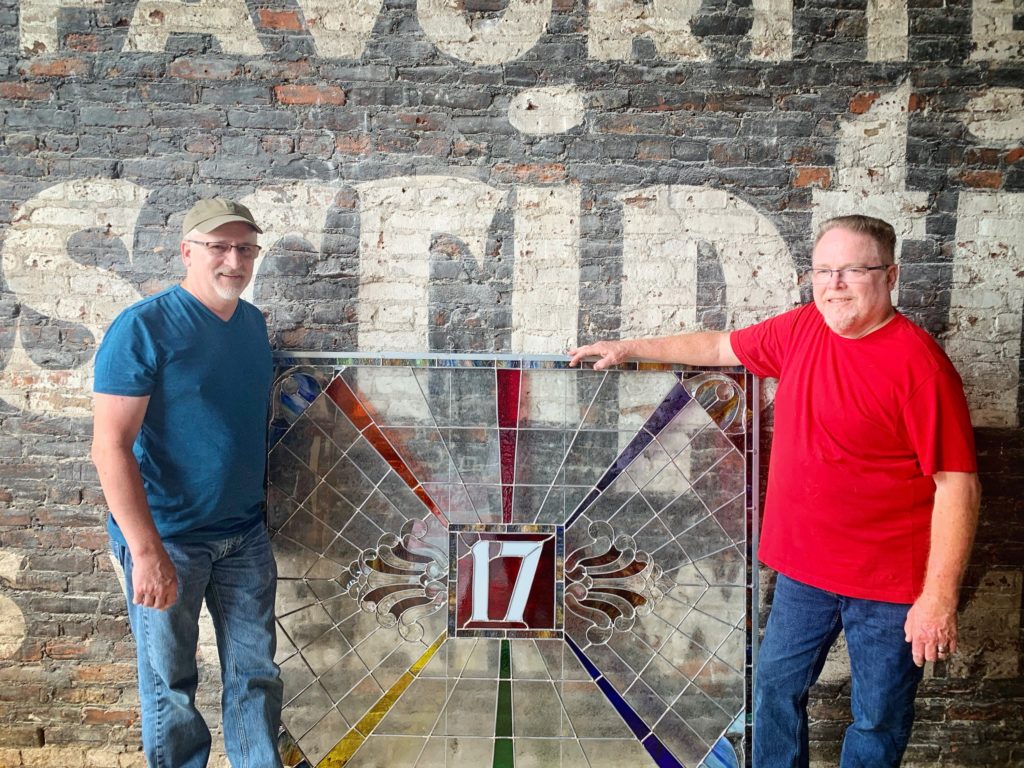 Brightstar Glass products are available for sale at the commUnity center's retail shop, Unity.  There are a variety of glass products, including bowls, stained glass yard & window art, ornaments, & magnets.  There are a few special stained glass window panels available for a limited time that utilize the leftover glass from the Spencer Pride transom.
The glass art is estimated to be worth $5,000.  To see the glass art in person, visitors are encouraged to stop by the center during normal operating hours Wednesday through Saturday, from 10 AM until 7 PM.
Spencer Pride is a 100% volunteer-powered organization with a mission to make Indiana a more welcoming place for ALL people.  For more information about the organization, please visit www.SpencerPride.org.