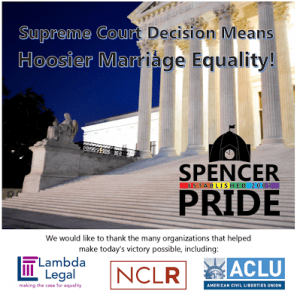 Today the United States Supreme Court decided not to consider the marriage equality cases that had petitioned it.  As a result, their previous stays of the decisions affirming equality will be lifted, and same-sex marriage will be a reality in Indiana!  This includes recognition of marriages legally performed in other states.
Today's marriage victory happened because of the amazing plaintiffs in the cases, plus the organizations who dedicated their time and resources into helping bring marriage equality a reality. This includes 

Lambda Legal

, the American Civil Liberties Union (ACLU), the National Center for Lesbian Rights, and more. THANK YOU. The quest for full marriage equality in the United States isn't over, but today 10 states were added to the list thanks to this Supreme Court Decision.