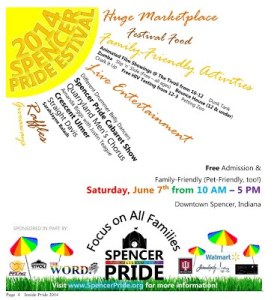 Parking is free around the courthouse.  Don't worry about the parking meters.
Admission is free for the festival, but we do encourage festival-goers to stop by theWelcome Booth to get information about the event.  Official Spencer Pride Festival merchandise can be purchased here. This includes the 2014 t-shirts ($14 each or 2 for $27), other t-shirt designs, visors, and more.  Cold bottled water is available for just $1 at the Welcome Booth.
Festival Bingo is a great way to earn free raffle tickets.  Start by getting your Bingo card at the Prism Youth Group booth.  Then, visit booths and other festival attendees to work your way towards 5 in a row.  Turn you card into the Welcome Booth and get 2 free Choose-Your-Own Raffle Tickets.  If you want to fill out your whole card, then you can redeem it for 5 tickets!  Those tickets can be placed in a 'mystery' drawing or in a drawing for a specific item.  The items being raffled are all located near the welcome booth.  Choose-Your-Own Raffles will be drawn throughout the day beginning at 12 and ending at noon.  For the drawings, the winners need to be present.  Tickets will be announced each hour and winners will have 30 minutes to pick up their prize.  There arethousands of dollars of prizes that will be given away.
There are more than 70 vendors in themarketplace, which will remain open for the entire length of the festival (10 AM until 5 PM).
The festival is pet-friendly (all pets must be on a leash) and family-friendly.
In addition to the Welcome Booth, there is aninformation kiosk available to provide information to festival-goers.  This kiosk, sponsored by the Owen Valley Winery, is located on the east side of the lawn near the Petting Zoo.
Entertainment is live and free all day long.  The stage is located on the south lawn of the courthouse.  Some seating is available, but festival-goers are welcome to bring additional seating or blankets and camp for the entire day!
Just west of the Entertainment is our Wet 'n' Wild area.  This features an all-ages Slip 'n' Slide (free for all!) and a Dunk Tank.  The Dunk Tank will be selling balls (throws) for $1 each.  All of the proceeds from the Dunk Tank will go to the Spencer Pride Festival 10th Anniversary Fund.
There will be free animated films at the Tivoli Theater every 30 minutes from 10-1:30.  Popcorn, soda, and water will be for sale at the concession booth.  "Godzilla" will be the feature film at 2:00 for those who are interested.  Tickets are $5 for adults.
A petting zoo, featuring several types of farm animals, is located on the east side of the courthouse lawn.  It is sponsored by Miss B Haven Ranch.  There is no cost to participate.
There will be two 50-50 raffles.  The winners will be drawn at 1:00 and 4:00 and do not need to be present in order to win.
There will also be several drawings throughout the day for a variety of fabulous items donated to Spencer Pride.  This is achoose-your-own prize drawing.  Tickets are available for $1 each or 6 for $5.  Participants place their raffle tickets in any of the various containers next to prizes that they are interested in.  They can also place their tickets in the 'mystery' drawing.  Drawings will take place every hour from 12 until 4.
The 3-in-1 Bounce House is located north of the courthouse.  Children aged 12 or under are eligible to participate.  The Bounce House is free.    Next to the bounce house is the Owen County Public Library's Bookmobile.
Food is available from several vendors on Franklin Street.  There are options for vegetarians at some of the food vendors.   This year the food options have been greatly expanded and now include a Kettlecorn vendor.
IU Health Positive Link will be providing free rapid HIV testing from 12-3.  This is an oral swab (not a blood draw).  Those interested in this testing should inquire at the IU Health Positive Link booth near the entertainment area.
There is a yard sale on the northeast side of the lawn that is hosted by the White River Valley PFLAG.  100% of proceeds from that sale go to WRV PFLAG's mission.
The items listed above aren't everything!  See for yourself what the festival has to offer.  The 2014 Spencer Pride Festival takes place on Saturday, June 7th from 10 AM until 5 PM.