Thank you to everyone for making our Moving on Up fundraising a success; it would not ha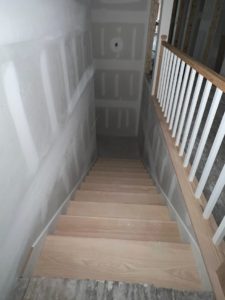 ve happened without you! Between the gorgeous staircase and all the other progress that has been made, I am excited to share that we are now ready to kick up the construction dust once again and make the western half of the second floor Move-in-Ready!
We have big plans to use the space for programs like a Health and Wellness private office, plus more that will help us continue to further our mission of making Indiana a more welcoming place for ALL.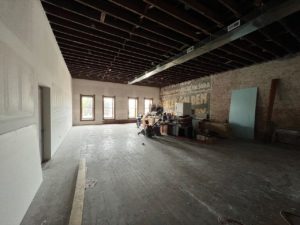 To achieve these dreams, we need to raise $15,000 to:
purchase and install overhead lighting
paint the walls and ceiling
purchase and install bathroom fixtures and grab bars
purchase and install doors and locks
repair and clean the hallway floors
clean and seal the mural & brick wall
purchase a closet shelving system and vacuum
To that end, we will participate in the Gannett: A Community Thrives fundraising challenge beginning July 18th at noon and running through August 12th at noon. We are looking for your support in order to raise the $15,000 needed to make the second floor Move-in Ready. The bonus for using the link we provide is that if we raise $3,500, Gannett will give us an extra $2,500 towards our move in dreams.
Keep an eye on our social media pages over the next month to learn more on how you can help! Not only can you donate to our campaign, you can also share our link with your social media friends – we have approximately 200 members in our private volunteer group alone. If everyone shared our posts with the link to our fundraiser, we should be able to reach our goal well before the end of the month.
Don't hesitate to send an email to maggie@spencerpride.org or give me a call at 812.929.0164 if you have any questions.
Take care,
Maggie