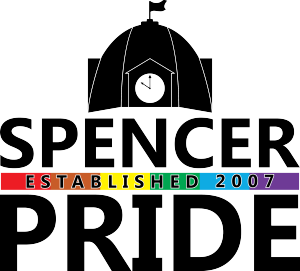 Major changes to the Spencer Pride Inc. Board of Directors took place during the July volunteer meeting.  First of all, members considered and then unanimously approved a revision to the bylaws that provided greater flexibility to the size of the board – specifically, there is no longer a maximum board size and the minimum board size is now 4 (up from 3 previously).  These changes are an important step for Spencer Pride Inc. as we become a stronger and more adaptable organization.
Four board members were re-elected: Jonathan Balash, Judi Epp, Eric Jones, & Cathy Wyatt.  All were re-elected for two year terms.  The re-election of all board members was a reflection of their commitment to Spencer Pride and the confidence of the volunteers in the work that the board has been able to accomplish.
Jonathan Balash was re-elected as President as well.  Jonathan is the only individual to have served in that role since the organization was first incorporated in 2007.
Two new  members were added to the Spencer Pride Inc. Board of Directors: Katie Zuber for a two year term & Becky Brown for a six month term.
Katie Zuber has been involved in Spencer Pride since she moved to Bloomington in early 2013 with her husband Matt & cat Gus.  She had attended the 2013 "A Night at the Tivoli" event and had a great time.   She knew right away that Spencer Pride was an organization she wanted to be a part of.  Katie is a Health & Human Sciences Educator for Purdue Extension – Lawrence County.  In addition to joining the board, Katie has also assumed the role of Secretary.  
Judi Epp had previously served as Secretary since 2007.  Judi will continue as Volunteer Coordinator and will also retain leadership of the October LGBT History Month activities.
Becky Brown joined the Spencer Pride organization this year and is assisting as Treasurer for a temporary period of time to help us keep our financial house in order as we continue our search for a long-term Treasurer.  She has extensive experience with local not-for-profit organizations, including Owen County Humane Society.  Becky has been serving as an informal financial adviser to Spencer Pride this year.
Kim Fidler is the only member of the Board of Directors who was not up for re-election this year.  Her term does not expire until 2016.
We are very excited about all of these changes and are happy welcome Katie & Becky to the board.
There will not meet an August volunteer meeting in order to give our volunteers a much needed summer break.  The September volunteer meeting will take place on Sunday September 13 at 4 PM.