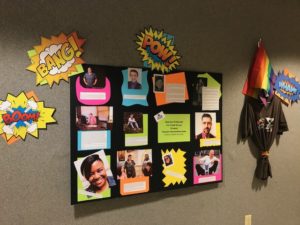 Throughout the month of October, which is LGBTQ History Month, area public libraries, schools, & other institutions are featuring educational displays made by Spencer Pride.  Spencer Pride has created these displays for many years.  This year's theme is Hoosier Heroines/Heroes.  It focuses on local LGBTQ+ organizations' leaders.
The boards were assembled by volunteers from Spencer Pride & Iris, our youth group.  Spencer Pride volunteers also distributed the displays throughout the region.
Organizations featured include:  Spencer Pride, Iris Youth Group, Prism Youth Community, White River Valley PFLAG, Putnam Pride Initiative, Mooresville Gay-Straight Alliance, Bloomington PRIDE, & more!
This year's displays are featured in 24 locations! This includes 10 schools, 12 public libraries, & 2 other institutions in 10 counties.  These displays have been very popular over the years.  Many of the organizations which display the materials request to keep them so that they can be utilized throughout the year in different capacities.  It is, of course, our pleasure to comply with these requests.  We see these displays as an excellent opportunity to expose the broader population to LGBTQ+ history, people, & issues.
The educational displays are available at the following locations:
Bedford Public Library (Bedford, Lawrence County)
Bloomfield Eastern Greene County Public Library (Bloomfield, Greene County)
Bloomington North High School (Bloomington, Monroe County)
Bloomington South High School (Bloomington, Monroe County)
Brazil Public Library (Brazil, Clay County)
Brown County Public Library (Nashville, Brown County)
DePauw University, Roy O. West Library (Greencastle, Putnam County)
Edgewood High School (Ellettsville, Monroe County)
Franklin College  (Franklin, Johnson County)
Indiana University Herman B. Wells Library (Bloomington, Monroe County)
Indiana University School of Public Health (Bloomington, Monroe County)
Knox County Public Library (Vincennes, Knox County)
LGBTQ Cultural Center at Indiana University (Bloomington, Monroe County)
Mitchell Community Public Library (Mitchell, Lawrence County)
Monroe County History Center (Bloomington, Monroe County)
Monroe County Public Library (Bloomington, Monroe County)
Monroe County Public Library (Ellettsville, Monroe County)
Mooresville High School (Mooresville, Morgan County)
Morgan County Public Library (Martinsville, Morgan County)
Owen County Public Library (Spencer, Owen County)
Putnam County Public Library (Greencastle, Putnam County)
Roachdale Franklin Township Library (Roachdale, Putnam County)
Vincennes University Library (Vincennes, Knox County)
Worthington Jefferson Township (Worthington, Greene County)