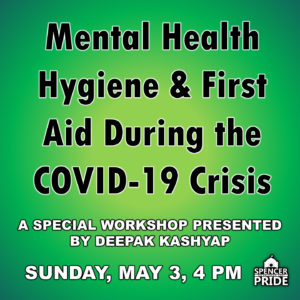 Spencer Pride is excited to announce that Deepak Kashyap (he/him), counselling therapist & life skills trainer, will be leading a workshop during our volunteer meeting on Sunday, May 3.  The workshop is titled "Mental Health Hygiene & First Aid During the COVID-19 Crisis for LGBTQ2S+ Individuals."
During this time of crisis, in the bid of solidarity with each other, we should do what we can to support each other.
The COVID-19 crisis has had a great social, economical & psychological impact on all of us. In order to address the psychological impact, we need to talk about it. Social Distancing does not have to result in psychological distress & lack of motivation. It has disproportionately affected LGBTQ2S+ communities, forcing individuals in uncomfortable, homophobic, & sometimes downright unsafe situations.   How can we help?  This is the focus of the workshop on May 3.
Deepak Kashyap has provided emotional & mental health services in person & online for over 10 years. He holds a master's degree in the Psychology of Education from the University of Bristol, UK.   He has conducted workshops in India, Dubai, the United States, the United Kingdom, Europe, & Canada on various emotional well-being projects.  His expertise lies in developing and delivering programs for corporate mental health initiatives, Diversity and Inclusion training, & LGBTQ2S+ leadership & rights activism. Deepak has developed and delivered programs like Employee Emotional First-aid, Unconscious Bias, Safe & Respectful Work Environment, Effective Vs Performative Allyship, Making Workplaces More Welcoming of Queer Employees Beyond Just Pride Month, Emotional Skills for Feminism, Distinctions Between Social Justice Warriors/Workers, Squaring Up Meritocracy & Privilege Myths, & many more topics focused on workplace safety & equity.
Deepak is a published columnist in national newspapers & magazines and writes about issues related to sex, mental health, relationships, & emotional disturbances. He has appeared on various national & international news channels, talk shows, debates, radio & newspapers, discussing emotional health & sexuality issues.  Deepak is a member of the Ontario Association of Mental Health Practitioners (OAMHP) & the Canadian Counselling & Psychotherapy Association (CCPA).
Deepak serves on the Board of InterPride, the international association of LGBTQ Pride organizations.  Spencer Pride president Jonathan Balash also serves on the Board of InterPride & is excited that Deepak will be joining the upcoming volunteer meeting.
"I've known Deepak for a few years now & I've seen him speak professionally a few times.  I know that what he has to say will be helpful for our volunteers to help process everything that they are feeling during this emotionally-challenging time," Jonathan said.
Judi Epp, Spencer Pride's fundraising director, recently had the opportunity to participate in an online workshop that Deepak presented to pride organizers.
"As I listened to Deepak, it immediately struck me that our volunteers could benefit from his excellent, practical points about how to stay mentally healthy during the crisis," Judi explained.  "And he's one of us, so he understands that not all of us are quarantined in a safe place."
Everyone is welcome to join us for this workshop & our meeting on Sunday, May 3 at 4 PM via the following Zoom link: https://zoom.us/j/96719023723.   After the workshop, we will use the time to check-in with each other, similarly to what took place during our successful April volunteer meeting.