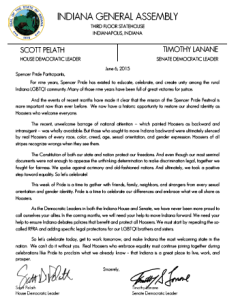 Today, we received a letter from the minority leaders of the Indiana General Assembly – Scott Pelath, House Democratic Leader & Timothy Lanane, Senate Democratic Leader – expressing support for Spencer Pride and welcoming attendees to our festival.
The letter unequivocally states support for the work of Spencer Pride and acknowledges our hard work for the past 9 years.
"We are unbelievably honored to have received this letter of support from the minority leaders of the Indiana state legislature," said Spencer Pride Inc. Jonathan A. Balash.  "It means a lot to our volunteers and supports to get this time of recognition from some of the most important elected officials in the state."
The letter will be read aloud by Jonathan to attendees at this year's Spencer Pride Festival, which takes place on Saturday June 6 from 10 AM until 5 PM on the square in downtown Spencer.