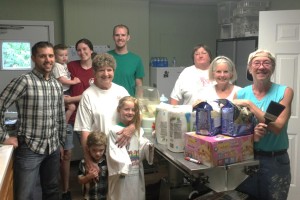 Spencer Pride's Volunteer Day at the Owen County Humane Society on September 26 was a rousing success! Dogs were walked, kittens were socialized, and rooms were painted. More than a dozen volunteers turned out, and they came bearing gifts: donations to OCHS included paper towels, cat food, pet dishes, and monetary donations.
The greatest need was for painting the cat care rooms. So, while many volunteers gave the cat care rooms a much-needed paint job, our littlest volunteers walked dogs and socialized kittens.
Volunteers and employees enjoyed pizza from Chicago's Pizza in Spencer, also donated by Spencer Pride.
The volunteer work completed at the Owen County Humane Society was the first of 10 monthly service projects leading up to Spencer Pride's 10th anniversary in 2016.
"We want to give back to the community for the many years of successful events we've held in our effort to make this a more welcoming place for all of our citizens," said Jonathan Balash, President of Spencer Pride, Inc.
For more information about other planned 10th Anniversary service projects, and how you can get involved, visit us on Facebook or on our website at www.spencerpride.org. Send questions to info@SpencerPride.org or Judi@spencerpride.org.