by Judi Epp, Cat Spratt, & Leslie Nieves (part of our Fundraising team)
This web post was originally printed in the Spencer Pride Volunteer Quarterly Newsletter.  To receive a copy of the digital newsletter, please send an e-mail to info@SpencerPride.org with the request to be added to our distribution list.  Thank you!
Spencer Pride's commUnity center, programs, and community services are powered by our amazing volunteers — & financial resources. Our volunteers are diverse people from all walks of life, with all sorts of skills. Together, they have organized amazing Festivals, demolished the old kitchen, & rehabbed the Unity shop, all the while providing health, education, & youth programs, as well as extensive community outreach. Spencer Pride definitely has "people power!"
The foundation of our financial resources is not as diverse. Profits from the Unity shop, powered by our faithful volunteers, & the steady donations of our monthly & annual donors have provided our financial foundation. On top of that foundation, we receive (& continue to seek) one-time donations in the form of grants from businesses & foundations & gifts from individuals. A combination of small grants & a generous outpouring of donor gifts has provided the funds needed to replace our leaking roof. Grants from foundations have provided funding for youth scholarships & for building renovation projects, as well as support for community center operation. Each of these gifts is a cause for celebration, partly because we can't know in advance whether we will receive it or not.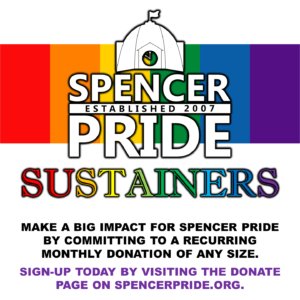 For stability, we need to build out our financial foundation. With the Unity shop closed due to the Covid-19 pandemic, that income stream has shut down & may be slow to rebuild. To partially replace it, as well as supplement it in the future, we are working toward selling items from the Unity shop online. Our other steady income stream, from our sustaining donors, may be our most important financial power source in the long run. We initially asked for donations of $50 a month & called the program "$50 From 50," with a goal of reaching 50 donors & always knowing we would receive enough money to cover our mortgage & utility expenses. As part of developing a new Fundraising Development Strategy, we have renamed the program "Spencer Pride Sustainers" & opened the program to donations at all levels because every gift, whatever the level, moves us toward our financial goal.
During this health emergency, the pain is not falling on all of us equally. Some of us will experience health impacts & losses of loved ones & some will face severe financial losses, while others are relatively unaffected. We need to share & care for each other as these needs develop. If all of us who are relatively unaffected financially provide support for Spencer Pride, our commUnity center & programs will be there when needed.  Please go to the Donate page on our website and become a Spencer Pride Sustainer with a monthly gift of whatever amount you can spare. If you have any questions about donating or would like to explore setting up a Legacy Gift to Spencer Pride, please contact Judi Epp (judi@spencerpride.org).