The 2021 Spencer Pride Festival will take place this year, after having been cancelled in 2020 due to the COVID-19 pandemic.  Although the pandemic continues, widespread availability of the vaccine & lessons learned over the past 18 months have given Spencer Pride organizers confidence about their ability to hold the annual festival in a responsible fashion.
Many measures will be taken to protect attendees & to prevent further transmission of COVID-19. 
Festival organizers have been diligently watching Centers for Disease Control (CDC) recommendations, benchmarking other events, & listening to volunteers & other stakeholders in order to prepare for the festival.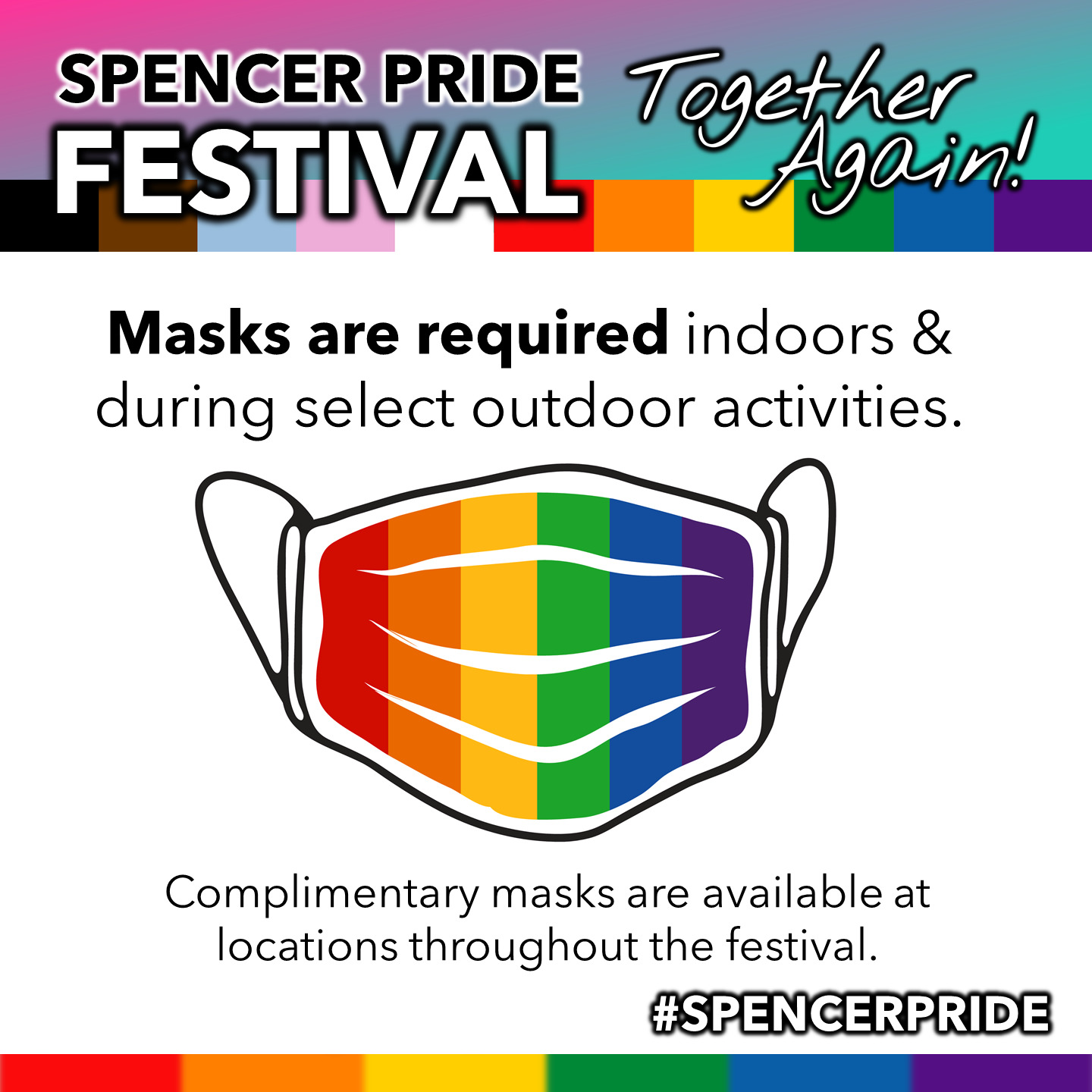 According to the CDC, "Younger adults, racial/ethnic minorities, essential workers, and unpaid adult caregivers reported having experienced disproportionately worse mental health outcomes, increased substance use, and elevated suicidal ideation" since the beginning of the pandemic in early 2020.  Gathering together is an important way to help curtail some of these issues.
Over the past 15 years, Spencer Pride has proven to be an invaluable source of connection (& celebration, of course!).  In addition to the benefits of interpersonal connection, the festival provides numerous opportunities to access a wide range of health & wellness services & information.
"It would be great if everyone who could be vaccinated would do so, for the health of our community," said festival director Jonathan Balash.  "Given that this is not the case thus far, we knew we would have to adapt our festival as well as make requests of festival attendees to help provide the safest space that we can."
There are three ways that the event has been modified in order to align with CDC guidance, including mask-wearing, social distancing, & routine sanitization.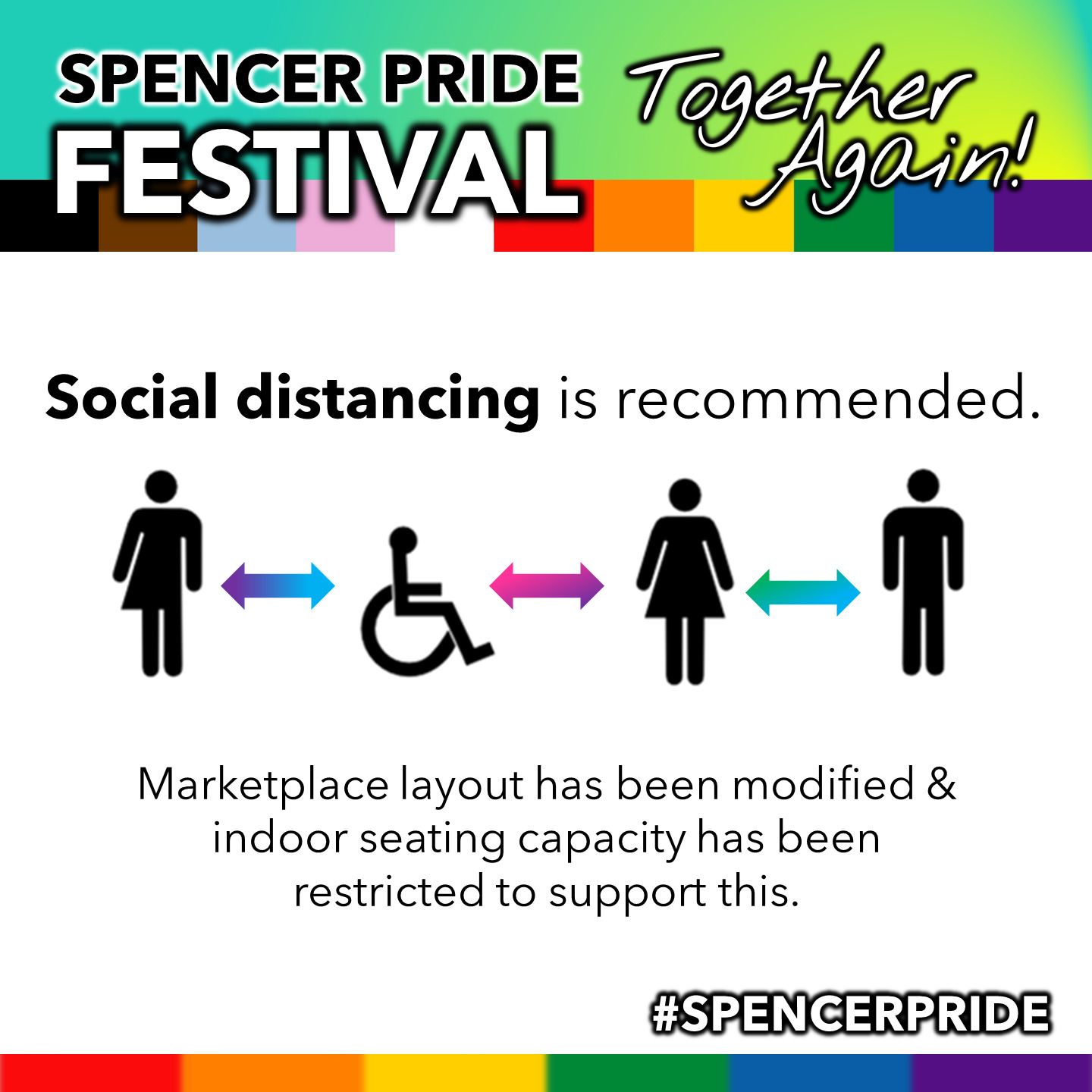 According to the CDC, everyone (regardless of vaccination status) should wear masks indoors.  It is recommended outdoors only when participating in activities with others who may not be vaccinated.   Accordingly, the 2021 Spencer Pride Festival will require all attendees to wear masks at all indoor venues & during select outdoor activities as well.  One example of an outdoor activity that requires masks includes children playing in the bounce house.   Disposable masks will be available for attendees who do not bring their own mask/facial covering.
The CDC also recommends social distancing between people of at least 6 feet (two arms length).  To facilitate this, the festival marketplace has been re-arranged to create double the amount of space for attendees.  This creates the room needed to socially distance effectively.  Festival attendees will be reminded that social distancing is advised, even when outdoors, & this practice will be encouraged. 
"Spencer Pride is a popular event each year, with thousands of people attending," said Balash.  "That being said, there are few times when people are shoulder-to-shoulder at our festival.   Knowing what those times are has helped us to modify our plans to prevent those situations in 2021."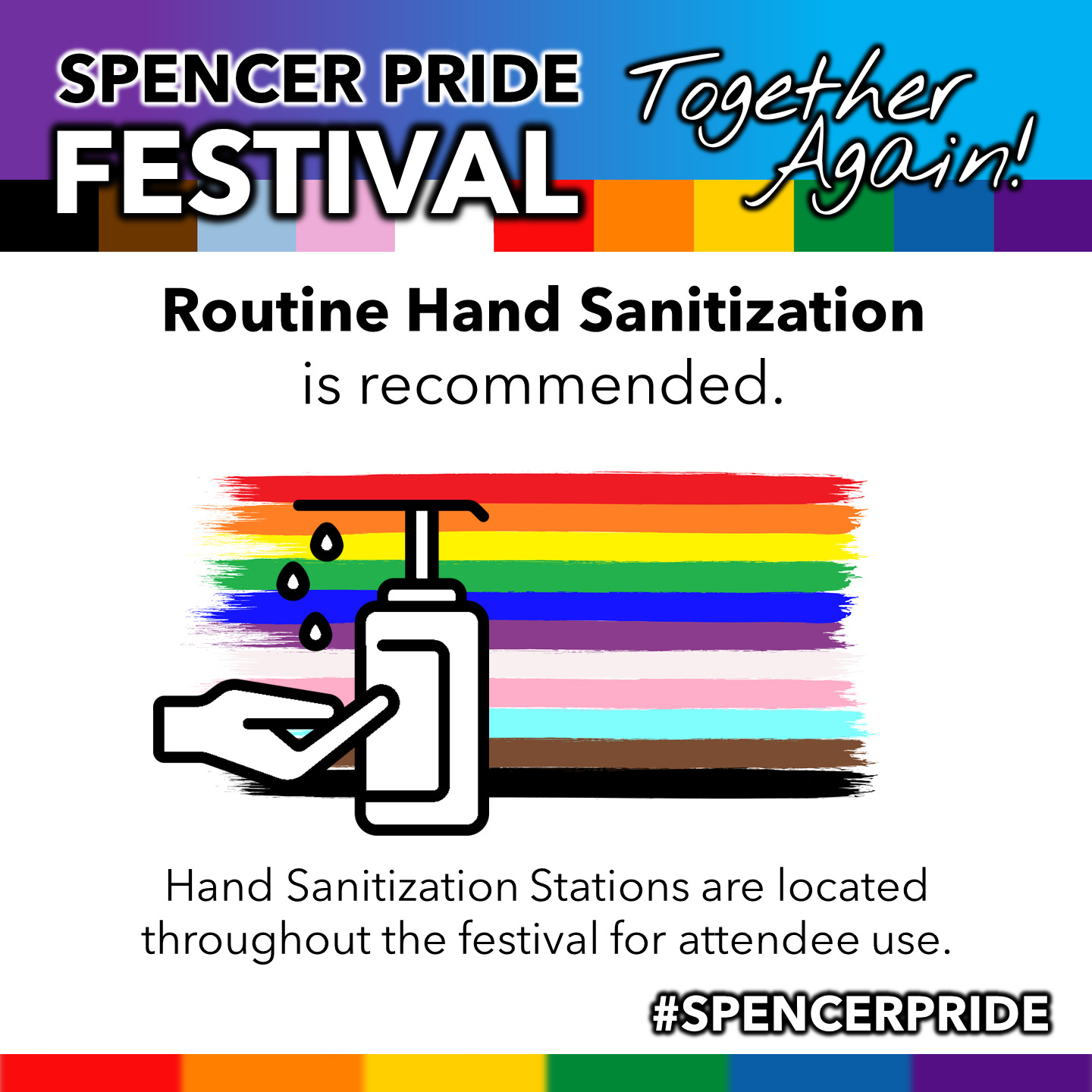 The main stage has been moved indoors to the historic Tivoli Theatre & the seating capacity has been significantly reduced to allow for appropriate distancing between groups of people in attendance.
The final area of focus is on sanitization.  Multiple hand sanitization stations will be setup throughout the festival to facilitate this practice & attendees will be encouraged to use these hand sanitization stations frequently.
Additionally, festival organizers are arranging for routine cleaning & sanitization of key areas in the festival, such as outdoor plazas & entertainment venue seating.  At the Tivoli Theatre, for example, the venue will be cleared of all people between every performance in order to facilitate cleaning & sanitization.  This effort will also ensure that there is broad opportunity for more people to attend performances given the greatly reduced capacity as compared to prior Spencer Pride Festivals.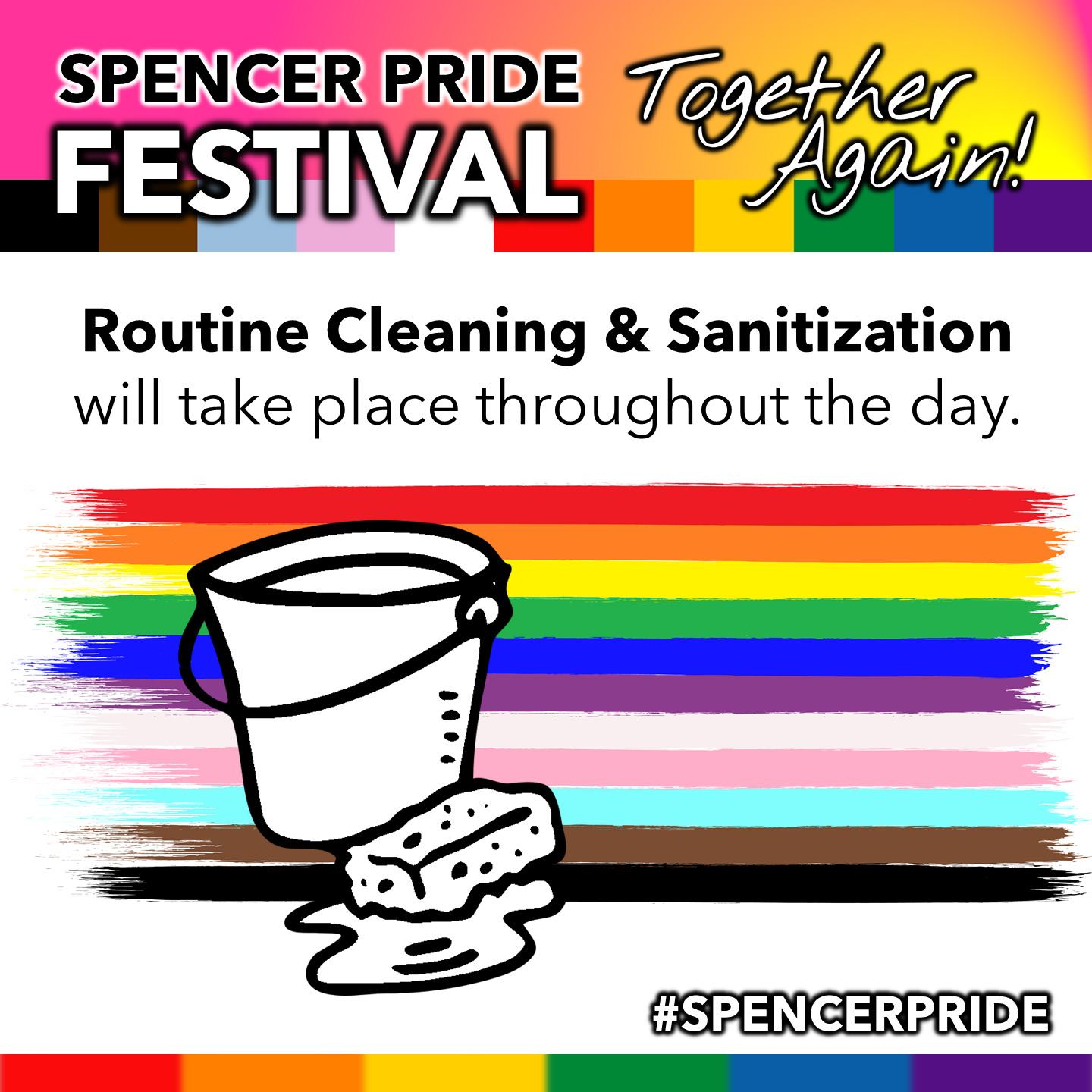 "We believe that these COVID-19 precautions will create the safest space that we can, while still allowing for people to gather together once again in support of our important mission," Balash explained. "We are creating the space, providing the tools, & educating attendees about how to successfully celebrate Pride while not taking high risks with our health."
The best protection against COVID-19 is the vaccine.   To that end, the Indiana Immunization Coalition will be providing COVID-19 vaccinations during the festival, along with a variety of other vaccines (including the flu shot).  Individuals 12 & older may receive a vaccination at no cost.  Individuals who are 12-17 will require parental consent in order to receive the vaccine.
Although Spencer Pride organizers are confident that the 2021 festival COVID-19 precautions are appropriate for the general population, they support the recommendations of the CDC, including that individuals who are immuno-comprised should not attend events in which they may be exposed to individuals who are not COVID-19 vaccinated.  Individuals in these circumstances are asked to refrain from attending the Spencer Pride Festival out of an abundance of precaution for their health.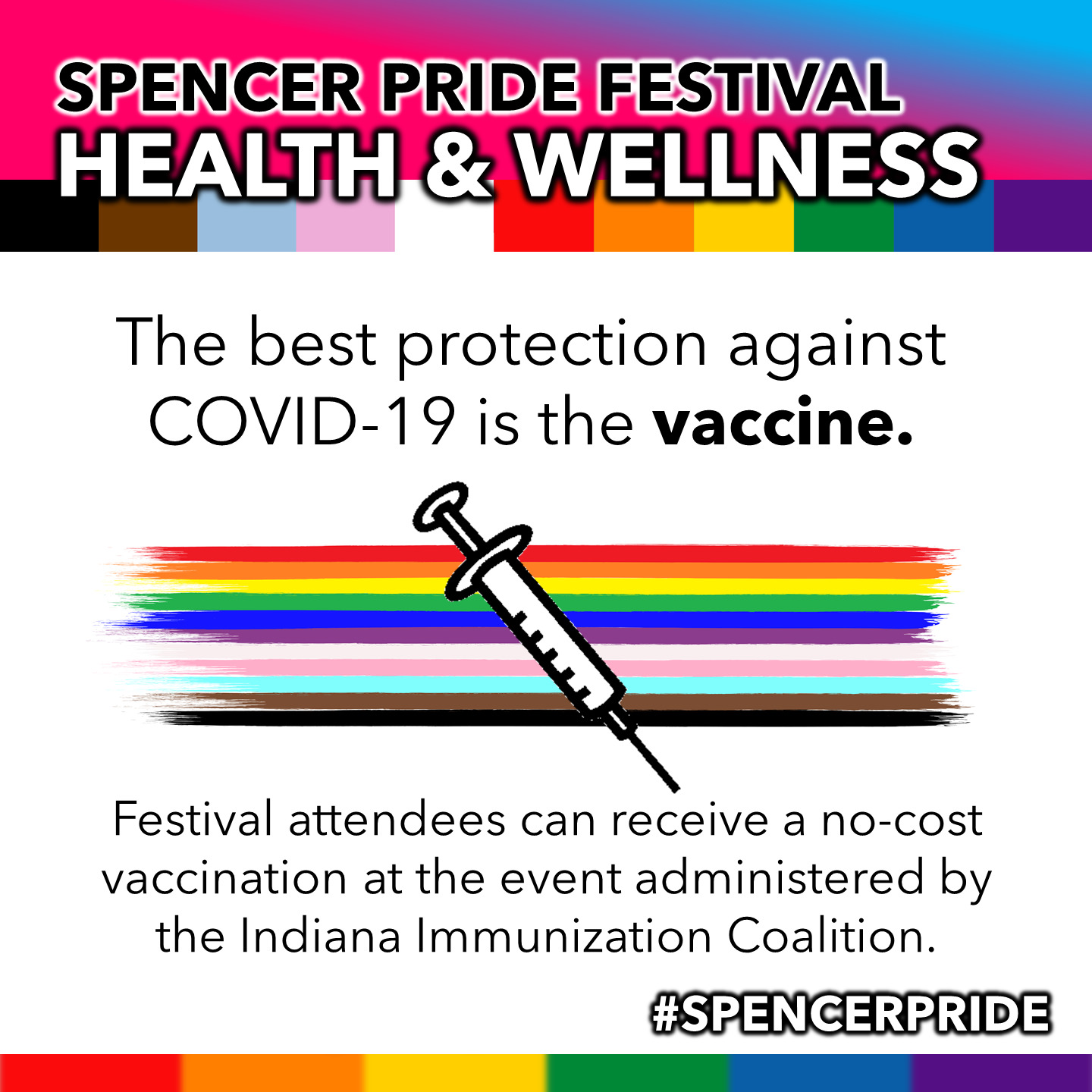 The 2021 Spencer Pride Festival takes place on Saturday, October 16, from 12-7 PM in downtown Spencer.   Information about the festival can be found at www.SpencerPride.org/festival.   In addition to the festival, there are a variety of Pride Week events taking place beginning October 11.  Stay tuned to Spencer Pride on social media & to SpencerPride.org for more information about these events.  Similar COVID-19 precautions will be in place for all Pride Week festivities.
#SpencerPride  #ItsOurShot  #ScienceIsReal  #VisibilityMatters  #Pride