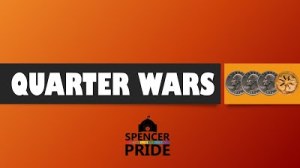 We are excited to announce that Jonathan Balash, our president since Spencer Pride Inc. was established in 2007, was the winner of the recent Quarter Wars Contest.  As the lucky winner, Jonathan received two pies: one to take home, and another to take in the face.  That's right, the winner of the contest gets a bittersweet package of prizes.  Well, not so bitter as it was sweet.  😉
Jonathan received both his pies at the conclusion of the Apple Butter Festival on Sunday, September 21st.  A video of the finale is posted on our Facebook page.  You can also find photos of the fabulous conclusion there.
We would like to thank everyone who contributed to make this first Quarter Wars Contest a big success!  We were able to raise more than $300 in just two days!  All proceeds from this content will go to the 10th Anniversary Spencer Pride Fund, which has been established to help make our 2016 festival the biggest, boldest, and best Spencer Pride Festival yet!