Tomorrow (June 6) is our first-ever Spencer Pride Spirit Day!  Born as a way to mark the original date of the 2020 Spencer Pride Festival (which has now been postponed to October 17), Spirit Day is a fabulous opportunity during LGBTQ+ Pride Month to show your support for Spencer Pride in a variety of ways.
Whether you are quarantined at home or navigating the outside world, there are many ways to participate in Spirit Day.  You can choose to do one of them or all of them – it's up to YOU to decide how much spirit you want to show!
Below we've outlined the ideas we've put together, grouped by whether they can be done remotely/online or in-person.  If you think of other ways to show your Spencer Pride spirit that aren't listed here, feel free to do so!  We love the creativity of our many supporters.
IN-PERSON
If you are able to get out & about, there are 3 ways we've identified that you can help on Saturday.    The biggest suggestion is for you to visit the Spencer Pride commUnity center (open 10 AM until 7 PM), which is re-opening for the first time in almost 3 months.  Closed due to the COVID-19 shut-down,  the commUnity center has now been cleaned, organized, & is awaiting your arrival!  At the Spencer Pride commUnity center you can shop, learn about our programs & events, & much more.  Please note that out of concerns for safety, we are recommending that patrons wear masks while in the center.  These can be provided upon request if you do not have your own.
Before arriving at the center, we encourage everyone to first stop by the Owen County Farmer's Market located near Babb's grocery store .  Spencer Pride is sponsoring the market entertainment this week, which happens to be Spencer Pride volunteer Dan Wyatt.  At the Farmer's Market you can purchase a variety of items produced by local farmers, artisans, & craftspeople.  The Farmer's Market is open from 8:30 AM until 12:30 PM.
If you are able, Spencer Pride is also looking for volunteers.  You don't have to physically volunteer this weekend, but if you would like to test out volunteering with us, we encourage you to apply online at www.SpencerPride.org/volunteers.  Once the application & background check have been completed, we will schedule in-person training to ensure you are well-prepared for volunteering with us.  There are many different types of volunteer opportunities so there's undoubtedly something to fit your interest.
A great way to learn more about volunteering is to meet our volunteers!  We have our monthly volunteer meeting this Sunday from 4-6 PM via Zoom.  If you'd like to join us, please send an e-mail to info@SpencerPride.org for the link.
ONLINE
There are LOTS of ways to show your support online, many of which are through utilization of social media.  Since many people learn about us through our social media presence, we greatly benefit from ways that increase our visibility online.  We have a virtual social media presence on Facebook, Twitter, Instagram, & LinkedIn.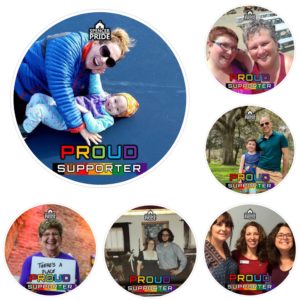 Regardless of what social media platform you prefer, one way to show your spirit is to put on Spencer Pride apparel & post a selfie online.  If you'd like, you can also tell your followers/friends about why you support Spencer Pride & describe how Spencer Pride has made a positive impact in your life.    Another way to help us on social media is to talk about the 2020 Spencer Pride Festival & why you are looking forward to our first-ever Autumn LGBTQ+ Pride Festival on October 17.    If you are on Facebook, you can share our event "2020 Spencer Pride Festival: Into The Streets" with your friends so that they save the date.
If you are on Facebook, we'd love to see you update your Facebook profile picture with one of our new profile frames.  To do so, click on your profile photo & choose "add frame," then search "Spencer Pride Proud Supporter" & choose which frame is best for you.  Save the frame & instantly you'll be showing your Spencer Pride spirit online.
Also on Facebook we'd love to get your positive reviews on each of our two pages: Spencer Pride & Spencer Pride commUnity center.  Positive reviews help people to discover our organization & commUnity center & the important work that we do.
There are also two opportunities that you can support us financially.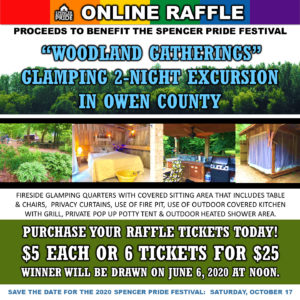 First, you can purchase one or more tickets for our "Glamping" raffle which ends Saturday at 11 AM (the winner will be drawn at noon).  To purchase a raffle ticket, visit https://go.rallyup.com/glamping2020.  Tickets are $5 each or 6 tickets for $25.   Raffle proceeds will benefit the 2020 Spencer Pride Festival.
Second, you can make a donation (one-time or recurring) on our website's donate page.    Whether it's $5 or $50, your donation makes a big difference.  If you make a recurring monthly donation, which can be set up in less than 2 minutes, you'll become a Spencer Pride Sustainer.  Our Sustainers ensure that the basic monthly expenses are funded regularly so that we can target grants, retail sales, & event income at our programs (Iris Youth Group, Spencer Pride commUnity center, Spencer Pride Festival, outreach).
As a 501(c), 100% volunteer-fueled organization, your support means the world to us.  It means that we can do the important work that we do every day.  It means that we can make a positive difference in the lives of many people (including local youth).  It means that we can help make our community a better place to live, work, & visit.  It means, in other words, that you can help us achieve our mission of making Indiana a more welcoming place for ALL people.  Thank you.