Spencer Pride is set to host the Midwest Pride Conference from March 1-3, 2019.  The conference brings together representatives from LGBTQ+ Pride organizations to share best practices, attend training, & network together.  Attendees are registered from 6 Midwestern states, including Indiana, Illinois, Missouri, Wisconsin, Michigan, & Minnesota.
"Registration for this conference has exceeded our expectations," said Jonathan Balash, president of Spencer Pride & the lead for the conference. "Last year's conference in Detroit brought 37 attendees & we hoped to bring 55 this year; instead, we now have 74 registered participants."  Spencer Pride stopped allowing new registrations once capacity had been achieved.   Most of the Spencer Pride Directors & Pride Festival Leads will attend the event as well.
The conference will primarily occur at the Spencer Pride commUnity center, although some educational sessions will occur at the Tivoli Theatre & activities for that Sunday will take place in the Oak Room of Canyon Inn at McCormick's Creek State Park.    Out-of-town attendees will be staying at Canyon Inn.
Some of the conference workshop topics include: Modern Safety & Security at Pride Festivals, How to Have Pride & Make Change in Rural America, Inclusion of People with Disabilities in Pride Festivals, & Inclusion of People of Color in Pride Festivals. There will be a forum on volunteer recruitment & retention, a youth panel, & several "speed topics" segments, which allow for organizations to share best practices with their peers.  Speed topics are grouped into themes around such topics as outreach, promoting healthy lifestyles, expanding pride festivities to span a week or month, & "Show Me the Money."  This last theme is focused on increasing event sponsorships or decreasing event costs.
In addition to the educational content of the conference, participants will also be exposed to other local attractions while they are in Spencer.  On Friday, March 1, Juniper Gallery, The Dragonfly Gallery, & the Spencer Pride commUnity center retail shop will be open for extended evening hours as a part of a "Shop Local" event.  Live entertainment & refreshments will be available at the commUnity center.  The new Spring collection will be debuted for the event as well, earlier than was originally planned.  Jaime Sweany, owner of The Juniper Gallery, decided to schedule the collection's debut earlier due to the "Shop Local" event.
Each morning, conference attendees are invited to participate in guided tours at McCormick's Creek State Park in order to promote healthy lifestyles & show off the area's most popular attraction.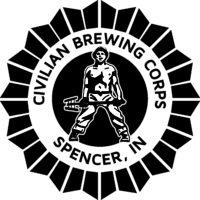 The Civilian Brewing Corps, a new brew pub in downtown Spencer that is scheduled to open to the public on March 3 will be hosting a 'soft opening' on March 2 for Spencer Pride's guests.  It will allow the pub to test out their menu for the public with a more limited audience prior to their grand opening the next day.
Spencer Pride is spreading out their resources to support as many other local businesses as possible.  Coffee & refreshments will be purchased from both Main Street Coffee & Spencer Coffee Shop.   A local caterer will provide Saturday's lunch.  On Saturday evening, guests will be welcomed for the first public event in the commUnity center's upstairs ballroom, where beverages from Owen Valley Winery & Cardinal Spirits will be served.
On Sunday, Spencer Pride is excited to welcome State Senator JD Ford as a keynote speaker.  Ford, who was elected to the Indiana General Assembly this past November, is the first openly gay member of the IGA.
"This is the first conference that Spencer Pride has ever hosted," said Balash.  "We could not be any happier with the opportunity to host these distinguished guests in our beautiful & welcoming community."
For more information about Spencer Pride, visit www.SpencerPride.org.