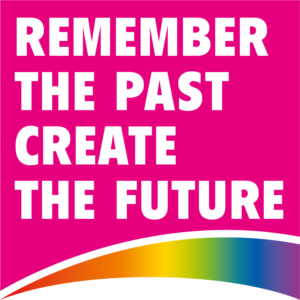 On Saturday, June 2, the family-friendly Spencer Pride Festival returns to downtown Spencer. This year's event marks the 12th annual Spencer Pride Festival.  This family-friendly & admission-free event is sponsored by Cook Medical, Boston Scientific, IU Health Bloomington, area Walmart stores & many other local businesses & organizations.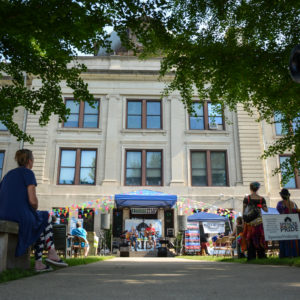 The event, while known as a rural LGBTQ+ pride festival, is open to everyone.  "We welcome all to join us in celebration of our community & its diversity," says Jonathan Balash, Spencer Pride's president.  "The festival is an inclusive event for everyone, regardless of how they identify, who they love, how much money they make, or where they live."  The Spencer Pride Festival is most well known for it's family-focused activities in a small town setting.
Rex Hinkle, President of Cook Aviation & Spencer Pride Director, is looking forward to the festival & is pleased with the organization's success.  "I am so proud to be a part of Spencer Pride.   We have done so much within the community & surrounding areas in service of our mission, which is focused on education of LGBTQ+ issues," said Hinkle.
Hinkle is also a member of the Quarryland Men's Chorus, a very popular group that is returning to Spencer Pride again this year. The chorus's set is one of many performances in this year's all-day line-up of live entertainment on the Ivy Tech Stage. Several other prior year's performers will be returning as well, including the Different Drummer Belly Dancers, Retrovales, Window To My Soul, The Trip, and others.
The annual pet parade will kick off the festival's line-up of performances & will begin at its newly scheduled time of 10 am. The public is invited to bring pets, or be in attendance to cheer them on, as these fabulous fashionistas strut their stuff, with their fur-less human companions in tow, around the courthouse for a funny, furry, & lighthearted show to start to the day.
Adam Rivière will take the Ivy Tech stage by storm with his worldly sounds that will both educate & entertain. "Music was created to celebrate community, and I get that opportunity at Spencer Pride, which makes playing for such wonderful people and a great event all the better!"
Owen County Civic Theatre will be taking the stage at 1pm, giving everyone a taste of their upcoming musical, "Grease," with local band, Inkwell Moon, scheduled to perform afterward.
The "Ladies of Spencer Pride" Drag Show will take place at its usual time of 4pm. The Spencer Pride Festival is the only place in the Midwest where a drag show takes place on the lawn of a county courthouse and is a crowd favorite. A new event, "Drag Queen Storytime," will be offered in the Gathering Place at the commUnity center, with special guest Pat Yo Weave, at 2:30pm.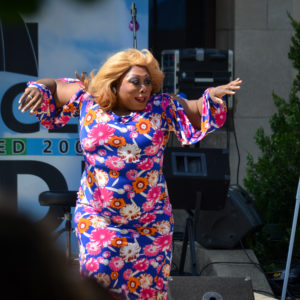 A highlight of the festival each year is the marketplace of vendors. This year's marketplace will not disappoint as it will be the largest ever for the festival. Over 100 vendors of all kinds will be selling items, cooking up tasty treats & distributing information to attendees. 2500 people are expected to attend this year's event, maintaining the healthy attendance seen from last year's celebration.
As always IU Health Bloomington will be providing free confidential HIV testing throughout the day.
Camden's Carnival will be loaded with great options, including a bounce house, toddler town, an all-ages deluxe slip-n-slide, the new addition of games & more! Bloomington Aerialogy will be returning to perform & give aerial silk lessons all afternoon.
The new Spencer Pride commUnity center will be open during its usual hours from 10 am until 7 pm that day.   On May 22nd Spencer Pride was given the Annual Preservation Award from local civic organization Owen County Preservations.  The award was due to the organization's establishment of the Spencer Pride commUnity center in the historic I.O.R.M. Lodge building in downtown Spencer.
During the festival, the commUnity center will be offering its typical fantastic selection of unique items made by local artists and craftspeople. As a special treat for attendees, the commUnity center will also be the hub for the many items being raffled off during the event. An overnight stay for 2 at French Lick Resort, plus breakfast and a spending spree is just ONE of the many amazing items in the raffle.   There will also be 50-50 drawings throughout the afternoon.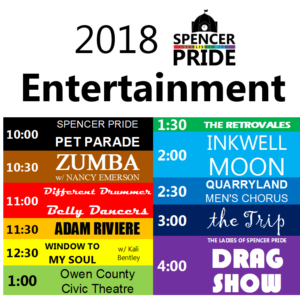 Taking into consideration the increased traffic on Franklin Street due to road construction, pairs of volunteers are teaming up to serve as Rainbow Crossing Guards to ensure safe crossing for festival goers to and from the commUnity center the day of the event.
The festival is an event coordinated by Spencer Pride, Inc. Spencer Pride is a 100% volunteer-led 501(c)3 not-for-profit organization established in 2007. Volunteers are responsible for everything that the organization does.   Between setup, the festival, & cleanup, volunteers have already committed more than 500 hours to this year's event. This does not include the hundreds of hours required to plan the annual festival.
All of this keeps volunteer coordinator Judi Epp quite busy.  "It's hard, but fulfilling work," says Epp.  "I feel like the luckiest person in the organization because I get to interact with so many wonderful people."
The mission of Spencer Pride is to make Indiana a more welcoming place for all people, including those who identify as lesbian, gay, bisexual, transgender, or queer.    For more information about the 2018 Spencer Pride Festival or the other work of Spencer Pride, Inc, browse other pages within our website.