Spencer Pride is eagerly anticipating its 14th annual festival, which will take place on October 16 this year due to the COVID-19 pandemic.   This rural, small-town LGBTQ+ Pride Festival has a history for it's family-friendly fun, educational opportunities, diverse entertainment, & unique charm due to its location on Spencer's downtown square.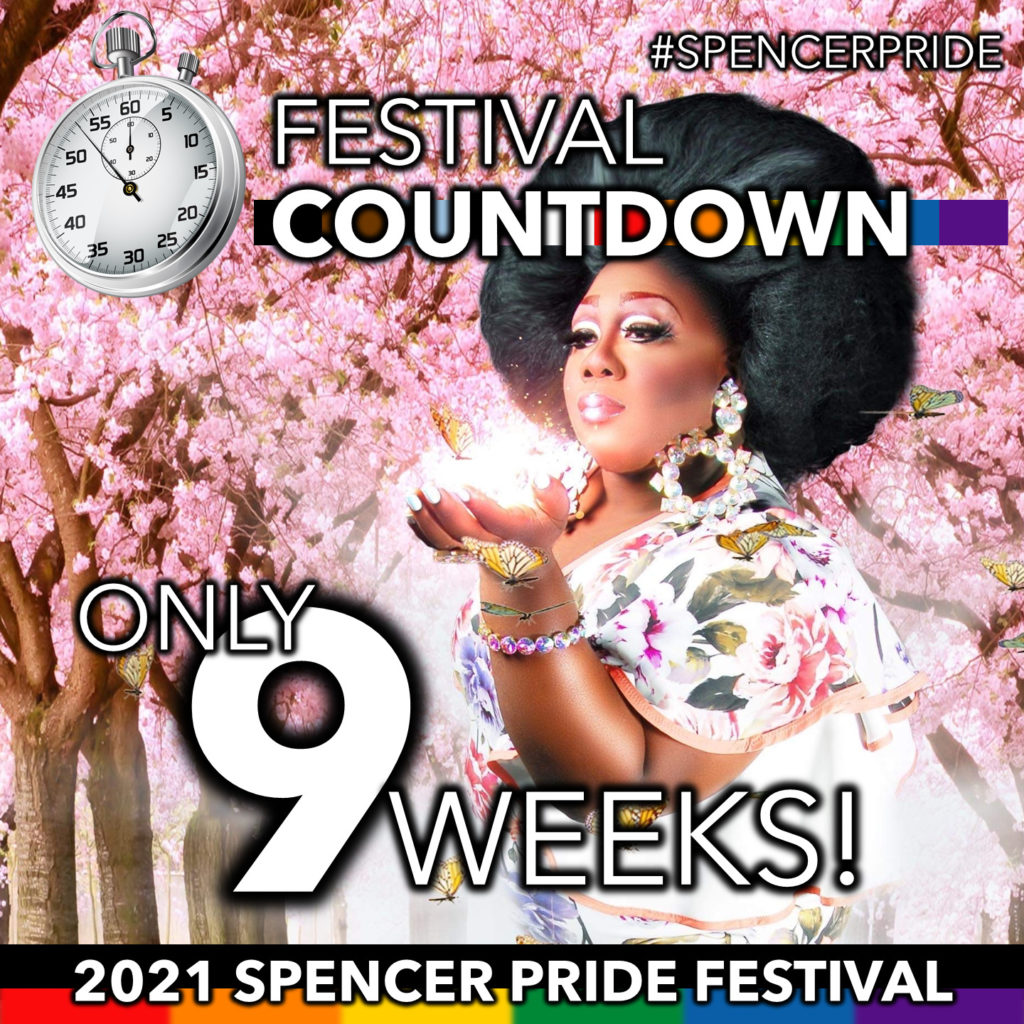 This year, the festival will be special in many ways beyond the cool Autumn timing of the event.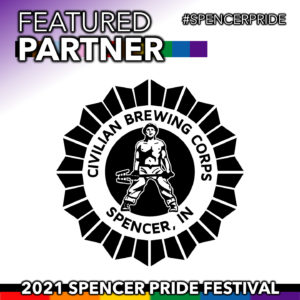 First, the festival will take place in the streets of the square rather than on the courthouse lawn itself.  This affords festival organizers with a lot more real estate to use for the expanding event.   This year's huge vendor marketplace (107 registered as of today) will cascade throughout the downtown streets.   Local businesses will be participating in a variety of ways to ensure a strong show of support & to increase opportunities for festival attendees to explore the wonderful places that Spencer offers.   The 2021 Spencer Pride Festival marketplace is sponsored by C.H. Douglas & Gray Wealth Management and the official Food & Beverage sponsor is Civilian Brewing Corps.    The CBC brewpub will be open throughout the festival & is conveniently located next to the historic Tivoli Theatre.
Another unique aspect of this year's event is the shift from an outdoor main stage to an indoor one located within the aforementioned Tivoli Theatre.   The Ivy Tech Community College Stage will host a wide variety of performers – from magicians to rock bands to drag – throughout the day.  Live entertainment will also be available at the Spencer Pride commUnity center & will be sprinkled throughout the marketplace in special new outdoor plazas.   In addition to enjoying live music & other entertainment, plaza visitors will have a comfortable place to gather under a canopy to enjoy festival food, engage with one another, & enjoy their Spencer Pride experience.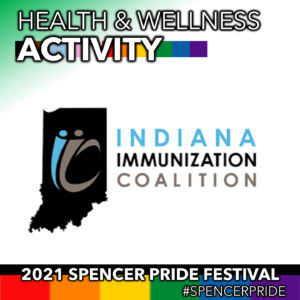 While there are many new things for festival attendees to experience this year (many more than are listed here), individuals who have attended in the past will find the familiar, welcoming atmosphere that continues to be 100% admission-free.  In addition to the all-day live entertainment & marketplace, there will be a variety of other family-friendly activities, health & wellness services, raffles, & other opportunities to gather, learn, support, shop, eat, imagine, & celebrate.  The annual Pet Parade, presented by Elanco, will take place in the afternoon & there is no doubt that its furry, feathery, & scaly participants will all appreciate the slightly cooler weather than the usual June heat & humidity.
There will be an immunization clinic offered for the first time at this year's festival, hosted by the Indiana Immunization Coalition.   COVID-19 vaccinations, flu shots, & other services will be offered at no cost to festival attendees.  HIV screening will be provided by IU Health Positive Link.
Spencer Pride is excited to host an in-person event this fall & will do so following the guidance of trusted public health officials.   
"We are all ready to responsibly gather together in celebration of LGBTQ+ Pride & of Community," said Spencer Pride's president & festival director, Jonathan Balash.
Festival organizers encourage everyone to get vaccinated for COVID-19.  Information can be found at https://www.coronavirus.in.gov/vaccine//    Additional information about COVID-19 precautions at the festival will be shared as the event nears.
The 2021 Spencer Pride Festival takes place on Saturday, October 16 from 12 – 7 PM.   Additional events & activities will take place for Spencer's "Pride Week" from October 11-17.  Other sponsors of the 2021 Spencer Pride Festival include Youth Services Bureau of Monroe County, area Walmart & Sam's Club stores, & Spencer PFLAG.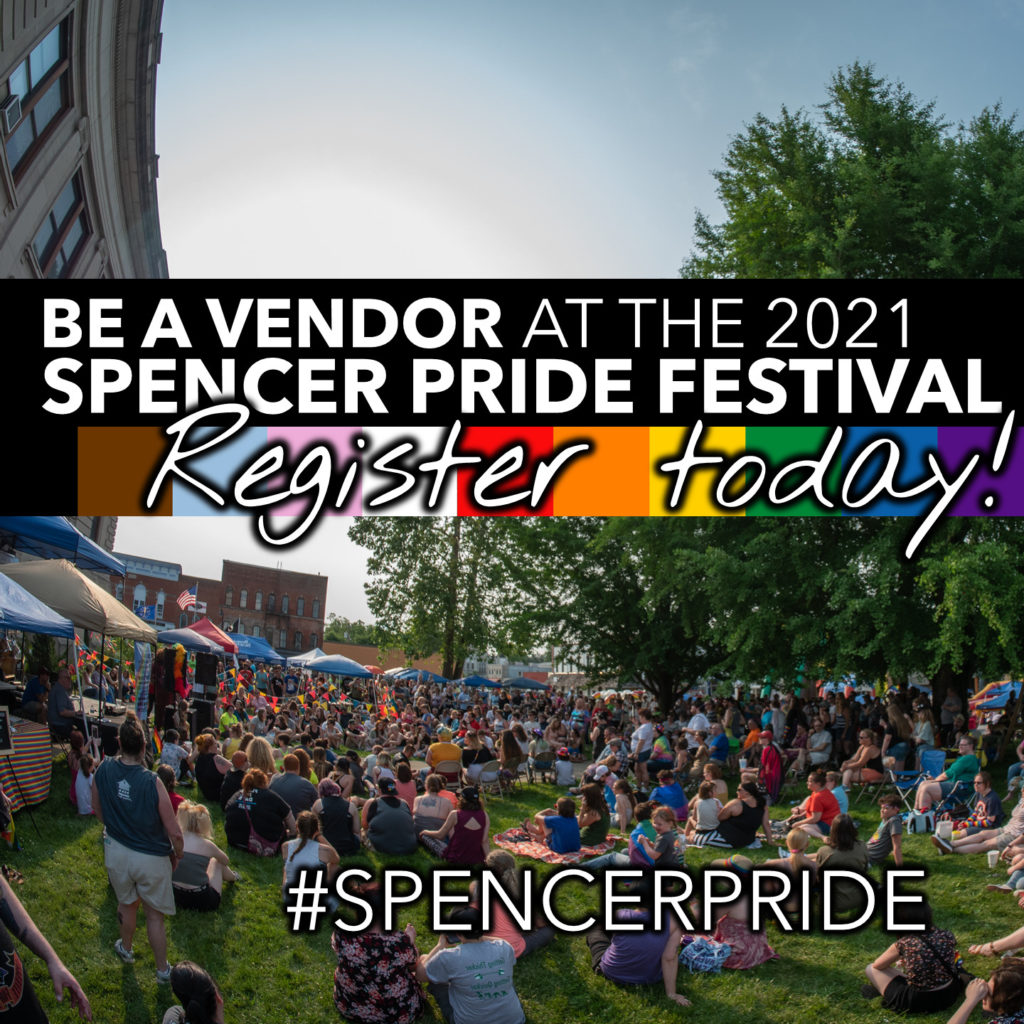 Additional information about the 2021 Spencer Pride Festival can be found at www.SpencerPride.org/festival.  Organizations interested in registering for this year's vendor marketplace may do so at www.SpencerPride.org/portal.
Spencer Pride is a 100% volunteer-powered 501(c)3 not-for-profit organization with a mission to make Indiana a more welcoming place for ALL people, including those who identify as a part of the LGBTQ+ community.   Spencer Pride was established in 2007 after hosting the first annual Spencer Pride Festival.   The organization also operates the Spencer Pride commUnity center, located at 17 E. Franklin Street in downtown Spencer.