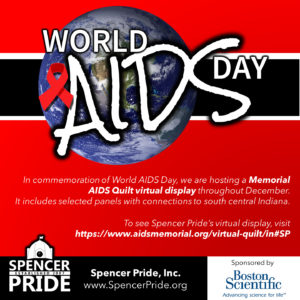 In commemoration of World AIDS Day (December 1), Spencer Pride is taking part in the first-ever fully virtual display of the Memorial AIDS Quilt.  The quilt is managed by the National AIDS Memorial.  Each participating organization is able to feature 8 panels in their display.  The panels selected for the Spencer Pride display all have connections to south central Indiana.
Last year, Spencer Pride hosted panels from the quilt in-person – also a first for Owen County, Indiana.  With the COVID-19 pandemic preventing the hosting of any in-person panels at this time, having a virtual display was the next-best thing for 2020.
"It's really important that we recognize World AIDS Day both by highlighting the current circumstances of the AIDS epidemic, but also by recognizing all those who we've lost in the fight against HIV/AIDS.  The Memorial AIDS Quilt is a profound way of doing that," said Spencer Pride's president Jonathan Balash.
According to UNAIDS (https://www.unaids.org/en/resources/fact-sheet):
32.7 million [24.8 million–42.2 million] people have died from AIDS-related illnesses since the start of the epidemic (end 2019).
38.0 million [31.6 million–44.5 million] people globally were living with HIV in 2019.
81% of all people living with HIV knew their status, leaving a staggering 7.1 million people that did not know they were living with HIV.
Everyone should know their HIV status.  Locally, individuals can get tested for HIV at no cost by visiting IU Health Positive Link.  Walk-in testing is available at the following locations/times:
Bloomington, Mondays, 2-6 PM
Paoli & Terre Haute, Mondays, 1-4 PM
Historically, the Spencer Pride commUnity center has been another location to receive free HIV testing, however, testing is not available at this time to due COVID-19 related restrictions.  It is unclear when testing will resume at the commUnity center, although the organization is anxious to do so.
The virtual quilt display can be found here: https://www.aidsmemorial.org/virtual-quilt/in#SP.
Spencer Pride's virtual Memorial AIDS Quilt display is sponsored by Boston Scientific Corporation.
"Locally, one of the strongest supporters of Spencer Pride's work is Boston Scientific," said Balash.  "We are grateful for their continued assistance in helping us with our mission."