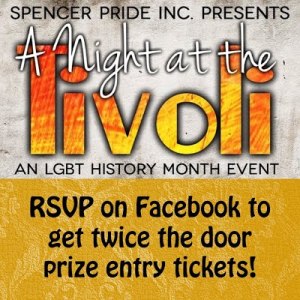 SPENCER, INDIANA – The historical Tivoli Theater in downtown Spencer will again be the site of Spencer Pride's annual Lesbian, Gay, Bisexual, & Transgender (LGBT) History Month event "A Night at the Tivoli."  The event, which is admission-free thanks to generous sponsors of Spencer Pride, Inc., will take place on Wednesday, October 8th at 7:00 PM.  The public is welcomed and encouraged to attend this community event.
KaPow! and Opal Fly, popular local performers, will be entertaining the crowd during intermission.
"We are again privileged to hold the event at the beautiful Tivoli Theater," says Spencer Pride Inc.'s president Jonathan Balash.  "Although this is actually our fifth annual educational event, it is the second to be held at this wonderful venue." Last year's "'A Night at the Tivoli' was a rousing success," he said.
This year's film is I Now Pronounce You Chuck and Larry, starring Adam Sandler. It's a hilarious movie, as Adam Sandler fans will appreciate. Once again the movie was chosen to ensure that the event would be a night filled with fun and laughter.
For the first time, the event will also include first-person educational narratives that were developed and will be read by volunteers from both Spencer Pride, Inc. and the Prism Youth Community in Bloomington.   This will be an interesting way for the audience to learn about notable figures in LGBT history.
This year's "A Night at the Tivoli" silent auction will feature items focused on entertainment, such as Indianapolis Indians tickets, a Colts fan package, a spa day package, water park tickets, the balcony at the Tivoli and more. There will also be lots of door prizes.  While everyone gets a complimentary door prize ticket upon admission, individuals who first RSVP for the event on the Spencer Pride Inc. Facebook page will get an additional free ticket.
Owen Valley Winery will have their tasting room open throughout the entire event to lure filmgoers into sampling their wine.  The winery's tasting room is adjacent to the Tivoli and will be open from 6:00 PM until 9:00 PM. Although no alcohol can be taken from the winery into the theater, the tasting room will undoubtedly be a popular spot before the film and during the extended intermission.
Many individuals and businesses are sponsoring "A Night at the Tivoli," including Insurance Pros, John Fuhs, Foxy Mutts Grooming, the PACE group at Boston Scientific, Spencer Walmart, Sally Vance, SVG Realty, and many others who have made generous donations to ensure that the event would remain admission-free.
In addition to the family-friendly Tivoli event, Spencer Pride, Inc. is coordinating educational displays in more than thirteen libraries and public schools from Greene County to Putnam and Brown Counties.  This is the sixth year that the organization has offered educational displays to libraries for LGBT History Month, and it is the second year that those displays will also appear in area schools. The Prism Youth Group in Bloomington aided the organization in the development of this year's displays.
For more information regarding Spencer Pride Inc., please visit www.SpencerPride.org or send questions to info@SpencerPride.org.  You can also find us on Facebook (SpencerPride) & Twitter (@SpencerPrideInc).