SPENCER, INDIANA – As the number of days remaining until the 2019 Spencer Pride Festival is getting smaller, downtown business support for the event & for organizer Spencer Pride, Inc. is strong & on the rise.
Businesses on the square that wish to express their support for Spencer Pride have an easy way to do so. Spencer Pride offers a special rate for these businesses to become official participants of the festival. This gets their business shown on the festival map & listed online as supporters. Businesses also receive a sticker that can be proudly displayed in a window, if the business desires to do so. In addition, Spencer Pride prints a map of supporting downtown businesses that is displayed year-round in the Spencer Pride commUnity center.
"Individuals visiting our center often ask us what businesses in the downtown area support us. They want to show them support in return," says commUnity center Retail Manager Jacob Balash.
"Having the map makes that an easy conversation."
Balash also says that people come in asking for specific types of businesses that are supportive of the organization.
"It's wonderful to be able to answer their questions by directing them to one or more of our downtown retailers," Balash continued.
"If they want a coffee shop that supports us, we can give them two businesses within 100 feet of our center."
Balash is referring to Main Street Coffee & Spencer Coffee House. Both of the businesses will be open for extended hours during this year's Spencer Pride Festival.
Jaime Sweany, owner of Juniper Art Gallery, is also one of the downtown businesses that support the festival & its parent organization.
"I chose Spencer as the location for Juniper Art Gallery largely because of Spencer Pride's strong presence & community leadership." Sweany said.
"I support the mission and work of Spencer Pride 100% & believe that embracing & celebrating diversity is essential for peace to prevail on this magnificent planet we all call home."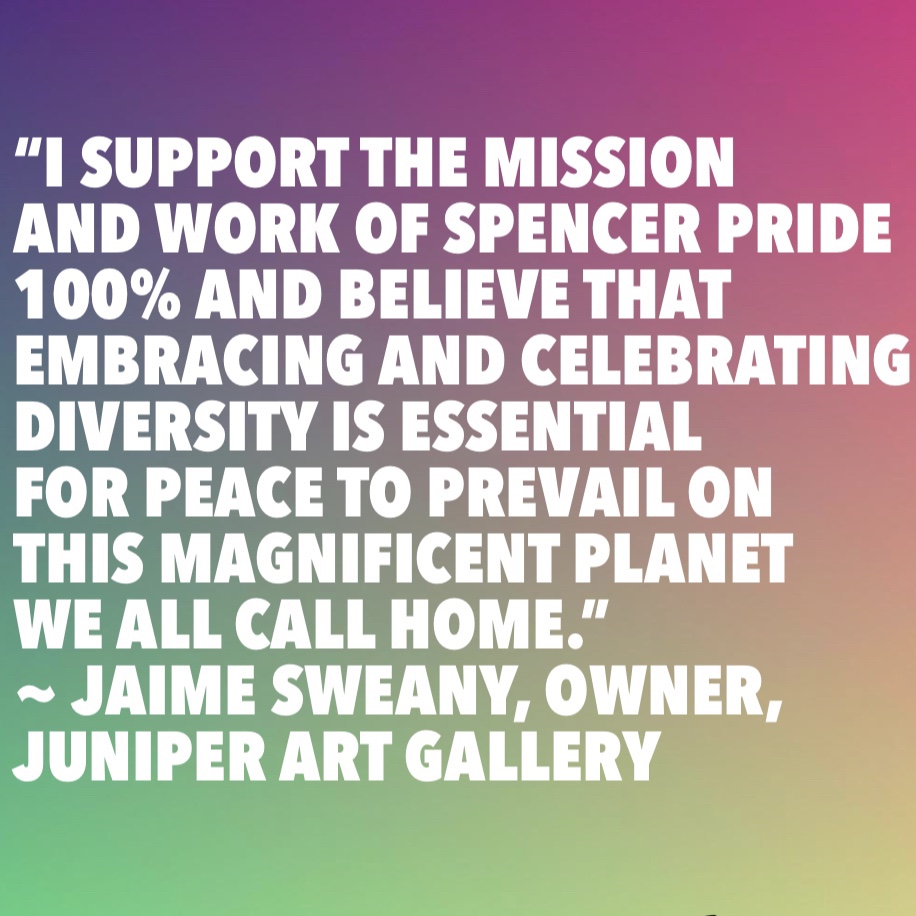 Juniper Art Gallery is located at 46 E Market Street in the original location of the Spencer Pride commUnity center (before the LGBTQ+ center relocated to its permanent home at 17 E. Franklin Street).
Festival attendees may be surprised to find that many of the downtown businesses are offering products directed to the LGBTQ+ community & their allies.
"A few years back The Dragonfly Gallery started offering merchandise, such as greeting cards & wedding gifts, geared at same-sex couples," explained Judi Epp, a member of Spencer Pride's board of directors. She went on to explain how many people came to Spencer Pride volunteers to express how shocked they were to find such supportive businesses in Spencer. For Epp & others in the Spencer community, it's not so surprising anymore.
"We have so many welcoming people here in Owen County. That's why we've become so well known for such a fabulous festival every June."
In total, more than 20 downtown businesses have chosen to be included on the 2019 festival map. That is the vast majority of businesses in Spencer's downtown.
"As a lifelong resident of this community, I can't tell you how much it means to me to see this type of visible support from our wonderful businesses downtown," declared Cathy Wyatt, also a member of the board of directors.
"Through our work with Spencer Pride we've seen such positive change in our community over the years."
Spencer's downtown is in the midst of a great revitalization. This began in 2013, with the restoration & re-opening of the historic Tivoli Theatre. Since then, new businesses are cropping up on the square every year. In the past year alone, Spencer has seen the addition of Juniper Art Gallery, Spencer Coffee House, & most recently, the Civilian Brewing Corps. All three of those businesses are supporters of Spencer Pride. The Tivoli Theatre is also a supporter of Spencer Pride, who has a monthly volunteer night at the theatre & sponsors multiple events at the venue every year.
"The Tivoli is the true jewel of our downtown," says Spencer Pride president Jonathan Balash, who is Jacob's husband.
"By showing support to one another, we help each other grow. We firmly believe that every business downtown is vital in making our community stronger. Knowing that they are supportive of the LGBTQ+ community means a lot to area residents & visitors."
Jamie Sweany, went on to further explain her appreciation of Spencer Pride & the Spencer community as a whole: "It makes me proud to be part of an open-minded, progressive community that is working hard to bring more love and justice to the world."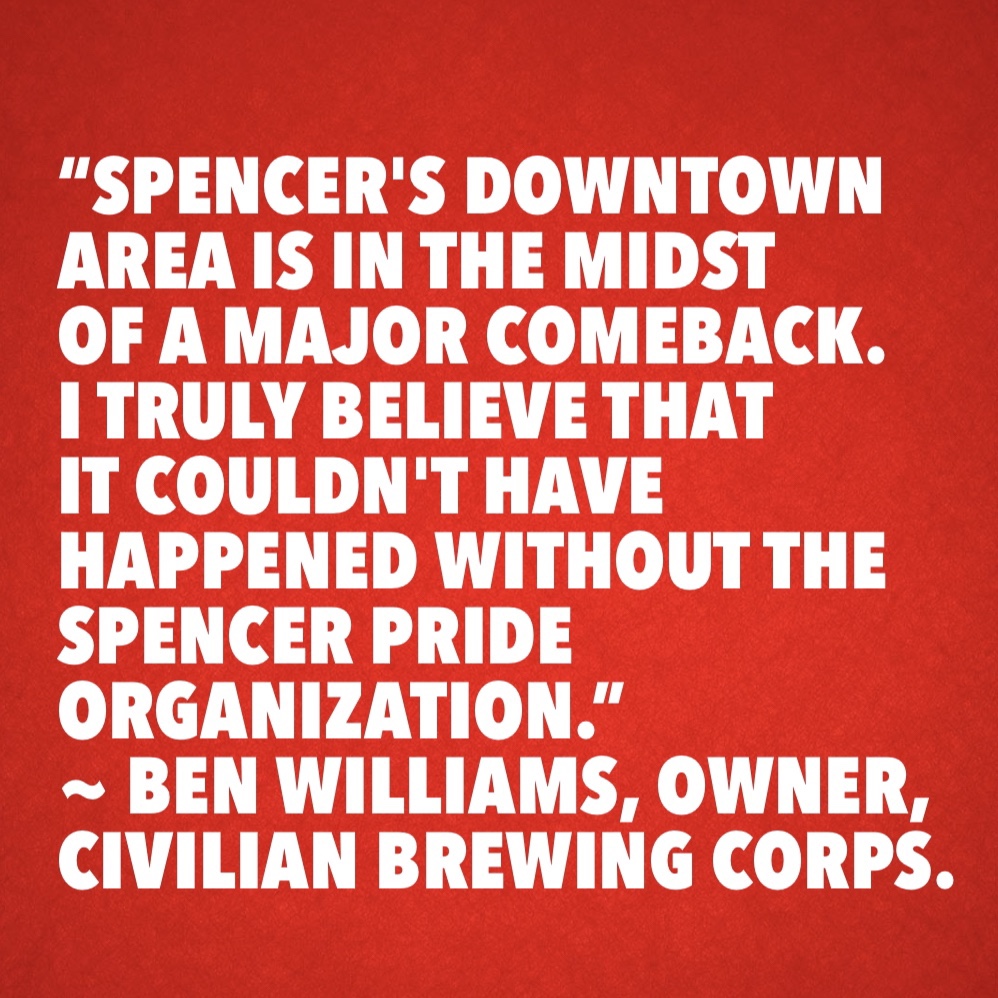 Ben Williams, owner of Civilian Brewing Corps., attributes some of the town's success to Spencer Pride.
"Spencer's downtown area is in the midst of a major comeback. I truly believe that it couldn't have happened without the Spencer Pride organization," said Williams.
"The Spencer Pride commUnity center & festival are not only helpful & enjoyable, but they show that the town is moving in a positive direction."
The brewery, which officially opened to the public on March 3, had a 'soft opening' for the Midwest Pride Conference on March 2, to support Spencer Pride's strategy of including as many local businesses as possible in the 3-day event. The conference was a huge success, in part, because of the support of business owners like Williams & his wife.
Civilian Brewing Corps. will be selling beverages at the festival for those 21 & older.
Marce King, Executive Director of the Owen County Chamber of Commerce & Economic Development Corporation, is excited about the revitalization of the downtown & business support for Spencer Pride.
"Owen County is a growing community! The citizens of Owen County understand that working together, communication, & caring about one another is what brings growth & strength to a community," King stated.
"Spencer Pride plays an active role in working towards these goals."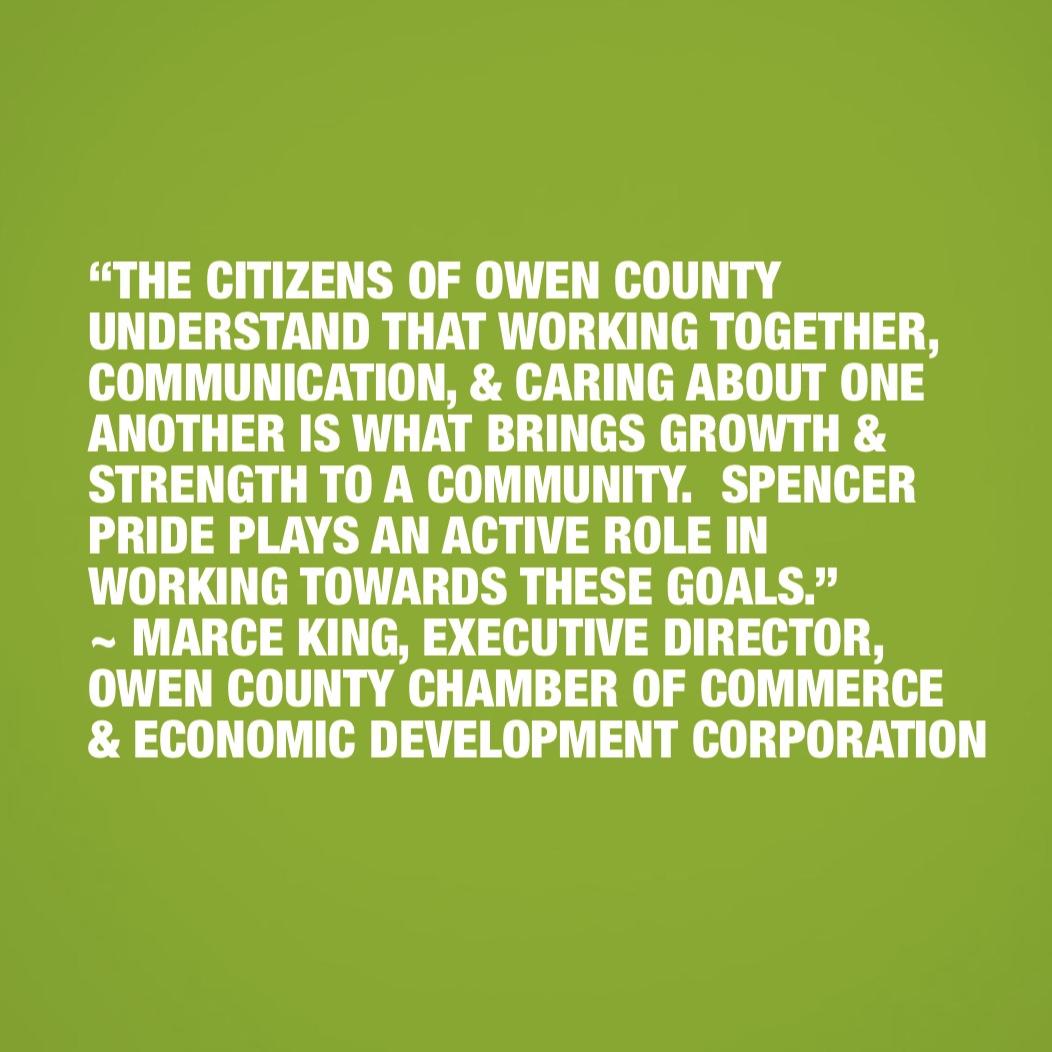 The current listing of supporting downtown businesses (this refers only to those businesses directly on the Owen County Courthouse Square) includes:
John J. Fuhs, Attorney at Law
Owen County Chamber of Commerce & Economic Development Corporation
Owen County Community Foundation
Sweet Owen Visitors Bureau
Festival attendees are strongly encouraged to visit the supporting businesses that are open during the festival on Saturday, June 1st.