BY JACOB BALASH
Over the past few months, you may have noticed that we've spent a considerable amount of time trimming our rear at the center.  While this is a common post-holiday habit for people who've consumed the usual abundance of holiday foods, it wasn't extra calories we were eliminating.  Instead, volunteers orchestrated the complete demolition of the poorly-constructed addition near our parking area in the back.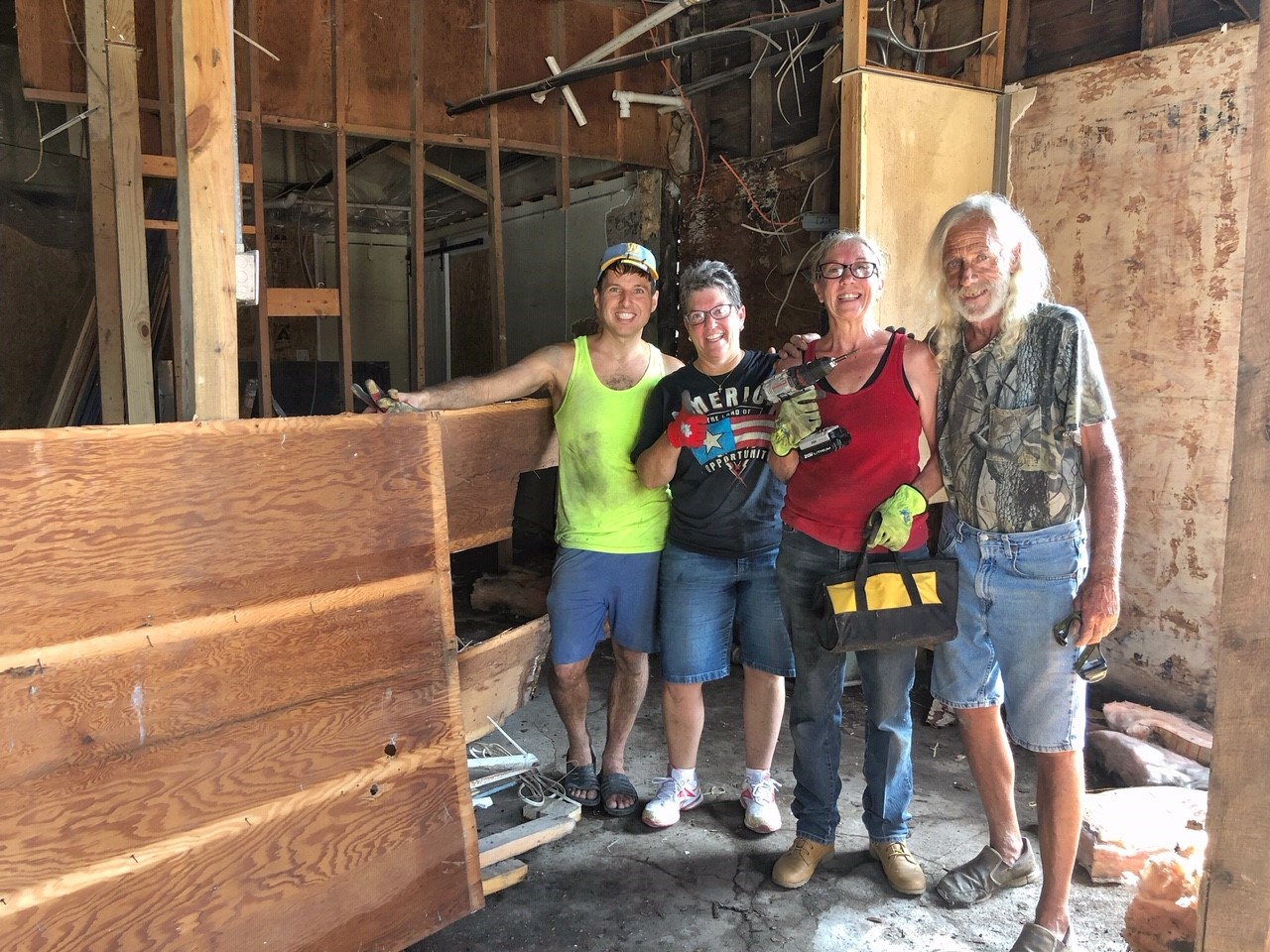 This was an important project for a variety of reasons.  The building was in complete disrepair & was leaking severely.  Mold had taken over, & the smell was seeping into our meeting area.  It would have taken a significant financial investment to salvage this space at all, but there was no reason to save it.  It was not historical or particularly valuable.
In advance of the demolition work, we had to prepare the space.  Power & telephone lines had to be relocated.  Once this was completed, we began the 'fun' work.
First, volunteers cleaned out the materials which had been stored in the structure.  While some of this was disposed, much of it was salvaged for repurpose or recycling.  Huge vintage timbers, boxes of ceramic tiles, & other items were able to find new homes.    We carefully removed the embossed tin siding as it is valuable & can be repurposed or sold.
After the space was emptied, we exposed all of the boarded-up windows & doors so that we could get some light inside.  This was a huge help later.
Next, we removed the roof in sections.  This was hot & dirty work.  For a few of our volunteer sessions there were outdoor heat advisories, but our volunteers were committed to seeing the project through before winter weather arrived.  Once the roof was removed, we took down the walls.
Finally, we jackhammered the poured concrete floor.  We are in the process now of removing the stone that we broke up.  The gas company relocated the improperly installed gas lines, & they also upgraded the meter after determining that it was also incorrect for our building.
Once we finish the last bit of clean-up, we will immediately recognize the extra parking places that have been created by the demolition.  The center is also safer, more compliant, & definitely more attractive.
This project wasn't pretty or easy, but it was rewarding.  I appreciate the donation of time & resources provided by Connie, Sheryl, Hoss, Larry, Andrew, Fred, Jason, Emily, Josh, & Mackenzie.  Their dedication to improving our center is obvious in the excellent work they did for this project.  THANK YOU!
For more information about other volunteer opportunities to improve the center, please reach out to Judi or me.  There's a lot more we can do, especially now that we have started to receive some grant funds for these types of projects.