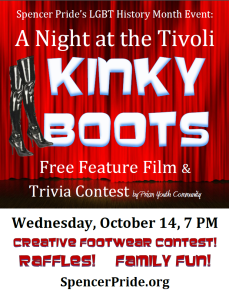 The historical Tivoli Theater in downtown Spencer will again be the site of Spencer Pride's annual Lesbian, Gay, Bisexual, & Transgender (LGBT) History Month event "A Night at the Tivoli." The community event, which is admission-free thanks to generous sponsors of Spencer Pride, Inc., is Wednesday, October 14th at 7:00 PM. The public is welcomed and encouraged to attend.
"We are again privileged to hold our event at the beautiful Tivoli Theater," says Spencer Pride Inc.'s President Jonathan Balash. "Although this is actually our sixth annual educational event, it is the third to be held at this wonderful venue."
The main attraction for the evening is always the movie. This year's film is Kinky Boots. Based on a true story, the tale is heartwarming and full of personal courage, but is also fun and wacky. The Golden Globe-nominated movie portrays an unlikely partnership formed when the uptight owner of a men's dress shoe company struggling to stay afloat teams up with a drag queen find a way to save the business. In the process, the two discover they are not so different after all. The fashion runway scene at the Milan shoe show alone is worth the trip! Kinky Boots is the basis for the Tony Award-winning Broadway musical now on tour. It was chosen to ensure the night would be full of laughter and excitement.
If that weren't enough, the evening also includes a Trivia Contest and Creative Footwear Contest. Prism Youth Community-Bloomington will host a Trivia Contest on Transgender History, so study up and win a prize! It will be an interesting and fun way for the audience to learn more about this segment of our community. And if fashion is more your passion, come wearing your fanciest footwear for our Creative Footwear Contest! Our fabulous emcee, Sheryl Daniels, will be operating the audience decibel meter, so bring your friends to make some noise!
Looking for a fabulous experience but don't have the money to fund it? You're in luck! At this year's "A Night at the Tivoli" we will hold a raffle for "experiences." "Experience" items include an overnight stay for 2 including breakfast at French Lick Resort, 2 tickets for Mary Poppins at the Buskirk-Chumley Theater in Bloomington, a private shopping experience at the new Dragonfly Gallery and Gift Shop in Spencer, a private tour and tasting package from Owen Valley Winery, and many more. There will also be plenty of door prizes. While everyone gets a complimentary door prize ticket at admission, folks who RSVP for the event on the Spencer Pride, Inc. Facebook page will receive an additional free ticket.
Owen Valley Winery will have their tasting room open to lure filmgoers into sampling their wine. The winery's tasting room is adjacent to the Tivoli and will be open from 3:00-8:00 PM. Although no alcohol can be taken from the winery into the theater, the tasting room will undoubtedly be a popular spot.
Many individuals and businesses are sponsoring "A Night at the Tivoli," including Greencastle Walmart, White River Valley PFLAG, Insurance Pros, Foxy Mutts Grooming, Jackie Hall and Lloyd Orr, and many others who have made generous donations to ensure that the event remains admission-free.
In addition to the family-friendly Tivoli event, Spencer Pride, Inc. is coordinating LGBT History Month educational displays in a record-breaking (20) twenty libraries, public schools, and universities in Greene, Putnam, Lawrence, Owen, Monroe, Brown, Clay, and Knox counties. This is the sixth year that the organization has offered educational displays to libraries for LGBT History Month, and it is the third year that those displays will also appear in area schools and universities. Prism Youth Community-Bloomington aided the development of this year's displays.
For more information about Spencer Pride Inc., please visit www.SpencerPride.org or send questions to info@SpencerPride.org. You can also find us on Facebook (SpencerPride) & Twitter (@SpencerPrideInc).