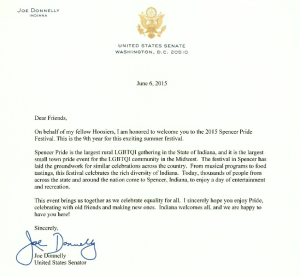 Yesterday we received a letter from the office of Indiana Senator Joe Donnelly, who represents Hoosiers in the U.S. Senate in Washington, D.C.
Senator Donnelly welcomed attendees to the 2015 Spencer Pride Festival and recognized our status as the largest rural LGBTQI pride in the state and the largest small town with a similar event in the entire Midwest.
"From musical programs to food tastings, this festival celebrates the rich diversity of Indiana." the Senator wrote.
"This event brings us together as we celebrate equality for all.  I sincerely hope that you enjoy Pride, celebrating with old friends and making new ones.  Indiana welcomes all, and we are happy to have you here!"
We thank Senator Donnelly for taking the time to recognize our work in Spencer, Indiana.