FOR IMMEDIATE RELEASE
September 1, 2023
We're Here.   That's the theme for this year's Spencer Pride Festival, which takes place on Saturday, October 7.  While it may seem an obvious theme – yes, Spencer Pride has been around for quite some time and is celebrating its "sweet" 16th anniversary this year – that's not why festival organizers chose it.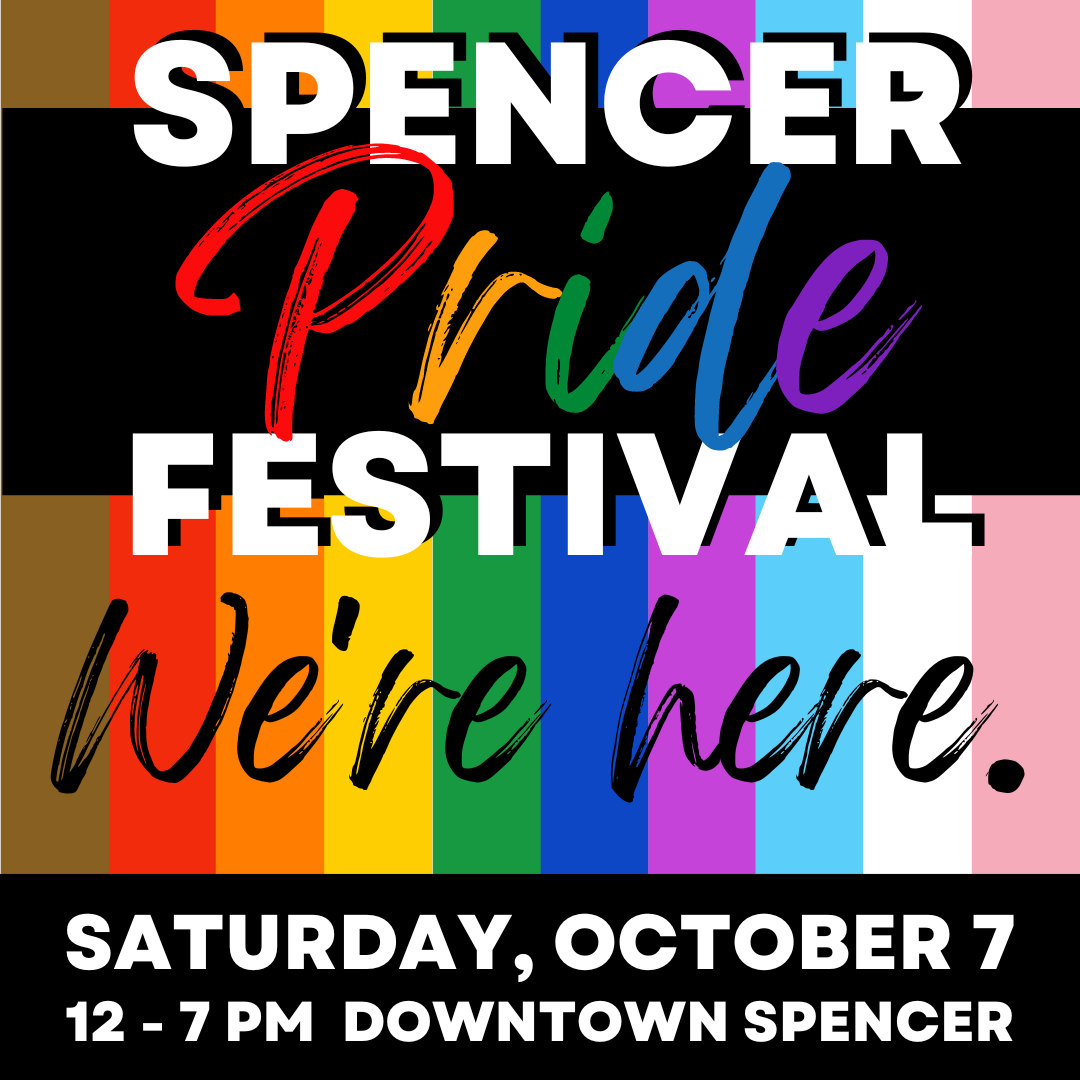 "We're Here speaks to the fact that the LGBTQ+ community is – and has always been – present.   You can find us in metropolitan, suburban, and – yes – even in rural communities like ours," proudly declares Spencer Pride Festival Director Jonathan Balash.
The Spencer Pride Festival is an LGBTQ+ Pride festival that has thrived in small town Spencer, Indiana, thanks to the welcoming community, its many volunteers, and financial supporters.  It's an all-ages, all-abilities, all-identities event that epitomizes what it means to be a "community" and celebrate our individual uniqueness.  The festival takes place from 12 to 7 PM.
This year's festival is sponsored in part by WTIU-WFIU, Boston Scientific, South Central Community Action Program, Cook Medical, Western Skateland, Duke Energy, Youth Services Bureau of Monroe County, and many other local businesses and organizations.
"There is much to do at Spencer Pride.  Whether it is your first visit, or your sixteenth, you will find celebration, collaboration, and community all around you at the Spencer Pride Festival," says Balash.
The biggest ever Spencer Pride marketplace (sponsored by C.H. Douglas and Gray Wealth Management), has been assembled for the upcoming event.  More than 150 booths will fill the historic downtown streets with plenty of opportunities for shopping, eating, drinking, learning, and sharing.
Alcohol will be available for those 21 years of age and older, served by Civilian Brewing Corps and other local partners.  Festival foods will be available from a record number of food vendors, including options for vegetarians and vegans.
Live entertainment will take place all day in multiple venues.  From outdoor plazas to the festival's main stage in the historic Tivoli Theatre, attendees can experience the always popular drag shows (at 2 and 6 PM), as well as numerous other local musicians and talent including Moon Buggy, Bubba Wiggles, Quarryland Men's Chorus, Southern Indiana Taiko, and more.    The Pet Pride Parade, in Memory of Dr. Marcia Benjamin, will take place at 3:30 PM for individuals with pets who would like to participate.  There is no cost and there is no advanced registration required.
The Spencer Pride commUnity center will be open throughout the day and, in addition to its retail shop filled with locally-made products, vintage resale, and LGBTQ+ merchandise, will also be the venue for complimentary health & wellness services including a vaccination clinic provided by the Indiana Immunization Coalition and HIV screening provided by IU Health Positive Link.   These services will be available from 1-4 PM.
"Spencer Pride has had a family-friendly atmosphere from Day 1," says Kate Gehringer, Owen County resident and Marketplace Coordinator for the Spencer Pride Festival.  "This year, we will continue to offer multiple activities for kids of all ages to participate in at no cost, including our bounce house.  We are also adding a carnival-like space with additional games that we hope will raise money to support our year-round work."
Other fundraisers include a 50/50 drawing, raffles, and a special silent auction during the first-ever Spencer Pride Festival After Party.  The After Party will be held in the Golden Discovery Ballroom on the second floor of the Spencer Pride commUnity center.  This is the only ticketed event at Spencer Pride, and tickets may be bought in advance for $10 each on the official Spencer Pride Festival Eventeny page
Spencer Pride offers free parking, free shuttle service from Boston Scientific, and free admission to the festival marketplace and entertainment venues.  Parking is ample at Boston Scientific and downtown locations, and special parking for individuals with disabilities will be available right downtown and managed by event volunteers.    A low sensory zone will be available in the Owen County Community Foundation.
For further information about the 2023 Spencer Pride Festival, visit https://www.eventeny.com/events/2023spencerpridefestival-5279/