Written by Jonathan Balash (Spencer Pride's President & one of Truman's dads)
The Spencer Pride Festival makes its long-awaited return to downtown Spencer this Saturday, October 16, after more than two years since the last in-person LGBTQ+ pride festival in our community.   While there are countless reasons to bring the whole family to Spencer Pride each year, the 14th annual festival will be extra-special, thanks to the expansion of the event downtown & the continued growth of the fabulous festivities. 
At home, our 8-year old son has been eagerly anticipating Spencer Pride & routinely reminds my husband (Jacob) & I about all the things he plans to do.  From the magic show on the Ivy Tech Main Stage at noon, to a visit with Charlie Bird of Bloomington at Juniper Art Gallery, our son Truman plans a strong start to this, his 7th Spencer Pride Festival.
After getting a photo with the famous bird who is on the pages of one of his most colorful bedtime storybooks, Truman plans to head over to Drag Queen Storytime at the Owen County Public Library at 2:30.  It's highly likely he will squeeze in some fun at the bounce house, bungee run, or skeeball while on the way.  These inflatables are always a favorite pastime of his, & we have pictures from every year to prove it!  Truman has always been a fan of reading – both reading to others & being read to – & he treasures the special delivery of a story from Pat Yo Weave.
After he wraps up at the library, Truman is sure to make a run for the marketplace to see the Pet Parade at 3:30, which will be filled with a variety of animals all competing for prizes for best costume & best personality.  This year we've heard that a rat, a goat, & just about everything in between will be marching in the parade, so it's likely going to be a wild spectacle & a barrel of laughs to watch.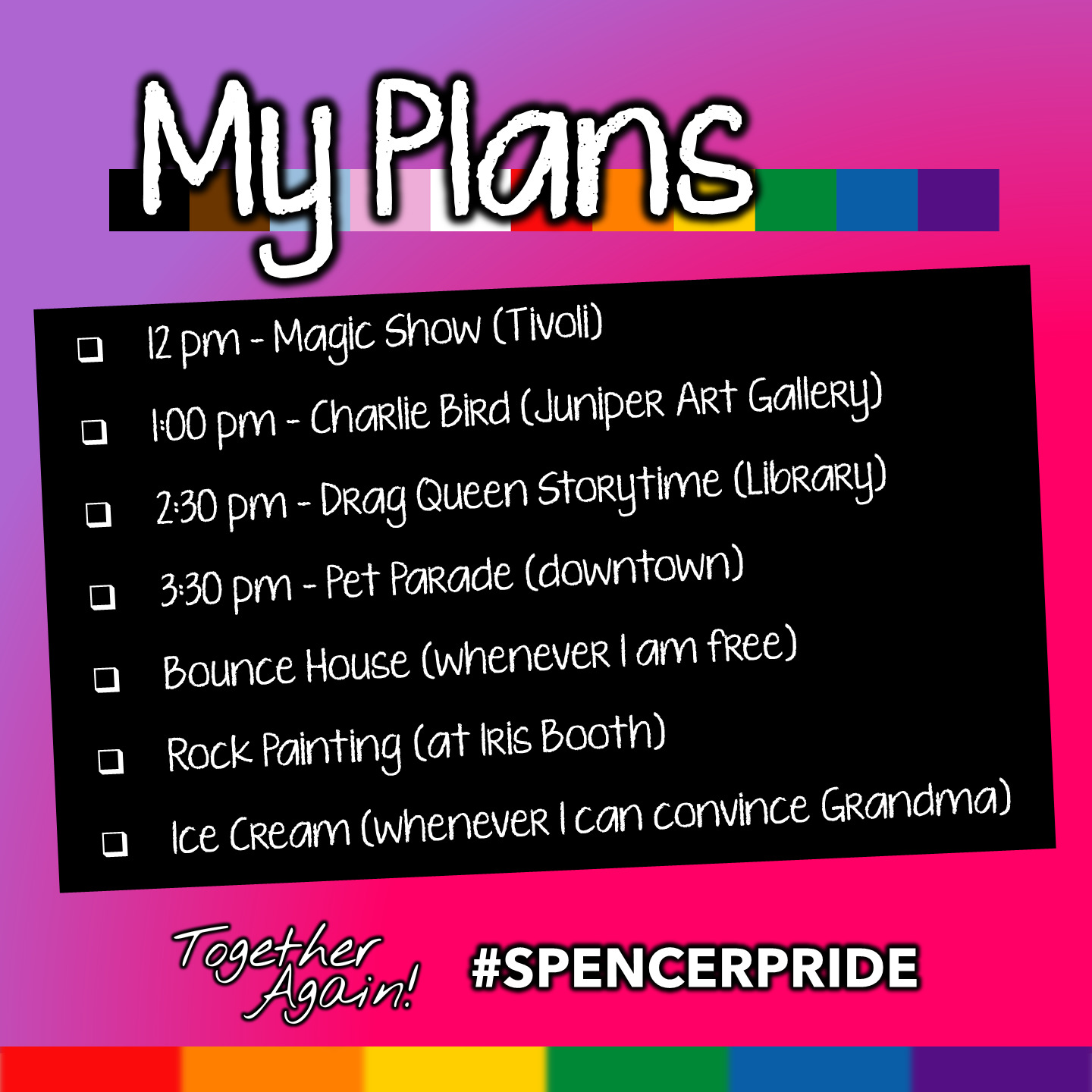 By this time in the day, it's highly likely that Truman's many escorts – whether that be Jacob, myself, or one of his grandparents – will be utterly exhausted.  It's equally likely that the delicious ice cream & cotton candy he will have undoubtedly eaten will have kicked in, keeping him going for several more hours.   Thankfully, we know that the entire event is filled with entertainment & other activities that are safe & welcoming for him, as well as a whole lot of fun.  As parents, we also appreciate that Truman's entire Spencer Pride Festival agenda is free (except for the sugary sweets, of course).
We hope that you will bring your entire family out to Spencer Pride, too, to partake in what is going to be an amazing downtown event that is long-needed in our community.  And if you see a well-dressed child with a big smile dragging one or more adults down the sidewalk at a brisk pace, please excuse us & say "hi."